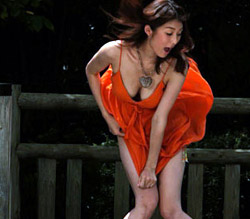 We've long been baffled by the intricacies of Apple's approval policy when it comes to iPhone apps, and have never warmed to their censorial and sometimes moralistic policies.
All sorts of apps have been banned from the store – some for extremely spurious reasons –  but just when you think you're beginning to get your head around the way the company is thinking, they go and approve a truly seedy 'upskirt' app.
Currently available for purchase in the App Store for $1 is 'Puff,' a video game that invites you to blow into the iPhone (or rub the screen quickly) and be rewarded with a clip of a young woman's dress being blown upwards, revealing her knickers.
Naturally, the young lady in question loves every minute of it, because all pretty young women can't get enough of showing off their knickers to guys, yes?
The whole concept of the app is bad enough, but the promo video is even worse, recalling the kind of horrendous sexism most people thought had been left behind in the 1970s along with patchwork denim jeans, clackers, Cresta pop, Amazin' Raisin bars and party seven packs of Watneys Red Barrel.
Whatever you think of the app, it certainly doesn't seem to fit in with Apple's 'family values' approach to App Store approvals, and would, we imagine, leave frustrated developers even more confused about what is and what is not acceptable to Apple.
As for us, we're against any kind of corporate censorship that dictates what consumers can put on the phones they've bought, but perhaps this latest ridiculous decision may encourage users to demand a more open and accountable app approval process.
Or, even better, no approval process at all.