Daemgen has released ProCamera 3.0 for iOS, an update that adds a slew of new features to their best-selling iPhone photo editing app.
Loads o'new features
The latest version now includes advanced picture optimisation, anti-shake image stabilisation, still/video compatibility, iOS 4 multi-tasking, auto-timer, virtual horizon, multiple compositional grid lines and a photo compass.
There's also an  Expert Mode that enables knowledgeable  photo tweakers to set and lock focus, exposure, and white balance to different areas on the display.
Billed as a "complete redesign", the update adds Pro FX Studio to turn photos into art, a new Pro Lab to improve picture quality, with Pro Cut Studio packing a  suite of 'intelligent' tools to cut, crop, rotate, or flip photos.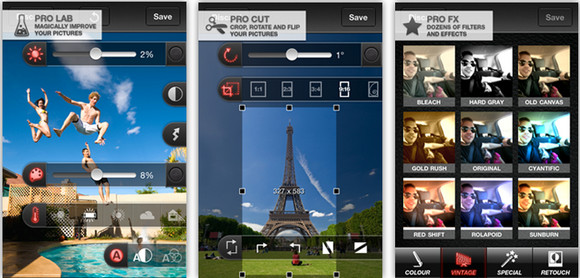 "ProCamera 3.0 is designed for intuitive and fast control over professional features which can greatly enhance the performance of the iPhone camera," insisted Jens Daemgen, Founder and Head of Development at daemgen.
"Users have never been this close to being able to create such high-quality videos and photos with the iPhone and iPod touch," he added.
ProCamera 3.0 is priced at $2.99 (USD) and available worldwide through the App Store in the Photography category – and the good news is that the update is free to existing users.
[ProCamera 3.0: http://www.ProCamera-App.com]
Daemgen Press Release

ProCamera 3.0 for iOS – Major Update to Award-Winning, Best-Selling App

daemgen today announces ProCamera 3.0 for iOS, a major update to their best-selling camera app. Features include advanced picture optimization, anti-shake image stabilization, still/video compatibility, and an Expert Mode that enables the user to set and lock focus, exposure, and white balance to different areas on the viewfinder. A complete redesign, the update adds Pro FX Studio to turn photos into art, a new Pro Lab to improve picture quality, and Pro Cut Studio for leveling and cropping.

Mannheim, Germany – daemgen today is pleased to announce ProCamera 3.0 for iOS, a major update to their award-winning, best-selling camera app. Features include advanced picture optimization, anti-shake image stabilization, still/video compatibility, iOS 4 multi-tasking, auto-timer, virtual horizon, multiple compositional grid lines/reticules, photo compass, and an Expert Mode that enables the user to set and lock focus, exposure, and white balance to different areas on the viewfinder. A complete redesign, the update adds Pro FX Studio to turn photos into art, a new Pro Lab to improve picture quality, and Pro Cut Studio for leveling and cropping. The update is free to existing users.

The ProCamera 3.0 update adds refinements to the GUI, convenience features, and several new in-app modules for post-picture processing. Long-time users of the app will notice a new app icon, and re-designed buttons and controls. Cleaner and easier to use, the GUI leaves all controls where they have been, and there is no learning curve for the user of previous versions. New convenience features in the update include: On/Off full-screen shutter release, optional full-screen trigger with anti-shake function, On/Off geotagging, one-touch video recorder access, and On/Off app sounds.

The new Pro FX Studio enables the user to apply one-touch effects to pictures. The effects library comes with 32 different effects, and daemgen has announced it will be offering additional effects packages as in-app purchases. The current range of effects features artistic filters such as Old Canvas and Marilyn, but also easy-to-apply color fixes, highly anticipated by many iPhone 4 users due to the well-known yellowness of their camera systems. The Pro Cut Studio gives the photographer a suite of intelligent tools to cut, crop, rotate, or flip photos. Creating Facebook profile pictures is accomplished with two finger taps.

Feature Highlights (some features require iPhone 3GS or 4):
* New Pro FX Studio enables the user to apply one-touch effects to pictures
* New Pro Cut Studio gives the photographer a suite of intelligent tools to cut, crop, rotate, or flip photos
* New Pro Lab allows users to adjust the color temperature according to the lighting conditions at the time the photo was shot
* Set and lock focus, exposure, and white balance to different areas of the viewfinder
* Manually adjust and combine all effects
* Set and lock focus and exposure separately for photos & videos
* White Balance lock to adjust and calibrate the color temperature to match the ambient lighting
* HD video recording at 720p, 30 fps (iPhone 4 and iPod touch 4)
* HQ video recording at 480p, 30 fps (iPhone 3GS)
* 5x digital zoom + professional image optimization
* Full screen shutter for easiest handling (e.g. for self portraits and snapshots)
* Virtual Horizon tool – level meter for perfectly straight photos and videos
* Grid guides for easy, professional framing and composition
* Capture high quality photos & videos in full size and full resolution
* Get the sharpest and brightest photos possible with adjustable Anti-Shake image stabilizer
* Snap several photos in quick succession – fastest image caching in full resolution for shooting many photos with minimal reload-times
* Zoom in with ultra-fast swipe control (5x full resolution)
* Sophisticated software-gamma-flash controls characteristic curve
* Brightness, contrast, black & white and sepia effects
* Supports iOS 4 multitasking enabling picture taking immediately after re-opening the app
* Touch-up photos using built-in tools: brightness, contrast, effects, etc.
* Exclusively with ProCamera – geotagging + map/satellite view + compass heading
* Full support for iPod touch 4th generation including HD video recording
* Import and export photos and videos to any computer
* Adjustable self-timer function
* Complete photo meta-data saved, including exposure, date, size, etc.
* In-app manual including tips and tricks

Continuing in its quest to simulate the experience of using a digital SLR camera on iPhone, the new Pro Lab module contains sliders for basic image settings such as contrast and brightness, and black & white f/x, plus a digital flash function to lighten up dark pictures. With new scene modes, standard on many professional digital cameras, users are able to adjust and correct the color temperature according to the lighting conditions at the time the photo was shot. A one-touch, auto-image adjustment is also available.

"ProCamera 3.0 is designed for intuitive and fast control over professional features which can greatly enhance the performance of the iPhone camera," said Jens Daemgen, Founder and Head of Development at daemgen. "Users have never been this close to being able to create such high-quality videos and photos with the iPhone and iPod touch."

Language Support:
* US English, German, French, Italian, Japanese, and Spanish

Device Requirements:
* iPod touch 4, iPhone 3G, iPhone 3GS, or iPhone 4
* Video-Recording, ProFX, focus, exposure and white balance control require an iPhone 3GS, iPhone 4, or iPod touch 4th generation
* Extended compass-geotagging requires iPhone 3GS or iPhone 4
* iOS 4 or later
* 9.8 MB