Suddenly, all the Twitter apps on our iPhones and Android handsets look a bit clunky and dated in the light of this shimmering, super-slick Seesmic app for Windows Phone 7.
Smelling fresher than a mountain breeze wafting over your freshly-ground morning coffee and newly baked croissants, the Seesmic preview video reveals a beautifully designed interface, with crisp, snappy typography and baby-bum-smooth graphics.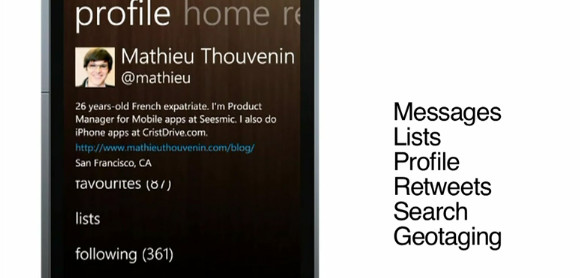 Backyard probe
In fact, the only thing spoiling this glorious feast of stunning interface design is Seesmic's rubbish logo, which looks like the small creature is receiving an unexpected and unwanted internal probe.
Windows Phone 7 gets released in Europe in October, so we figure the Seesmic app will follow promptly in its wake – and apps like this are getting us rather excited about the new platform.
Check out the video below and be prepared for some jaw-dropping;
[Seesmic]