Keen to cut themselves a slice of the rapidly expanding iPad/tablet pie is ASUS, who have just shown off prototypes of their new Eee Pad tablet range.
The most interesting is the 12-inch EP121,which cunningly slots into a laptop-shaped keyboard dock to give you the best of both worlds (or the worst of both, depending on how successful the design is).

[Pic: Engadget]
Powered by Intel's Core 2 Duo CULV processors, the Eee Pad rumbles along on Windows 7, usefully packs at least one USB port, a webcam and a promised 10-hour battery life, which all sounds jolly good to us.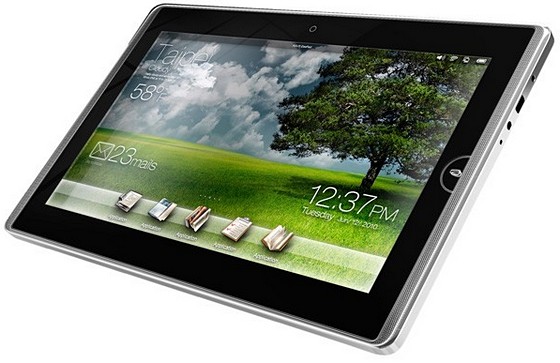 The smaller 10-inch EP101TC has also been announced.
Running Windows Embedded Compact 7, details are few and far between at present, but we've reproduced the press release below.
The Eee Pads have been priced at an iPad-undercutting $399 to $499, although it looks like we won't be seeing either before next year, which dampens our enthusiasm somewhat.
Press release:

Stay Connected and Multitask with the Eee Pad
Engineering excellence meets stunning design in the ASUS Eee Pad, an ultra-slim and light yet high-performance slate device designed to provide users with a real time cloud computing experience. The Eee Pad will be available in two configurations.

The 12″ Eee Pad EP121 is a full-featured slate computer that serves as a multimedia player, e-reader, and compact computing device. Powered by a CULV Intel® Core™ 2 Duo processor and the Windows® 7 Home Premium operating system, it effortlessly handles multitasking tasks whether enabling users to check their email and calendars, have video conferences, or process Microsoft Word and Excel documents simultaneously. The ASUS Eee Pad EP121 offers two convenient modes of character input-an embedded virtual keyboard or an innovative hybrid keyboard/docking station design. All of this power is available in a personal computing device that delivers up to 10 hours of usage.

For users seeking additional mobility, ASUS is proud to present the 10" Eee Pad EP101TC that runs Windows Embedded Compact 7, which provides an engaging user experience and delivers instant connectivity to the Windows world. It also provides a familiar full-featured user experience across various connected devices and cloud computing services.