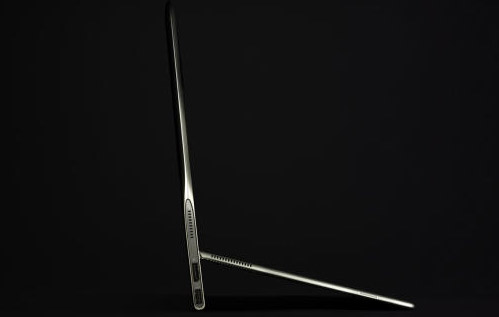 Oh my good gawd. Take a look at these scintillating teaser pics from Dell showing off their upcoming, high-end, super-slim Adamo laptop.
It's wafer-thin outline makes Apple's MacBook Air look like it's spent a week with Billy Bunter in the school Tuck Shop, and there's some thoroughly cunning engineering onboard offering an eye-catching design twist.
The Adamo sports a clever offset hinge which props the keyboard up at a more ergonomic angle. It looks weird, but kinda cool too.
Ratcheting the pre-release hype to 11, Dell commented:
Because so many people who have had a sneak peek of Dell's superthin Adamo XPS laptop seem to be falling in love with it, the company today released two more photos of the highly stylized, thin 9.99-mm Adamo by Dell system. The Adamo XPS is as intriguing open as it is closed.
There's no release date for the new Adamo yet, but Dell have hinted that it may be out in time for Christmas. Pricing will be, we expect, in the stratospheric range.