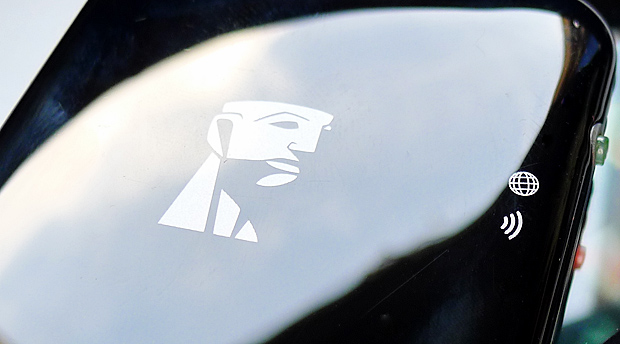 If you're looking for a bit of easily accessible extra storage space for your phone or tablet – or would just like to swiftly share some files with co-workers – the Kingston Wi-Drive might be worth a shufti.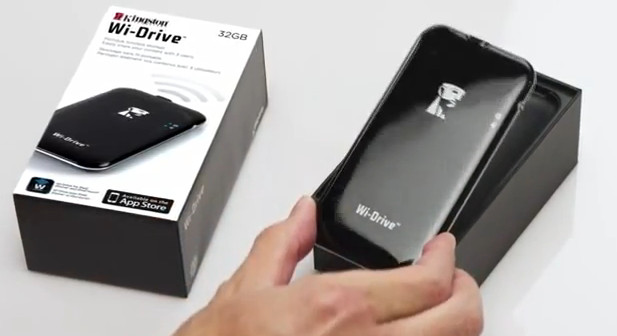 A portable wireless storage solution available in 16 or 32 GB flavours, the Kingston Wi-Drive can handle a wide variety of file types and has enough juice on board to do its thing for around four hours on a single charge.
A shiny, pebble like creation reminiscent of a screen-less iPhone 3G, the Wi-Drive measures up at a pocket pleasing 121.5mm x 61.8mm x 9.8mm and feels solid and well-built.
Compatible with all iPads, the iPhone 3G/3GS/4/4S, iPod touch, Kindle Fire, Android 2.2 and up, and all browser-based systems, the Wi-Drive can ferret any file that you care to chuck at it, but playback options are limited by the device you're using to access it.
Most devices should have no problem spinning mp3, wav, m4v, mp4, jpg, tif, and pdf files off the Wi-Drive, with the Android and iOS Wi-Drive app offering the ability to manage the drive, browse content and playback media speedily.
We were able to stream videos off the drive, although there was a slight delay before the film gets going, and up to 3 people can share files at the same time.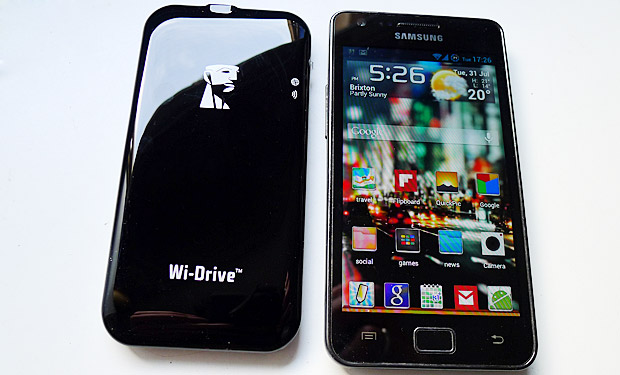 Being a wi-fi device means that you have the ability to change the SSID and security settings, with Kingston adding an option to let you configure the Wi-Drive as a wireless bridge.
We rather liked using the Kingston Wi-Drive, and found it a nifty wave to quickly share music, movies, and photos with friends and workers, although we would have liked a better battery life.
It's easy to use, reasonably cheap  (£65 for the 16GB version,  £45 for the 32GB on Amazon) and comes in a slick package, so we think its a worthy inclusion on any shortlist.
Ratings


 – Build


 – Features


 – Battery life



 – Value for money


 – Overall
Buy the drive on Amazon:
Kingston 32GB Portable Storage Wi-Drive
Kingston 16GB Portable Storage Wi-Drive
Specifications:
Capacities: 16GB, 32GB, 64GB
Dimensions: 121.5mm x 61.8mm x 9.8mm
Wireless Network Interface: Wi-Fi 802.11g/n with wireless security (WPA/WEP)
Rechargeable Battery: up to four hours of continuous use
Cable: MiniUSB to USB cable included, user can upload files and content from their PC/Mac to the Wi-Drive using the USB cable
Operating Temperature: 32°F to 122°F (0°C to 50°C)
Storage Temperature: 14°F to 158°F (-10°C to 70°C)
Convenient: pocket-sized for easy transportability
Guaranteed: one-year warranty, free technical support
Configurable APN (access point name) and Key functions to connect to Wireless Access Point (Internet Connection)
User selectable Wi-Fi priority list when there are multiple APN/Key available File Support: Wi-Drive can store any file type, but playback and viewing are Based on the files supported by the mobile device. General file format support:
Audio: MP3, WAV
Video: m4V, mp4 (H. 264 video codec)
Image: jpg, tif
Document: pdf