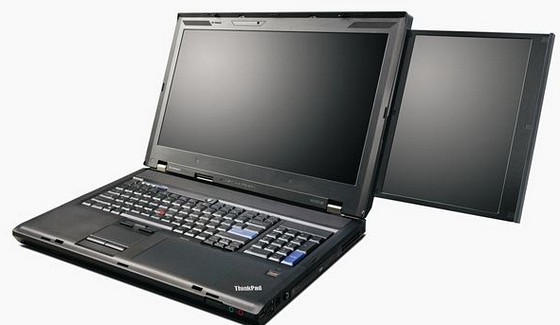 Coming with enough bells, whistles and unexpected add-ons to grant it a space on the Glastonbury bill is Lenovo's new ThinkPad W701 series of workstation laptops.
Sitting at the highest pinnacle of Lenovo's high end range, the ThinkPad W series can support a monstrous 16GB of DDR3 RAM, top configuration packing a quad-core 2GHz Core i7, with an optional Quadro FX 3800M graphics card for pro-level 3D rendering. This mother can fly!
Available in single (ThinkPad W701) and double screen (ThinkPad W701ds) varieties, the monstero machine comes with an onboard Wacom digitizer and embedded X-Rite colour calibrator for designer doodles, Wi-Fi and WiMAX connectivity and a 2-megapixel camera, with a host of storage options leading all the way up to a 128GB SSD.
Gonna get connected
Connectivity options abound on both models in the shape of 4 USB 2.0 ports, FireWire, VGA, Display, eSATA, and Ethernet, plus a 5-in-1 media card reader, Express smartcard and one brand spanking new USB 3.0 port for ultra fast transfers.
There's also a built in 'dual thermal solution' to stop the high powered beast from turning into a pile of molten plastic.
ThinkPad W701ds
It may look a little odd, but anyone used to running dual screen monitors will soon forgive the curious aesthetics of the ThinkPad and revel in the increased productivity.
The primary screen is a hefty 17-inch job offering 1920 x 1200 pixels resolutions of viewing pleasure,  while a nifty 10.6-inch secondary slide-out panel offers extra screen real estate for app toolbars , open browser windows or an amusing distraction.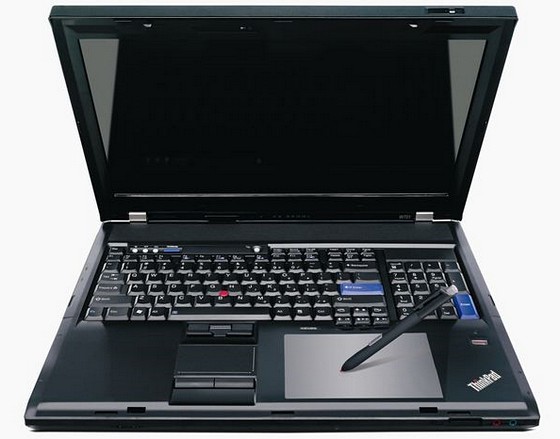 Big and very beefy
The W701 and W701ds both measure up at a bag-challenging 16.14 by 12.2 by 1.59 inches (HWD), and weigh in at a hernia-introducing 8.9 pounds, perhaps stretching the definition of 'portable' more than a tad.
Mind you, anyone hoiking this mutha into a meeting will quickly be established as the Alpha male of the boardroom. Take that piddly netbook! Oy vey Vaio! In your face feeble mono-screen MacBook!
If the Lenovo is making you come over all funny with desire, a standard W701 starts at $2,199 for a quad 1.73GHz Core i7 and a Quadro FX 2800M, with the W701ds hiking the price northward to $3,799.