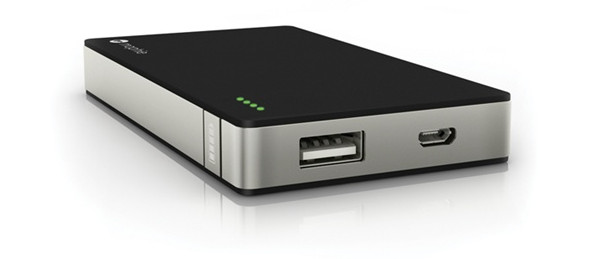 Battery packs for smartphones and gadgets are pretty much ten a penny these days, but Mophie is hoping that the swishy, premium looks of its Juice Pack will entice consumers to pay a little more.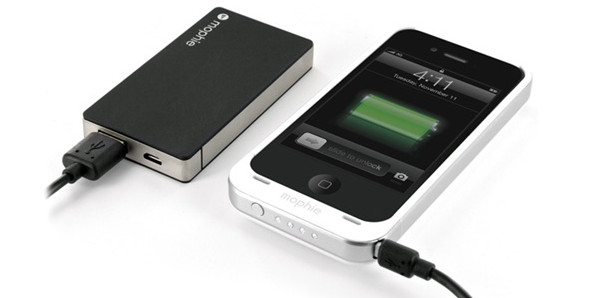 Over generously packed in a cardboard outer layer with flap (complete with magnetic 'latch') and further encased in several layers of thick plastic held together with various circular bits of adhesive tape and blobs of glue, we would suggest that this isn't the most environmentally-friendly piece of packaging we've seen to date.
A delight to hold
However, once we'd worked our way through the various layers, and got past the fabulously pointless piece of silver card informing the buyer that "Mophie loves you," what we had in our hands was a very well built device indeed.
The Juice Pack powerstation mini charger is covered in a soft-touch exterior, with an iPhone-esque metal band around the side, containing a discrete on/off switch.
Pressing the switch activates the four stage "invisible" LEDs on the front of the device, letting you know the current charge status.
The  2500 mAh battery comes with short circuit, overcharge and temperature protection, and Mophie claim that it charges at up to 1 amp output making it "2 times faster than traditional USB batteries."

The unit can be charged up from any high-current USB port which you'll find on most computers. To start charging, simply plug in the supplied USB to microUSB lead and press the status indicator button located on the side.
The Juice Pack Powerstation mini is fully compatible with every iPhone and iPod touch, although the battery capacity isn't really suitable for the bigger power demands of tablets. You can see a list of compatible devices here.

Verdict
The Mophie Juice Pack Powerstation Mini is a beautifully designed, solidly built piece of kit that is small and light enough to pop in your bag or pocket.
We had no complaints at all when we were using the device, but with a retail price of around £50 you're paying a fairly high price for a back up battery, even for one as stylish as this.
We'd point the more cash strapped folks in the direction of far cheaper alternatives like the Veho Pebble
which offers twice the capacity for half the price, but if your wallet  can take the heat, then you won't find a more stylish charger than the Mophie.
Buy it now on Amazon
.
Ratings


 – Build quality


 – Features



 – Value for money


 – Overall
Specifications
Product Dimensions: 1.92 in x 3.64 in x 0.53 in
Battery Capacity: 2500 mAh
Estimated Shipping Weight: 1lbs
Shipping: This product ships world wide
Product Category: USB Battery Charger Product Compatibility: Smart phones, tablets & gaming devices Package Content Included: mophie juice pack powerstation® mini, USB charging cable, User Manual

[Mophie]