Wronger than Billy Wrong wearing the wrong trousers while on bus to the World Of Wrong adventure park is this bizarre humanoid construction billed as the 'world's first sex robot.'
Unveiled at the Adult Entertainment Expo in Las Vegas, the robot  promises all sorts of sexual delights for those who like to get their kicks rubbing up to things made of latex and silicon chips, and is apparently 'anatomically consistent with a human.'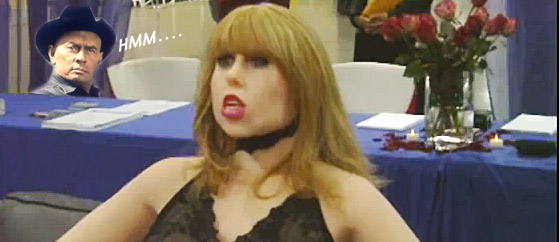 According to the press release, the oh-so-willing Roxxxy can "hear you, speak to you, feel your touch, carry on a conversation, and have an orgasm."
We're not sure how a computer achieves an orgasm but – to be honest – we don't fancy finding out either.
The makers insist that Roxxxy's 'artificial intelligence engine' will soon have her knowing all about your likes and dislikes, and  she's surely better than a normal flehs'n'blood girlfriend because she comes in five separate identities.
Just dial in the robo-girl you fancy for the day and go!
-Frigid Farrah (reserved and shy)
-Wild Wendy (outgoing and adventurous)
-S&M Susan ("ready to provide your pain/pleasure fantasies")
-Young ("she is oh so young (barely 18) and waiting for you to teach her")
-Mature Martha ("she is very experienced and would like to teach you")
There's an interview with the manufacturers on YouTube but you might have to sign in to see it.