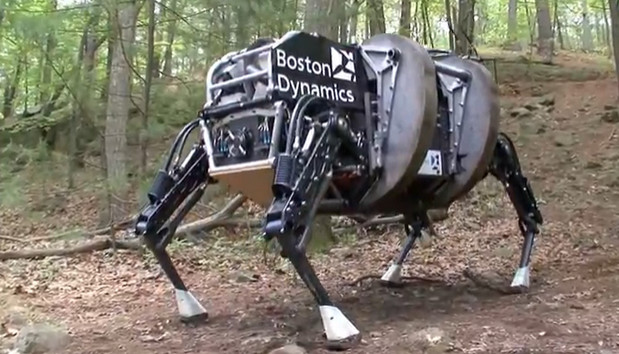 We're not saying we'd like to encounter on in a dark alleyway after five pints, do we do rather love these fabulously weird and scary robot dog creations powered by Boston Dynamics.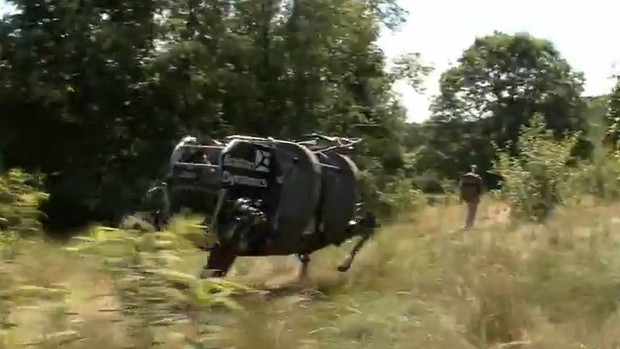 Sadly their intended use is military rather than creating fun forms of transport to carry us back from the aforementioned boozer, but it's still fascinating to watch the LS3's headless dog-like gait in action.
The robot is built for DARPA who describe their mission as being one to"maintain the technological superiority of the U.S. military and prevent technological surprise from harming our national security by sponsoring revolutionary, high-payoff research bridging the gap between fundamental discoveries and their military use."
All that sounds scarier than the dog-robot to us, but DARPA can see a future where these little beasties will be scuttling around the battlefield, carrying soldiers' gear, and "autonomously following them through rugged terrain, and interpreting verbal and visual commands."
"We've refined the LS3 platform and have begun field testing against requirements of the Marine Corps," saluted Army Lt. Col. Joe Hitt, DARPA program manager.
"The vision for LS3 is to combine the capabilities of a pack mule with the intelligence of a trained animal."
The robo-dog can now reach speeds of 1 to 3-mph walk over rough terrain, and future development will see it jogging down flat surfaces at a nippy 7-mph.
Such are the advanced electronics on-board, the LS3 can even automatically right itself, stand up and carry on if it falls over, and it can also follow a human leader and track members of a squad in forested terrain and high brush.
Check out the video below for more: