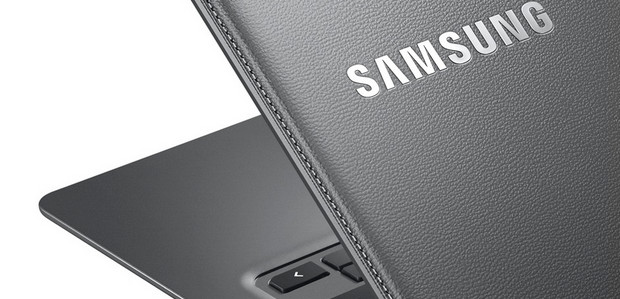 Samsung have announced that their new Chromebook 2 Series will be heading into the UK from the beginning of May, with the 11.6 inch and 13.3 inch models being released at affordable prices that may well persuade more over to the Chromebook concept.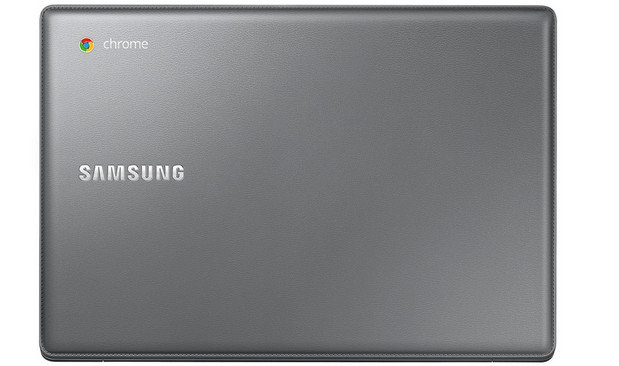 Both models are powered by Samsung's Exnos 5 Octa processor – that's similar to the one used in some versions of the Galaxy S5 smartphone – and come with 4GB of RAM and 16GB of storage.
Battery life is cited as around eight hours, which should keep the average user powered through a whole working day.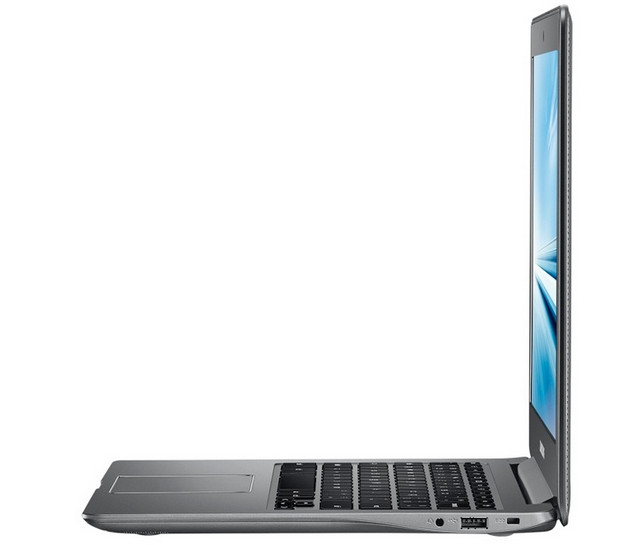 Running the nippy Chrome OS, the 13-inch machine packs a full HD 1920×1080 pixels display, with the smaller 11.6 inch number coming with a reduced 1366 x 768 pixels screen.
Although clearly a little bit plasticky (what do you expect for a price this cheap?!) , the new Samsung Chrombooks still manage to look fairly stylish and aren't too chunky either.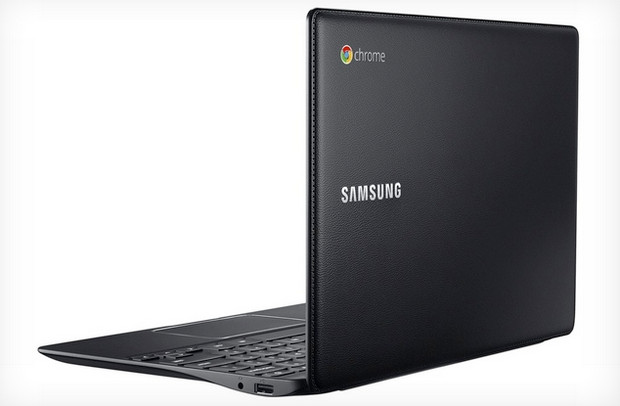 A follow up to last year's successful model (which sat on the top of the Amazon charts for months on end), both models now come with the addition of a distinctive stitched leather-esque back, as already seen in the Samsung Note devices.
We rather like the look, although we imagine it won't be for everyone.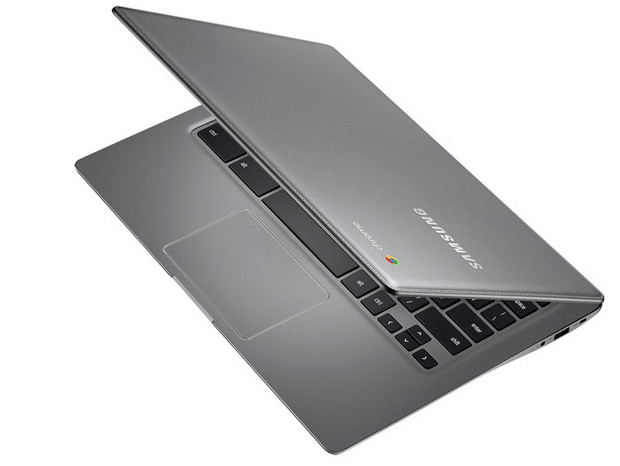 Connectivity-wise, there's a modest, but useful, selection of options onboard, with the Chromebooks offering one HDMI, one USB 3.0 and one USB port, 2.0 and a microSD multi-media card reader.
UK pricing has been set at £249 for the 11.6-incher and £329 for the 13.3-inch. The black 11.6-inch model will be available from May 1st, with the the white model and the larger 13.3-inch version available twelve days later.
Here's a first look hands-on video. Scroll down for the press release.
Press release:
Samsung Announces Chromebook 2 Series Featuring Faster Performance, Increased Productivity and Stylish Design

Leading Provider of Chromebooks in Education Introduces New Models to Further One-to-One Learning in K-12 Schools and Enhance Mobility and Productivity for Consumers

AUSTIN, Texas – MARCH 3, 2014 – Samsung Electronics America, Inc. today announced the launch of the Chromebook 2 Series. The new models, available in 11.6- and 13.3-inch configurations, improve on the popular Samsung Chromebook line with faster performance, longer battery life and a slim, light build enhanced by a durable textured lid and elegant stitched design. The 13.3-inch model also features a Full HD (1920×1080) resolution screen, enabling users to enjoy vibrant visuals for work, teaching and learning, and entertainment. Samsung was the leading Chromebook brand in the U.S. in 2013, accounting for more than 60 percent of overall market share, according to NPD.1

"Since we introduced our first Chromebook in 2011, Samsung has been committed to continually developing our designs and features to meet our users' ever-changing needs, while staying true to the core Chromebook attributes of simplicity, speed and security," said Mike Abary, senior vice president of consumer IT product marketing at Samsung Electronics America. "Samsung has been the top selling consumer Chromebook brand for the past three years and we'll continue to grow our leadership position in this space with the launch of the Chromebook 2 Series."

"Chromebooks are particularly important in the education space – according to Futuresource, one in four devices now sold into K-12 schools in the U.S. are Chromebooks – so we've designed our latest models with students and teachers in mind, including features like rapid start times, longer battery life and an easy-to-grip design," said Tod Pike, senior vice president at Samsung's Enterprise Business Division.

Lightning fast performance

The Samsung Chromebook 2 Series offers users nearly instant access to everything they need. It wakes up in less than one second and cold boots in less than ten. Samsung's energy-efficient Exynos 5 Octa processors allow for effortless multitasking and rapid rendering of graphics and videos, so multimedia content never misses a beat.

Powerful productivity paired with rich multimedia

The 13.3-inch Chromebook 2 features a best-in-class, Full HD (1920×1080) display with 250nit brightness, perfect for viewing photos, video and more. It is also optimized for Google+ Hangouts messaging and video calling with enhanced audio quality on high-power speakers (2Wx2) and a noise reducing array microphone, helping conversations come alive on the high-resolution screen.

Up to 8.5 hours of battery life means that users can enjoy the Chromebook 2 models throughout a full work or school day – all on a single charge.

Chromebooks update automatically, ensuring users always have the most recent technology and security features without needing to think about it. Also, when you use a Chromebook, all your information and files are saved, encrypted to your account. This makes it easy and safe for family members or students to share a device, or switch between devices.

The Samsung Chromebook 2 Series comes with a package of premium apps worth more than $100. It includes smartphone access and data management service Air Droid Premium, task management and collaboration app Wunderlist Pro, and LittleBridge.com, an English learning app.

Sleek, elegant design

While priced affordably, the new Samsung Chromebook 2 models are as stylish as other expensive, high- end laptops. The slim body measures less than three-quarters of an inch thick, making it easy to slip into any bag. At just under 2.5 pounds for the 11.6-inch model, it is also easy to carry anywhere. The lid features the stylish stitched design of the Samsung GALAXY Note 3, adding to the sophisticated look.

Ready for the classroom

In 2013, Chromebooks were among the most popular mobile computing devices utilized in K-12 schools. As the leading provider of Chromebooks in education, Samsung is helping to foster this growth by increasing options for educators with the Chromebook 2 models. With its extensive battery life, bright display and student-friendly design, the Chromebook 2 helps teachers engage students and deliver new learning experiences.

The Samsung Chromebook 2 Series is ideal for educators and administrators seeking to adopt one-to- one learning programs. Using the web-based console – available with support from Google for $30 per device for schools – Samsung Chromebooks can be centrally managed, making it easy for educators to configure a set of laptops across the classroom or the entire school. Samsung Chromebook 2 is a classroom-ready and cost-effective solution to support dynamic teaching and learning.

Available from April, the 11.6-inch Samsung Chromebook 2 will be available for an MSRP of $319.99, while the 13.3-inch model is $399.99.

Key Specifications

| Details | 11.6-inch Samsung Chromebook 2 | 13.3-inch Samsung Chromebook 2 |
| --- | --- | --- |
| Display Size | 11.6" | 13.3" |
| Resolution | HD LED Display (1366 x 768) | Full HD LED Display (1920 x 1080) |
| OS | Google Chrome | Google Chrome |
| Processor | Samsung Exynos 5 Octa (1.9GHz, 2MB L2 Cache) | Samsung Exynos 5 Octa (2.1GHz, 2MB L2 Cache) |
| Memory | 4GB DDR3L System Memory at 1600MHz (onboard) | 4GB DDR3L System Memory at 1600MHz (onboard) |
| Storage | 16GB e.MMC iNANDTM Embedded Flash Drive | 16GB e.MMC iNANDTM Embedded Flash Drive |
| Camera | 720p HD Web Camera | 720p HD Web Camera |
| Battery Life | Up to 8 hours | Up to 8.5 hours |
| Dimensions | 11.40? x 8.06? x 0.66? | 12.72? x 8.80? x 0.65? |
| Weight | 2.43 pounds | 3.09 pounds |
| Color | Jet Black, Classic White | Luminous Titan Gray |
| Ports | 1 HDMI, 1 USB3.0, 1 USB2.0, MicroSD Multi-media Card Reader, Headphone out/Mic-in Combo, DC- in | 1 HDMI, 1 USB3.0, 1 USB2.0, MicroSD Multi-media Card Reader, Headphone out/Mic-in Combo, DC- in |
| MSRP | $319.99 | $399.99 |
| Availability Date | April 2014 | April 2014 |

*All functionality, features, specifications, and other product information provided in this document including, but not limited to, the benefits, design, pricing, components, performance, availability, and capabilities of the product are subject to change without notice or obligation.