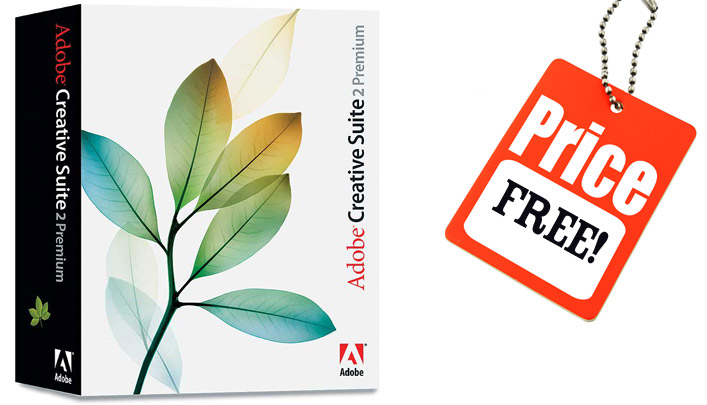 Incredibly, Adobe has decided to give away free copies of its Creative Suite 2 (CS2) package – so users can pick up a totally legitimate, free copy of  former top-of-the-range products like Photoshop CS2, Illustrator CS2 and Premiere 2.0.
Although the CS2 is getting on for ten years old, it's still a hugely powerful software package which is easily good enough for to line work today.
So why has Adobe suddenly got so generous? Well, according to Gizmodo, they simply got fed up keeping the activation servers running to support legitimate installations of CS2, so decided to offer the thole thing up for free
Here's the programs that are available for download:
Acrobat 3D 1.0
Acrobat Standard 7.0
Acrobat Pro 8.0
Audition 3.0
GoLive CS2
Illustrator CS2
InCopy CS2
InDesign CS2
Photoshop CS2
Photoshop Elements 4.0/5.0
Adobe Premiere Pro 2.0
And here's the direct links to download them all for free. Note that Adobe's servers are getting hammered at the moment so it may take a while for the program to download.
Direct Downloads

Creative Suite 2
Mac
Serial: 1130-0412-8377-1896-9751-5759
http://download.adobe.com/pub/adobe/magic/creativesuite/CS2_EOL/MLTI/CS2_install_Mac.pdf
http://download.adobe.com/pub/adobe/magic/creativesuite/CS2_EOL/STES/CS_20_IE_NonRet_D1.dmg.bin
http://download.adobe.com/pub/adobe/magic/creativesuite/CS2_EOL/STES/CS_20_IE_NonRet_D2.dmg.bin
http://download.adobe.com/pub/adobe/magic/creativesuite/CS2_EOL/STES/CS_20_IE_NonRet_D3.dmg.bin
http://download.adobe.com/pub/adobe/magic/creativesuite/CS2_EOL/MLTI/VCS2.dmg
http://download.adobe.com/pub/adobe/magic/creativesuite/CS2_EOL/MLTI/CS_2.0_IE_Extras_1.dmg.bin

Win
Serial: 1130-1414-7569-4457-6613-5551
http://download.adobe.com/pub/adobe/magic/creativesuite/CS2_EOL/MLTI/CS2_install_Win.pdf
http://download.adobe.com/pub/adobe/magic/creativesuite/CS2_EOL/MLTI/CreativeSuiteCS2Disc1.exe
http://download.adobe.com/pub/adobe/magic/creativesuite/CS2_EOL/MLTI/CreativeSuiteCS2Disc2.exe
http://download.adobe.com/pub/adobe/magic/creativesuite/CS2_EOL/MLTI/CreativeSuiteCS2Disc3.exe
http://download.adobe.com/pub/adobe/magic/creativesuite/CS2_EOL/MLTI/VCS2.zip
http://download.adobe.com/pub/adobe/magic/creativesuite/CS2_EOL/MLTI/CS_2.0_WWE_Extras_1.exe

Acrobat 3D 1.0 for Windows
Serial: 1159-1414-7569-3493-5006-5653
http://download.adobe.com/pub/adobe/magic/creativesuite/CS2_EOL/AC3D/AC3D_1.0_Volume_NACK_WWE.zip

Acrobat Standard 7.0
Mac
Serial: 1016-0414-2428-7157-5404-6669
http://download.adobe.com/pub/adobe/magic/creativesuite/CS2_EOL/ACRO/12001748.dmg

Win
Serial: 1016-1415-6379-6184-1333-2468
http://download.adobe.com/pub/adobe/magic/creativesuite/CS2_EOL/ACRO/22001904.exe

Acrobat Pro 8.0
Mac
Serial: 1118-0416-1130-3724-2927-7040
http://download.adobe.com/pub/adobe/magic/creativesuite/CS2_EOL/STEP/APRO8_Mac_WEB_WWEFG.dmg

Win
Serial: 1118-1414-1955-8737-8172-0350
http://download.adobe.com/pub/adobe/magic/creativesuite/CS2_EOL/STEP/APRO23_Win_ESD1_WWEFG.exe

Audition 3.0
Win
Serial: 1137-1004-8571-6848-7845-8029
http://download.adobe.com/pub/adobe/magic/creativesuite/CS2_EOL/AUDT/ADBEAudition_loopolgy.exe
http://download.adobe.com/pub/adobe/magic/creativesuite/CS2_EOL/AUDT/ADBEAudition_ESD1_WWEFGJIS.exe
http://download.adobe.com/pub/adobe/magic/creativesuite/CS2_EOL/AUDT/ADBEAudition_loopolgy.7z

GoLive CS2
Mac
Serial: 1033-0415-6162-2671-3431-0993
http://download.adobe.com/pub/adobe/magic/creativesuite/CS2_EOL/GLIVE/GL_CS2_UE_NonRet.dmg.bin

Win
Serial: 1033-1418-1610-5696-5209-0095
http://download.adobe.com/pub/adobe/magic/creativesuite/CS2_EOL/GLIVE/GL_CS2_UE_NonRet.exe

Illustrator CS2
Mac
Serial: 1034-0416-0740-0527-2887-2375
http://download.adobe.com/pub/adobe/magic/creativesuite/CS2_EOL/ILST/AI_CS2_IE_NonRet.dmg.bin

Win
Serial: 1034-1415-6230-2341-2884-9398
http://download.adobe.com/pub/adobe/magic/creativesuite/CS2_EOL/ILST/AI_CS2_IE_NonRet.exe

InCopy CS2
Mac
Serial: 1036-0414-4367-5110-5897-2432
http://download.adobe.com/pub/adobe/magic/creativesuite/CS2_EOL/AICY/IC_CS2_UE_NonRet.dmg.bin

Win
Serial: 1036-1419-3531-6378-2148-9313
http://download.adobe.com/pub/adobe/magic/creativesuite/CS2_EOL/AICY/IC_CS2_UE_NonRet.exe

InDesign CS2
Mac
Serial: 1037-0413-9961-4063-8457-1098
http://download.adobe.com/pub/adobe/magic/creativesuite/CS2_EOL/IDSN/ID_CS2_UE_NonRet.dmg

Win
Serial: 1037-1412-5094-8316-6812-7982
http://download.adobe.com/pub/adobe/magic/creativesuite/CS2_EOL/IDSN/ID_CS2_UE_NonRet.exe

Photoshop CS2
Mac
Serial: 1045-0410-5403-3188-5429-0639
http://download.adobe.com/pub/adobe/magic/creativesuite/CS2_EOL/PHSP/PhSp_CS2_English.dmg.bin

Win
Serial: 1045-1412-5685-1654-6343-1431
http://download.adobe.com/pub/adobe/magic/creativesuite/CS2_EOL/PHSP/PhSp_CS2_English.exe

Photoshop Elements 4.0/5.0
Mac
Serial: 1057-0410-8218-6295-1699-9560
http://download.adobe.com/pub/adobe/magic/creativesuite/CS2_EOL/PSE/PSE4_Mac_WWE_ESD1.dmg.bin

Win
Serial: 1057-1414-3729-7573-7352-1206
http://download.adobe.com/pub/adobe/magic/creativesuite/CS2_EOL/PSE/PSE_5.0_WIN_ESD1_ENG.exe

Adobe Premiere Pro 2.0
Win
Serial: 1132-1280-4900-7476-5108-8019
http://download.adobe.com/pub/adobe/magic/creativesuite/CS2_EOL/PPRO/PPRO_2.0_Ret-NH_UE.zip