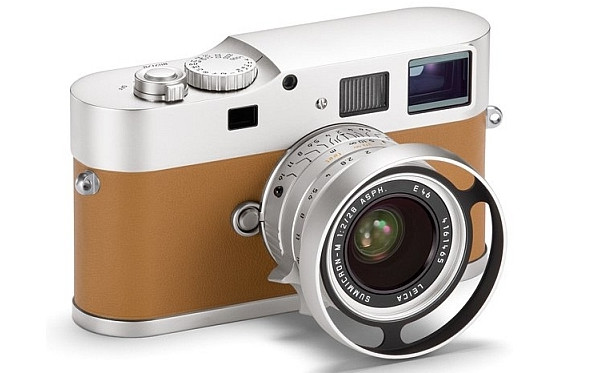 Leica is hoping to tempt the wallets of the fat rich and the hideously well-heeled with its latest 'special edition' of the Leica M9 full-frame digital rangefinder camera.
Known as the Leica M9-P 'Edition Hermès', the toff-tastic snapper comes in ochre-coloured Veau Swift calfskin leather, supplied by Hermès.
The Leica M9-P 'Edition Hermès' is offered in a choice of two different sets, containing either one or three lenses, with the single lens kit coming this month at an eye watering £18,000.
Available in June, the second, three lens set regales under the suitably poncey name of the "Série Limitée Jean-Louis Dumas" – and will retail at the obscenely high price of £36,000.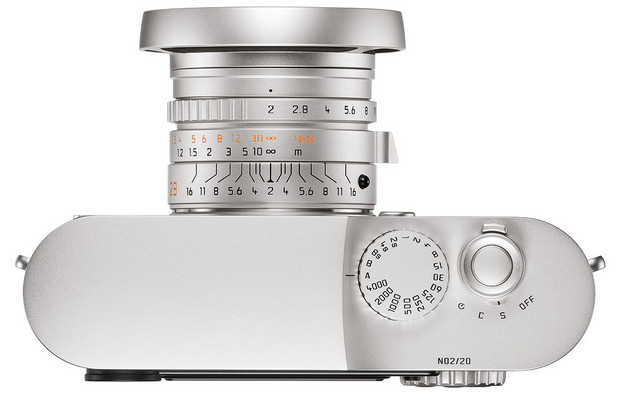 Although there's no denying that this is a truly wonderful looking camera, these kinds of prices do tend to bring out the Class War in us.  So we'll say no more for now.
Leica Press Release

Leica announces very special limited edition: Leica M9-P 'Edition Hermès' / Leica M9-P 'Edition Hermès' – Série Limitée Jean-Louis Dumas

10/05/2012

Leica Camera AG has unveiled a very special limited edition: the Leica M9-P 'Edition Hermès'.

Following the Leica MP 'Edition Hermès' (in 2003) and the Leica M7 'Edition Hermès' (in 2009), this is the third in a line of premium special editions of the Leica M-System to be created in collaboration with the renowned Parisian house Hermès. The Leica M9-P 'Edition Hermès' is being offered as a strictly limited edition. The limited numbers, unique product design and premium finishing with numerous extras make this a truly special edition in every respect.

The highlight of the Leica M9-P 'Edition Hermès' is the Veau Swift calfskin leather in ocre colour, supplied by Hermès for the leather finish of the silver-chrome Leica M9-P. This extremely fine and supple leather is applied not only to the camera body, but is also used for the shoulder strap included in the set. In addition, the camera sports a special design, created in collaboration with the automotive designer Walter de'Silva. Selected features of the camera body have also been completely restyled – for example, the top and base plates, the shutter speed dial, the multi-function wheel and the shutter release. These distinguish the cameras from the standard version of the Leica M9-P, and emphasise the unique status of the limited edition. In addition to a dedicated serial number, each camera also bears one of a series of consecutive limited-edition numbers.

The Leica M9-P 'Edition Hermès' is offered in a choice of two different sets, containing either one or three lenses. Compared to the standard versions, the lenses included in the sets also reveal numerous differences in design, ensuring perfect harmonisation between the cameras, their lenses and accessories.

The first of the Leica M9-P 'Edition Hermès' sets will be available in May 2012, in a worldwide limited edition of 300. In addition to the camera, the set includes a silver-anodised Leica Summilux-M 50mm f/1.4 ASPH. lens.

This will be followed by a very special set, which will be available in June 2012. The Leica M9-P 'Edition Hermès' – Série Limitée Jean-Louis Dumas, in a strictly limited edition of only 100 sets, is a celebration of the friendship and collaboration between Jean-Louis Dumas, the former president of Hermès, who died in May 2010, and Leica Camera AG. The camera in this set is accompanied by three lenses: a Leica Summicron-M 28mm f/ 2 ASPH., a Leica Noctilux-M 50mm f/0.95 ASPH. and a Leica APO-Summicron-M 90mm f/2 ASPH., all featuring a stunning silver-anodised finish.

This unique collection of photographic equipment finds a fitting home in a hand-finished Hermès camera bag that is available exclusively as a part of this second set. This is the first Leica camera bag ever to have been created by Hermès, a company world-famous for its manufacturing excellence. As homage to Jean-Louis Dumas, a Leica photographer, the second set also includes a book with a selection of his pictures. On 190 pages, this photographic work in two volumes shows an entertainingly diverse portfolio of 200 black-and-white images captured by Jean-Louis Dumas with his Leica M camera.

For these special limited edition sets, the frame selector lever, the accessory shoe and the Leica script on the top plate of the silver-chrome Leica M9-P have been omitted in favour of its unique design. In all other technical detail, the cameras and lenses of the special editions are identical to those of the standard versions.

Pricing and availability
The Leica M9-P 'Edition Hermès' is scheduled to be available in the UK from May 2012, at a UK suggested retail price of £18,000 inc VAT. The Leica M9-P 'Edition Hermès' – Série Limitée Jean-Louis Dumas is scheduled to be available in the UK from June 2012, at a UK suggested retail price of £36,000 inc VAT. In the UK, both cameras will be available exclusively from the Leica Store Mayfair, 34 Bruton Place, London W1J 6NR. Tel: 020 7629 1351, http://www.leica-storemayfair.co.uk