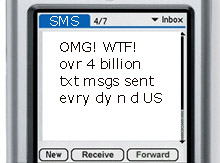 Americans were a bit slow on the uptake of texing, but they've certainly made up for lost time, with new figures showing that around 4.1 billion SMS messages are sent every day.
The figures come from the cell phone industry's trade association, the CTIA, who discovered that about 740 billion text messages were thumped out in the first half of 2009, averaging nearly 17 texts per day by everyone with a data-capable phone.
Less chat, more text
As texting goes through the roof,  it seems folks are chatting less and less on their phones, with the average call length continuing a downward spiral.
For most of the last half of the decade, the average cellphone natter hovered around the 3 minute mark, peaking at 3.13 minutes in 2007.
From then on it was all downhill, with the average call length down to 2.43 minutes in 2008, and then plummeting to just 2.03 minutes in 2009 – making that year the lowest  since CTIA began tracking average call lengths.