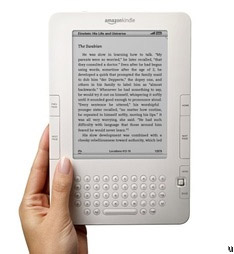 Us Brits have been waiting an eternity to grab a slice of the Kindle eBook action, and Amazon have finally announced UK availability for the iconic electronic book reader.
Well, sort of. The Kindle International Version is indeed offered on Amazon's UK site, but you can't actually buy it there – instead, you'll have to head off to the Amazon.com site and then shell out extra for overseas postage and  'customs duties, import taxes and other fees' on top of the $279 asking price.
Being a US machine, you'll also need a US to UK power adapter to hand (the tightwads don't include one), or you'll be stuck with charging over USB only.
Although the Kindle will let you wirelessly download e-books over 3G, there's another caveat: you'll be charged Whispernet transfer fees ($.99 per megabytes), and to add insult to injury you'll be billed in ruddy dollars too.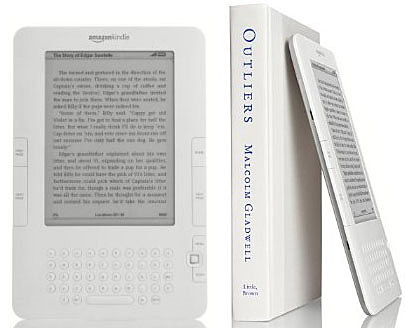 Get yer paper 'ere!
We've been long time fans of the Kindle's newspaper subscription feature, and UK readers of a Tory persuasion can revel in daily downloads of the Daily Mail (spit!), Times and  Telegraph.
If you're hoping to check out some blogs and websites on the device, you can go whistle: the service is not available in the UK.
So, it's clearly a bit of a half-arsed UK release, with Amazon perhaps keen to get their reader noticed early as the public's awareness of other eBook readers grows.
There's still a lot of like here though, with the 0.36″ slim device offering access to 280,000 books (all downloadable in under 60 seconds via a free 3G connection), daily newspaper downloads, a device capacity of some 1,500 books, a huge battery life and  a delightfully crisp, paper-like screen.
Amazon have said that they will be introducing a "UK-centric experience" for the Kindle at some vague point in the future, but if you're mad to get jiggy with a Kindle, this is the best you'll get for now.
Update: UK Amazon customers won't have to pay download charges as the the wireless delivery is included in the price of the book for international customers.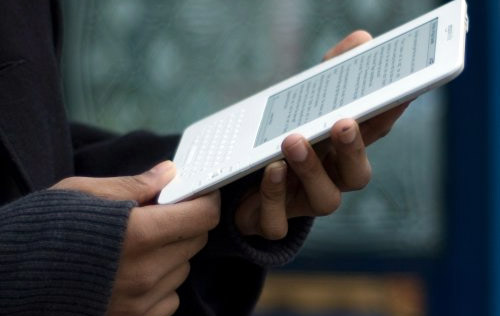 A Feast Of Technical details for your perusal

Display: 6″ diagonal E Ink electronic paper display, 600 x 800 pixel resolution at 167 ppi, 16-level gray scale.
Size (in inches): 8″ x 5.3″ x 0.36″ (203.2mm x 134.6mm x 9.1mm).
Weight: 10.2 ounces (289.2 grams).
System Requirements: None, because it's wireless and doesn't require a computer. Check wireless coverage.
Storage: 2GB internal (approximately 1.4GB available for user content).
Battery Life: Read on a single charge for up to 4 days with wireless on. Turn wireless off and read for up to two weeks. Battery life will vary based on wireless usage, such as shopping the Kindle Store and downloading content. In low-coverage areas or in EDGE/GPRS-only coverage, wireless usage will consume battery power more quickly.
Charge Time: Fully charges in approximately 4 hours via the included U.S. power adapter. Also supports charging from your computer via the included USB 2.0 cable.
Connectivity: HSDPA modem (3G) with a fallback to EDGE/GPRS; utilizes Amazon Whispernet to provide wireless coverage via AT&T's 3G high-speed data network in the U.S. and partner networks outside of the U.S. See Wireless Terms and Conditions.
USB Port: USB 2.0 (micro-B connector) for connection to the Kindle U.S. power adapter or optionally to connect to a PC or Macintosh computer.
Audio: 3.5mm stereo audio jack, rear-mounted stereo speakers.
Content Formats Supported: Kindle (AZW), TXT, Audible (Audible Enhanced (AA, AAX)), MP3, unprotected MOBI, PRC natively; PDF, HTML, DOC, JPEG, GIF, PNG, BMP through conversion.
Included Accessories: U.S. power adapter (supports 100V-240V), USB 2.0 cable, rechargeable battery. Book cover sold separately.
And here's the full press release for your delectation

Kindle is Amazon's most wished for, most gifted, and #1 bestselling product, but prior to today it has been available only to U.S. customers.  Now for the first time, Kindle is available to customers around the world.  Kindle wirelessly downloads books, magazines, newspapers and personal documents to a crisp, high-resolution 6-inch electronic ink display that looks and reads like real paper.  Kindle utilizes the same 3G wireless technology as advanced cell phones, so you never need to hunt for a Wi-Fi hotspot.  Readers around the world can pre-order Kindle today for $279 at www.amazon.com/kindle and it will begin shipping October 19.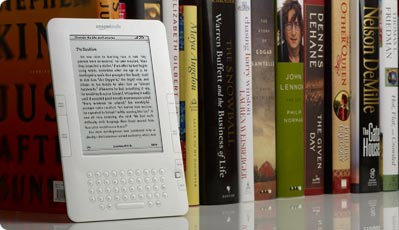 "We have millions of customers in countries all over the world who read English-language books," said Jeff Bezos, Amazon.com Founder and CEO.  "Kindle enables these customers to think of a book and download it wirelessly in less than 60 seconds."
The Kindle Store offers international customers over 200,000 English-language books, including New Releases and New York Times Bestsellers, which are typically priced less than physical editions.  Over 1,000 different rights-holders now have books available in the Kindle Store, including leading publishers Atlantic Books, Bloomsbury, Canongate, Faber and Faber, Hachette, Harlequin, HarperCollins, Lonely Planet, Penguin, Profile Books, Quercus, Simon & Schuster and Wiley.
"Penguin is a leading supplier of digital books to Kindle in the U.S. and we are delighted to be extending that successful partnership to the rest of the world," said John Makinson, CEO of Penguin, the world's largest publisher of English language books.   "The publishing industry is experiencing explosive growth in digital book sales in the U.S. and we hope to stimulate digital buying elsewhere by making our content widely available on new devices."
"At Faber and Faber we are always seeking new ways of finding readers for the writers we publish, so we're excited by Kindle's launch beyond the U.S., and to be developing our strong partnership with Amazon beyond physical books," said Faber and Faber Ltd Publisher and Chief Executive Stephen Page.
Over 85 top U.S. and international newspapers and magazines are also available in the Kindle Store for single purchase or subscription.  Many international newspapers are available in the Kindle Store for the first time, including La Stampa (Italy), El País (Spain), El Universal (Mexico), O Globo (Brazil), The Daily Telegraph (UK), joining top papers such as The New York Times, The International Herald Tribune, Le Monde (France), Frankfurter Allgemeine Zeitung (Germany) and The Washington Post.  Newspaper and magazine subscriptions are auto-delivered wirelessly to Kindle.
Customers around the world can now enjoy the same features that have helped make Kindle the #1 bestselling product on Amazon.com, including:
Slim and Trim: At just over a third of an inch thin (0.36 inches) and weighing just over 10 ounces, Kindle is pencil thin and lighter than a typical paperback.
3G Wireless: Readers living in or traveling to Kindle's wireless coverage areas can wirelessly shop the Kindle Store, download books in less than 60 seconds, automatically receive newspaper and magazine subscriptions, and receive personal documents—all without a PC, Wi-Fi hot spot, or syncing.  Customers who are not in the coverage area can quickly transfer content to Kindle over USB.
Reads Like Real Paper: Kindle's 6-inch electronic ink display reads like printed words on paper because the screen works using real ink and doesn't use a backlight, eliminating the eyestrain and glare associated with other electronic displays.
Stores Up To 1,500 Books: Kindle's 2 GB of memory holds up to 1,500 books and Kindle books are automatically backed up by Amazon so customers can re-download titles in their library.
Read For Weeks On A Single Charge: Kindle's electronic paper display sips battery power so users can read for over two weeks with wireless turned off and up to four days on a single charge with wireless on.
Read-To-Me: With the experimental Text-To-Speech feature, Kindle can read most newspapers, magazines and books out loud.
Automatically Syncs With Kindle and Kindle Compatible Devices: Amazon's "Whispersync" technology automatically syncs customers' last page read, bookmarks, notes, and highlights across Kindle, Kindle DX, and Kindle compatible devices like Kindle for iPhone.
Wirelessly Receive and Read Personal Documents: Wirelessly send, receive, and read personal documents in a variety of formats such as Microsoft Word and PDF.
Instant Dictionary Lookup: Kindle comes with the New Oxford American Dictionary and over 250,000 definitions that appear instantly at the bottom of the page.
Choose Text Size: Kindle lets readers customize their reading preference by providing six different text sizes.
Bookmarks, Notes, and Highlights: By using the QWERTY keyboard Kindle users can add annotations to text, as well as highlight and clip key passages and bookmark pages for future use.