Apple's App Store has proved a mind bogglingly huge success, with the total of apps downloaded set to burst through the ten billion landmark any minute now.
The growth of the app store has been astonishing: at the end of September 2009, 2 billion apps had been downloaded, a figure that promptly rose to 3 billion by January 2010.
A year later the grand total of downloaded apps had tripled, thanks to Apple's big three devices accessing the store: the iPod touch, the iPhone and the iPad.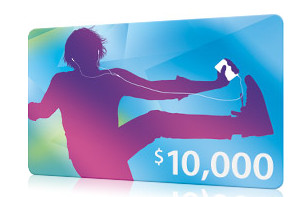 10 grand for the 10 billionth downloader
Keen to trumpet their success and keep their hype levels set to 'stun', Apple have set up a page with a large counter racing towards the magic figure, with a big prize offered to the lucky, lucky ten billionth downloader:
As of today, nearly 10 billion apps have been downloaded from the App Store worldwide. Which is almost as amazing as the apps themselves. So we want to say thanks. Download the 10 billionth app, and you could win a US $10,000 iTunes Gift Card. Just visit the App Store, and download what could be your best app yet.
You can also enter the draw without purchase or download here.