Every cloud has a silver lining say cloud salesmen, and one side effect of my recent illness has been the opportunity to upgrade the apps on my iPad.

Naturally there's no shortage of iPad app reviews on the net but I don't see any reason for me not to add mine, together with some thoughts about my experience so far with this allegedly 'magical and revolutionary' device.
To start with I'll deal with the device's Operating System and news apps, with the rider that this is very much a personal view, and in no way my employers.
The operating system
First the OS. While the user experience is smooth and apps burst forth onto the screen in a generally fabulous manner, the tweaking which is due in November cannot come too soon for me.
The obvious absence from the original release is multi tasking. It really beggars belief that Apple think its users will be content only doing one thing at once.
Even the most basic £200 netbook runs things in the background. A machine which costs up to three times this amount should have had that ability as standard from the off.
No Flash
But I have become reconciled to the lack of Flash. Its absence is not as crippling as the critics suggest and much web video development is now in the new iPad friendly h.264.
But another thing that my £200 netbook can do is print documents and the iPad cannot do this off its own bat. These omissions are irksome, but again will be sorted come the Autumn, so it is said.

The big switch with iPad and news is one of power, which has moved away from journalists and towards their readers listeners and viewers.
There's now an abundance of choice which is accessible via the web and the many apps, but the apps themselves allow the user to choose news priorities and sources.
Added to that is the flexibility with the ease of display and it's easy to see how the real fight for survival traditional news providers already have is going to intensify as tablet use takes off.
Flipping great
For there are some great news orientated things to use with the ipad which has made it my favourite device around the house and work and has rendered the idea of leaving the building to actually buy a magazine or newspaper superfluous.
Chief among them is flipboard which makes your Twitter and Facebook feeds into a delightful colourful magazine which you can flip through, as the app title suggests.
This app really does take advantage of the tablet's display and touchscreen in an impressive way, and hints at the future of magazines and media generally. For with Flipboard you are the editor, choosing sources of information which display in the order you want.
As well as social networking the app allows you to display blogs and some magazines web feeds in the same way. This app in itself could be very bad news indeed for conventional magazines. It's free, by the way.
Metro newspaper
I'm a fan of the Metro newspapers iPad and iPhone app.
The Metro lies about on Tube trains and is a rubbishy pest which puts people off buying proper papers. But it works well online, loading down into the iPad the full newspaper imagery, which you can blow up with your fingers as you would a webpage.

For a free app it's very versatile, even allowing you to choose your background music from the ipod app as you browse the stories. It even includes the Metro's magazine. And you can download the paper to read later, when for example, you're on the tube and so offline. Great.
Trying to make it fit
But other magazines and newspapers are struggling with the iPad's challenge. Maclife comes close to getting something worth having; it's free and worthwhile if you like your geekery apple shaped.

Other techy print merchants are having a go too; Wired has done a demo version for the ipad which is well worth a look, but I can't see how to buy other editions from the app store or even see how much they'd be.
I wouldn't pay more than 50p for it since the iPad means the publisher has neither to pay for printing or distribution, but at the moment the business of selling the magazine electronically seems to elude them. Which is ironic when you consider Wired's speciality.
BBC apps
The electronic media has adapted much more quickly and easily to the ipad and here I have to bow the knee to my employer which has issued the natty free BBC news app which has boasted over a million downloads to date.

There's an array of text and video treatment of stories from the various World Specialist and UK fields, together with a video feed of the news channel when you're within Wi-Fi range. And yet there are odd omissions.
Why no way to listen to Radio 4's PM or Today through the app? Or select Five Live's news offerings?
Radio generally doesn't get a look in. And I can't see how to search. And unaccountably there doesn't seem to be a way to send stories to the BBC through the app.
Sky News has an iPhone app which does allow users to interact, and which translates to the iPad from the iPhone quite well, but it's not custom built for the bigger screen so the stories have a pixelly feel.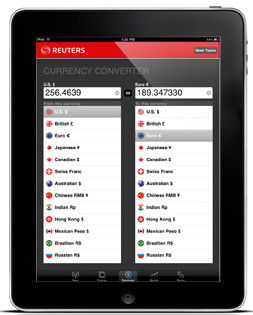 Sumptuously Reuters
There are other news apps on the platform which are highly professional in feel. Reuters has a beautiful news ipad app – it's called the news pro – which is the best presented news effort on the platform combing the cream of their written journalism with their stills photography and video. Sumptuous and free.
Their competition in the agency business, Associated Press has also delivered an accomplished app which showcases their stories and video.
It's a little too US dominated for my personal taste however and there's a plan to sell its content through the app. So far though, it's free.
US news apps
Other news providers are experimenting with the iPad interface and offering things which are plain gimmicky, like the US TV channel's ABC's news globe – it gives you the stories in a globe which you can revolve and touch to make stories leap out, which is pretty but ultimately pales beside the Reuters or BBC's approach which may be duller but allows for a quicker and more efficient browse.
I also like Newsy which sources US news outlets for pictures and treatment of stories, and allows you to build your own running order. TV bulletin editors watch out.
Not quite feeling the Pulse
Pulse was initially quite interesting – infact it was so interesting publishers initially managed to get Apple to remove it from the app store – but I now find I less compulsive than Flipboard.
Pulse just displays stories from other people's websites in moveable rows, which is a swift way to assess coverage but which is visually less than appealing. Again, you can choose your sources, as you can with Flipboard.
And it would be wrong not to mention the NPR app which is a magnificent way to access the US public radio output and which the Beeb would do well to have a good long look at.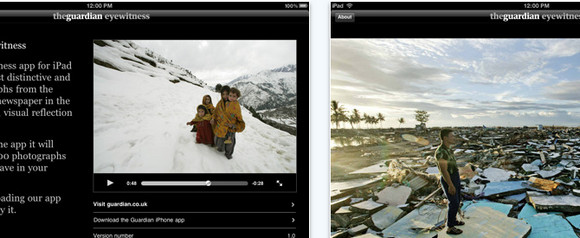 Other media news apps

So my news addiction is well catered for, but other media efforts are less compulsive. The Guardian has an excellent iPhone app, but has yet to revise it properly for the iPad. Instead, they send you a photo a day through their eyewitness app, which while worthy is scarcely competition for the other news providers.
I was recommended Newsrack, which is an iPad RSS reader but its workings have eluded me so far, my fault I suspect.
Some iPhone news apps have been installed on my iPad and get used, most notably the excellent Manchester Evening News and the Evening Standard, but hurry up chaps, please do a bespoke iPad effort for this journalist.
Other contenders
Of course there are many other news apps.
I have found the Wall Street Journal too demanding of both money and e-mail details to be compulsive, the New York Times has yet to update its iPhone offering for the iPad, preferring a patrician 'Editor's Choice' effort, so wholly missing the point of the power switch that's occurred – we as consumers have the choice now, not the editors.
My next post will cover my take on social networking on the iPad, and also look at games if I get time.
[hendo is a BBC journalist, and you can read his excellent blog here: hendoman]