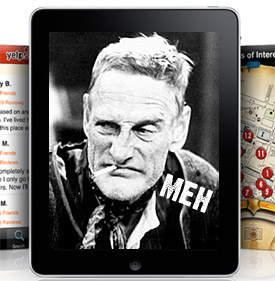 One of the contributors to our sister site, urban75, managed to bag herself a hands-on session with the iPad.
Posting under the pseudonym 'moose,' she's a bit of a full-on Apple fan, so we were surprised when some less than enthusiastic text came through:
Right, so I've been using the iPad on and off during the day, and unfortunately I'm a bit underwhelmed…. and I'm one of the most devoted fangirls.

Flash

The Flash issue can't be avoided. It's one thing reading media/news sites on my iPhone and not being able to access the video content, but on the larger screen of the iPad, the big gaping hole on pages where the Flash should be just can't be ignored.

Multi-tasking

Multitasking I can do without, because I'm used to it. The look of some of the basic utilities like Contacts have been updated for the iPad but given a weird 'antique address book' look, which seems a little odd unless they're going for steampunk irony.

Sound quality's ok, but obviously nothing brilliant, and quite quiet.

Maps are a joy on the larger screen, as is iTunes – nice looking, intuitive to touch.

Connection problems

I'm having some issues with Internet connection – the iPad I'm using is WiFi only, no 3G, and the connection keeps dropping.

It takes around a minute after firing the device up to get connected.

The keypad is very impressive – it's possible to do proper 2-handed typing on it, even though the layout takes a bit of getting used to.

Awkward ergonomics

My biggest problem with it I think is the size. The device is too heavy to hold for long, and I've only got small hands, so it's tricky to know how to hold it safely and still be able to touch the screen.

I've resorting to wedging it under my bosom if I'm standing up.

Laying it flat on a table isn't a good angle for reading, either. I think the stand up dock would be a must if I were to buy one for myself.
Hold ups ahead?
Interestingly, there seems to be some hold up on iPad deliveries.
Her company ordered 150 iPads on behalf of a client to use at a large event at the end of May.
Delivery was promised for Tuesday, but Apple phoned and said they couldn't send the whole order as they're rationing them for the next month.
So they sent……. 2!