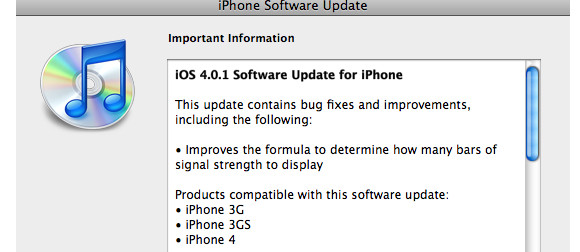 Apple iPhone 3G, 3GS and iPhone 4 users should prepare their handsets for incoming as Apple have just unleashed the iOS 4.0.1 software update.
Downgrade expectations now
Anyone looking for drastic updates or cool new features is likely to be disappointed, with the main thrust of the upgrade seemingly an "improvement" to the way the phone displays signal strength.

Bizarrely, Apple has now made the visual display for the first three bars much larger than before, as the graphic from Engadget illustrates.
It's also been reported that Apple head honcho Steve Jobs was told that the iPhone 4's external antenna could cause reception problems as far back as last year.
The Grip lingers
The bars may have got bigger, but early internet reports suggest the update has failed to fix the reception issues caused by the "grip of death."
This issue has miffed New York Senator Charles Schumer sufficiently for him to write an open letter to Steve Jobs where he urges Apple, "to issue a written explanation of the formula it uses to calculate bar strength, so that consumers can once again trust the product that they have invested in.."
Carry a back up says Wozniak
If you're troubled with reception issues on your new iPhone. Apple co- founder Steve Wozniak has a more radical solution: carry two phones around with you.
Update: Anandtech report
Tech site Anandtech has posted up a very comprehensive report on how the new update affects the iPhone 4…