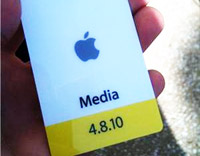 Sorry, no.
We won't be running minute-by-minute reports of the hours leading up to Apple's iPhone OS 4.0 announcement.
There'll be no news about the weather outside the event, no photos of people milling around outside the venue, and definitely no blurry mobile pics of us holding our press passes.
No coffee shots
Similarly, anyone hoping to see pictures of the backs of fellow reporters heads, shockingly dull videos of people standing about in hallways drinking coffee or comments about the amount of Apple staff seen clutching hallowed iPads, will also be out of luck.
We won't be filing minute by minute reports of every second leading up to the event, neither will we be anxiously blogging updates to tell you that the event hasn't started instead.
No fashion reports
We won't be reporting on what ancillary Apple staff are wearing, doing, or possibly thinking about.
If you want that kind of guff, look here for a never-ending flow of pointless fluff about nothing in particular (the sideways on video by Greg Kumparak showing people hanging around is truly priceless stuff).
Instead, we'll be posting up a report when there's some actual news to impart.
So until then, were off to do something useful. Like have a coffee.