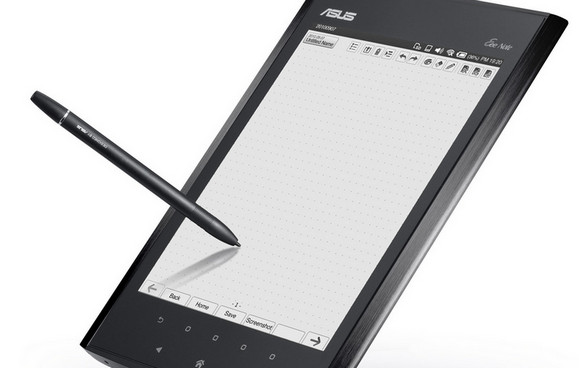 Asus has announced that their new Eee Note EA800 will be available in Europe next month, with pricing set at 259 Euros (around £220).
Ebook sketch pad
Mixing up a digital note taking device and an eBook reader, the EA800 offers a tantalising glimpse of what might have been with the Microsoft Courier tablet, with the built-in pressure-sensitive Wacom digitiser and stylus combo letting users take handwritten notes and make sketches.
The 8 inch, 768 x 1024 pixel display supports 64 shades of gray, and there's also a 2MP camera onboard.
You'll need to export the snaps to see them in colour, so it's handy that the EA800 is designed to hook up to PCs via USB.
The Eee Note can also plays MP3 files, with support for .txt, .doc, .docx, .pdf and ePub formats as well as  .xls, .xlsx, .ppt, and .pptx.
The EA800 also comes with 802.11b/g/ WiFi and a 13 hour battery, plus 4GB of storage space with a micro SD card slot for expansion.
[Via]
See video hands on: