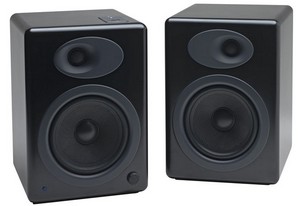 There's no end of weird and wonderful looking powered speakers available for hooking up to iPods, MP3 players and computers, but we were only interested in one thing for Chez Wirefresh: the best possible sound.
Seeing as we listen to music in our office all day long – either blasting out Spotify/Media Monkey through our PC, or playing tunes from iPhones or our Pure DMX-60 DAB/CD player – our budget stretched to around £250.
For that kind of moolah, we were demanding a kick-ass decent sound, so we spent some considerable time mulling over spec sheets and auditioning countless alternatives, from Harmon Kardon's space age soundsticks
to the curiously blobby Razer Mako speakers
, but for us the full sound stage of the Audioengine 5 bookshelf-sized speaker system won the day.
Bookshelf sized
Available in white, wood or black finishes, they're going to look a little odd sat next to your monitor unless you've got a desk the size of  a medieval door, but at 10" x 7" x 7.75" they're still fairly compact bookshelf affairs.
The speakers come packaged with their own drawstring cloth covers – a nice touch – but there's no protective grills, so if you live in a household where dogs/cats/small children enjoy the sound of scraping their paws/claws/fingers over exposed speakers, these may not be for you.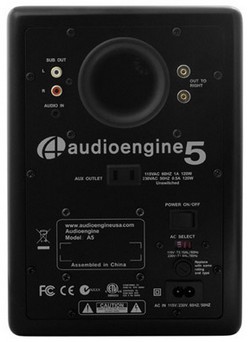 Construction & connections

First impressions are good, with the speakers looking worth the money with their rounded corners and high quality matte black finish,  and rock-solid construction.
The left speaker contains the amplifier all the electronic gubbins, packing a dual Class AB monolithic amplifier rated at 45W RMS/70W peak per channel.
On the top of the speaker can be found a 1/8" (mini jack) stereo input for slamming in an iPod (or other music devices – in our case a Micro-Fi unit), with a handy USB port for charging the device.
Note that there's no integrated iPod dock included, but it can be used with AirPort Express and other wireless systems.
At the back can be found another stereo jack audio input, stereo phono out, two bare-wire output connectors for hooking up the right-hand speaker, plus a power switch, an auxiliary AC outlet and voltage selection switch if you intend roaming the earth with these babies.
On the front of the right speaker, there's just a (happily restrained) blue LED and a volume knob.
Both speakers are shielded to reduce interference from nearby electronics, and tout a 20mm silk dome tweeter with neodymium magnets and a 5" Kevlar woofer, serving up a rated frequency response of 60Hz-22kHz +/-1.5dB.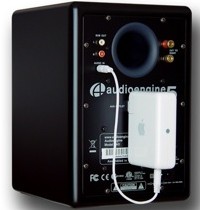 Sound quality and conclusion
With the supplied 2 metre cables, we were able to position the speakers to provide a full stereo soundstage, and placing them on bookshelves provided a bass deep enough to get a whole lotta shakin' going on.
Slapping on some boss tunes, we found the sound big, balanced and with plenty of room-filling oomph. We cranked the Audioengines to Motorhead-like levels without any sign of distortion, and the bass remained impressively solid throughout.
Without a dedicated sub-woofer, we weren't expect the earth to move for us, but the Audioengines certainly impressed with the bass they produced – and if you take them off the shelf and put them on proper stands you can expect an even better sound.
Capable of very high quality playback and producing high-fidelity sound, we'd certainly recommend the Audioengine 5's for the bedroom, office or living room, and if you love music, these puppies are well worth the investment.
Highly recommended.
Ratings

– Sound quality


– Build


– Features


– Value for money


– Overall
Buy them on Amazon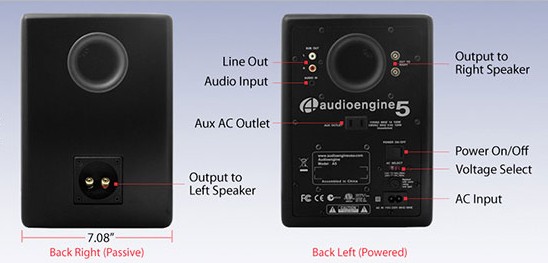 Technical Specifications
– Type: 2.0 bookshelf-style, powered speaker system
– Power output: 45W RMS/ 70W peak per channel (AES)
– Amplifier type: Dual Class AB monolithic
– Protection: Output current limiting, thermal over-temperature, power on/off transient protection, replaceable external main fuse
– Materials and Construction: 1″ thick MDF cabinet
– 5″ Kevlar woofers with advanced voice coils
– 20mm silk dome tweeters with neodymium magnets
– Torroidal power transformers
– Inputs: 2 X 1/8″ stereo mini-jack
– Outputs: USB Type A (power charging only)
– Main voltages: 115/230V 50/60Hz switchable
– Size (each): 10.0"(H) x 7.0" (W) x 7.75" (D)
– Weight: 6.4Kg/14lbs (left), 4Kg/9lbs (right)
– Shipping weight: 12.6Kg/27.75lbs per pair
– Shipping box dims: 11.5" (W) x 14.5" (H) x 21.75" (L)
Accessories Included
– AC power cable
– 1/8″ audio cable, 2 meters (~6.5ft)
– 2 x 1/8″ audio cables, 20cm (~8″)
– 1/8″ to RCA "Y" cable
– USB power extender cable, 1 meter (~3.28ft)
– Speaker wire (16AWG), 3.75 meters (~12.3ft)
– Drawstring cable bag
– 2 x High-density foam protectors/sonic isolation pads
– Full Setup Guide