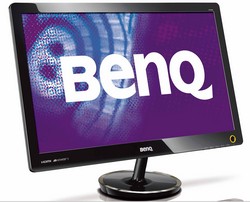 Set to make your current monitor look like a pie-eating lardbucket is BenQ's flagship V2220/V2220H which positively insists that it's the thinnest 21.5-inch monitor in the known universe.
Thinner than a Ryvita biscuit that's fallen under a steamroller (possibly), the 15mm V2220 LED monitor serves up a 'class leading' 10,000,000:1 dynamic contrast ratio resulting in none-more-blacks.
Film noir fans should also enjoy the superslim BenQ with that hefty contrast range promising to reveal more details lurking in the shadows onscreen.

Lentil wearing green folks should also feel the love, with the BenQ – the proud winner of an iF Product Design Award for 2010, no less – claiming to reduce power consumption by 28.6 per cent compared to CCFL models and with Eco mode saving up to 52 per cent.
The wafer thin wonder is set for a Taiwan launch in the next couple of months, with the rest of the world following in June 2010.
Fatter and cheaper does it for us
Much as we'd like to have super-slim monitors dotted around our office making us look all moderne,  we'll be buggered if we're going to pay a big style premium – after all, when you're working on the things, you're not really going to care if there's an extra 5mm of width at the back of the screen.
We recently picked up a pair of LG Flatron W2442PA 24″ monitors for £190 a pair, and with that kind of quality being knocked out at such keen prices, we'll be giving the BenQ's Twiggy-esque lines a miss unless they're very competitively priced.
[Via]