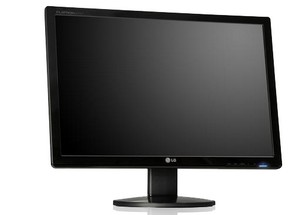 It doesn't seem that long ago that 24″ TFT monitors were the sole preserve of goatee-wielding designers swivelling on Aeron chairs in stylish studios, but with monitor prices continuing to tumble, there's never been a better time to move up to a big screen.
Available online for as little as £190, the LG Flatron W2442PA 24″ monitor certainly offers a lot of screen real estate for your buck, serving up a panoramic 1920×1080 pixels in a well finished package.

Build quality
The overall build quality of the Flatron was very good, with the monitor sitting on a  large round base which did a fine job of keeping the wobbles at bay.
The tiltable stand offers 11cm of height adjustment as well as the ability to rotate a full 90 degrees into portrait mode – is handy if you're working on a print job (or an unfeasibly long web page).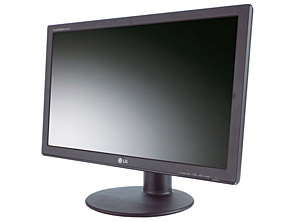 Ports
Around the back there's VGA, DVI, and HDMI ports and 3.5mm in/out audio connectors, although there's no upstream/downstream USB connectivity on offer. We can't say this troubles us much but it may be important to some folks.
Similarly, anyone looking for a monitor to Rock Da House with may want to look elsewhere as the built in speakers are, at best, rudimentary, pumping dribbling out just 1W per channel.
That said, they're ample for playing back web videos, watching TV and hearing the occasional 'dong!' sound  as Windows reports a system error.
Games and movies looked fantastic on the big 24″ HD screen, with the ultra-fast 2ms pixel response time handling motion with no artefacts or ghosting, and LG's F-Engine producing deep blacks and crisp whites thoughtful.
Colours were neutral with none of that garish red you see on some monitors, and there was no visible backlight bleed to distract the eyes.
With such a well balanced range of colours onscreen, we did find the bight blue power LED to be a little distracting, but that was easily cured with a bit of tape.
Pleasantly finished in an understated all-over black, the LG Flatron 24″ 1080p monitor offers excellent picture quality backed by a flexible stand at a price that makes it nothing short of a bargain.
Coming with  a three-year on-site warranty, this is one monitor we can wholeheartedly recommend. In fact, we were so impressed, we went out and bought two!
Buy it now on Amazon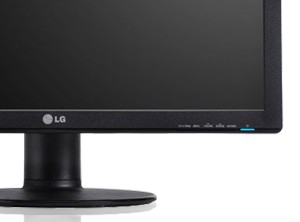 Main specifications
Screen size 24.0in
Aspect ratio 16:9
Resolution 1920 x 1080
Screen brightness 300cd/m2
Pixel response time 2ms
Contrast ratio 1,000:1
Dynamic contrast ratio 10,000:1
Pixel pitch 0.277mm
Horizontal viewing angle 170 degrees
Vertical viewing angle 160 degrees
Speaker type Stereo
Speaker power ouput 2W
TV tuner no
Connections
DVI inputs 1
VGA inputs 1
HDMI inputs 1
DisplayPort inputs 0
Scart inputs 0
HDCP support yes
Upstream USB ports 0
USB ports (downstream) 0
3.5mm audio input jacks 1
Headphone output yes
Accessories supplied
Other cables supplied VGA, 3.5mm audio
Internal power supply yes
Image adjustments
Brightness control? yes
Contrast control? yes
Colour temperature settings 6,500-9,300K with two intervals, sRGB
Extra adjustments Screen position, gamma, sharpness, OSD language, position, power indicator, reset
Ergonomics
Forward tilt angle 5 degrees
Backward tilt angle 20 degrees
Swivel angle N/A
Height adjustment 110mm
Pivot (portrait) mode? yes
Bezel width 24mm
Dimensions
582 x 270 x 438mm (WDH)
Weight 6.200kg