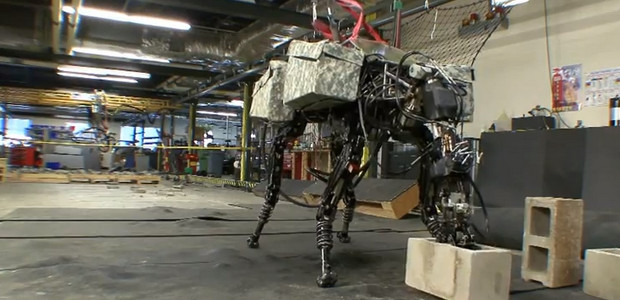 We've been watching the continuing development of Boston Dynamics' extra-weird four-legged robot BigDog with a mix of awe and dread.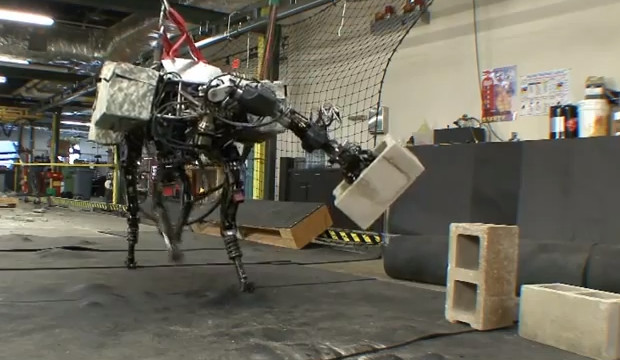 Sporting a running motion so realistic it looks like they may have stuffed a real dog inside its scuttling legs, the Big Dog gains extra powers with each iteration and now has now grown a powerful arm.
Previously, the creature had been seen in videos scrambling across rough terrain in hot pursuit of a human, but it has now been  outfitted with an arm which can fling objects about with gusto.
Just to keep the nightmares up, the extra limb is located just where its head should be, apparently as a means of  using its  legs and torso motions to give its arm extra power.
Here's how Boston Dynamics describe their creation:
BigDog's on-board computer controls locomotion, servos the legs and handles a variety of sensors. BigDog's control system keeps it balanced, navigates, and regulates its energetics as conditions vary. Sensors for locomotion include joint position, joint force, ground contact, ground load, a gyroscope, LIDAR and a stereo vision system. Other sensors focus on the internal state of BigDog, monitoring the hydraulic pressure, oil temperature, engine functions, battery charge and others.

In separate tests BigDog runs at 4 mph, climbs slopes up to 35 degrees, walks across rubble, climbs a muddy hiking trail, walks in snow and water, and carries a 340 lb load. BigDog set a world's record for legged vehicles by travelling 12.8 miles without stopping or refueling.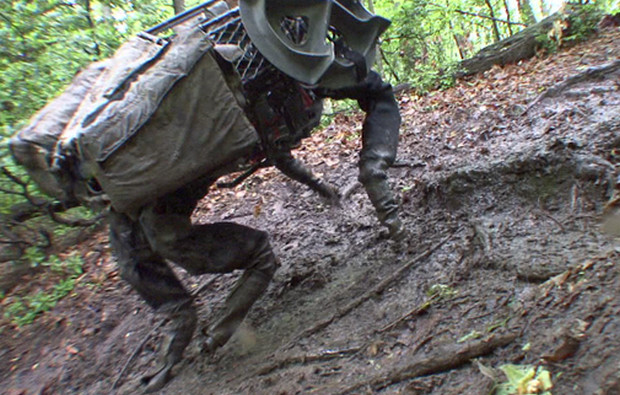 The dog/mule/robot creation has been developed for military use, although there is clear potential for civilian use; like search and rescue missions, carrying heavy loads – and scaring the feck out of  people.