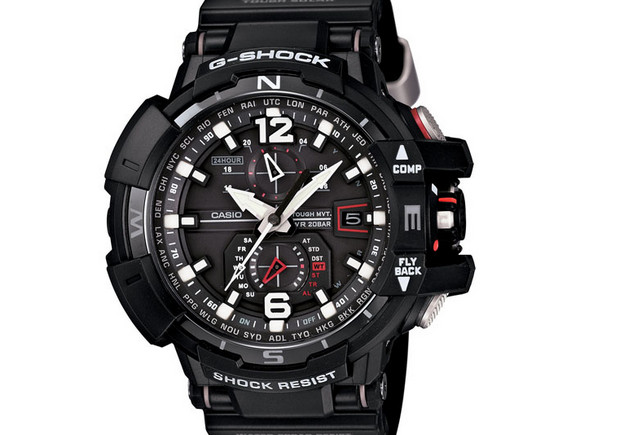 Sporting a satisfying amount of complicated looking dials and buttons, the beefy Casio G Shock Premium GW-A1100 was announced at the recent London Watch Show.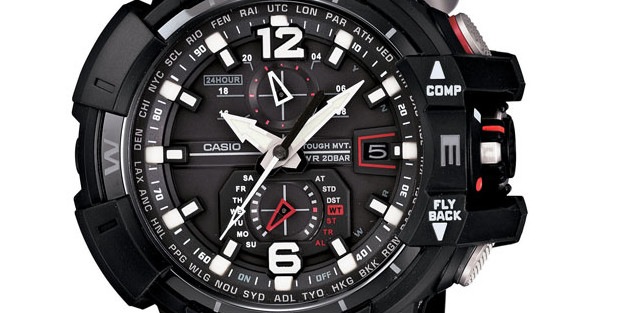 Styled to look like a cross between something you'd see on the flight deck of the WW2 bomber and a gizmo from a sci-fi movie, the watch packs in a ton of tech, including a new direct compass and Smart Access functions.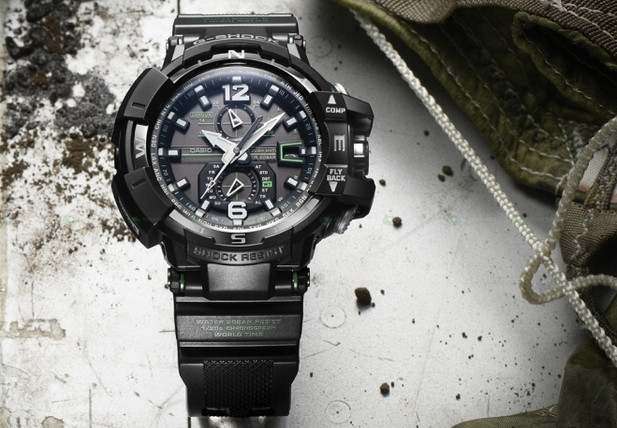 It looks a tough beastie, with a watch face hewn from sapphire mineral glass and the usual super-tough resin case and band.
Other specs for the 93g solar-powered watch include a quick lock system, alarm, stopwatch, fly-back chronograph and multi-band 6 radio control.
All this hi-tech wizadry doesn't come cheap though, with Amazon currently offering the CASIO G-SHOCK GW-A110-01A3JF
 for around £430.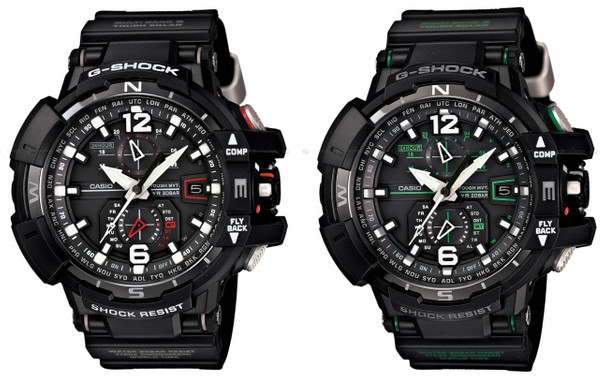 Here's the full specs:
Construction

Triple G Resist (Shock-resistant, resistant to centrifugal gravitational force and vibration-resistant)

Water Resistance

200 meters

Digital Compass

Hand indication of north (20 seconds continuous measurement); bidirectional calibration; magnetic declination correction

Radio Frequency

77.5 kHz (DCF77: Germany); 60 kHz (MSF: UK); 60 kHz (WWVB: USA); 40 kHz (JJY: Fukushima, Japan) / 60 kHz (JJY: Kyushu, Japan); 68.5 kHz (BPC: China)

Radio Wave Reception

Automatic reception up to six times a day (except for use in China: up to five times a day); manual reception

World Time

29 cities (29 time zones; daylight saving on/off; daylight saving time (summer time) auto switching/ standard time and Coordinated Universal Time

Stopwatch

1/20-second stopwatch; measuring capacity: 120 minutes; elapsed time; flyback

Countdown Timer

Measuring unit: 1 minute; countdown range: 60 minutes; countdown start time setting range: 1 to 60 minutes (1-minute increments)

Other Functions

Automatic hands correction; daily alarm; full auto-calendar; battery recharge warning; date display

Power Source

Tough Solar power system (solar-charging system)

Continuous Operation

About 29 months with the power-saving function* ON after full charge

*Power-saving after a certain period in a dark location

Size of Case

48.4 × 53.8 × 17.3 mm

Total Weight

Approx. 93 g
[Casio]