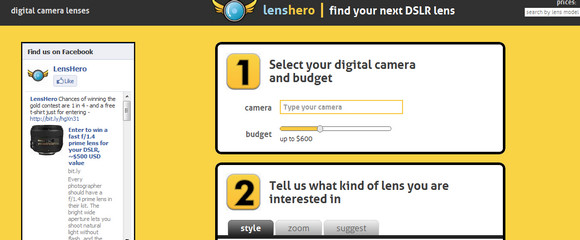 There's never been a better time to to buy dSLRs and mirrorless digital cameras, but trying to find out what lenses will best suit both your camera and your shooting needs can prove a perplexing affair.
Lens selector
Hoping to guide you out of potential lens conundrums is a handy new site called LensHero, which tasks itself  with helping photographers find the best lenses for their digital cameras.

Input your requirements
The site is simplicity itself to use: simply type in your camera make and model number, and then drag a slider over to set your maximum budget.
The site then prompts you to say what kind of lens you're interested in, courtesy of a pair of arrows that lets you scroll through categories like 'wide angle,' 'telephoto,' 'portrait,' and 'sports and action.'

There's a short description explaining each category, with the 'zoom' tab letting users select the required focal lengths.
The 'suggest' tab is a  particularly neat feature, letting visitors enter their current lenses and get instant suggestions on lenses that could perhaps expand their photographic options.
Click for more
Once the user has selected their choices, clicking on the 'Go' button takes them to a results screen showing lenses that fit their criteria.
Clicking on an individual result opens up another page, stuffed full of facts about the lens, along with some user feedback.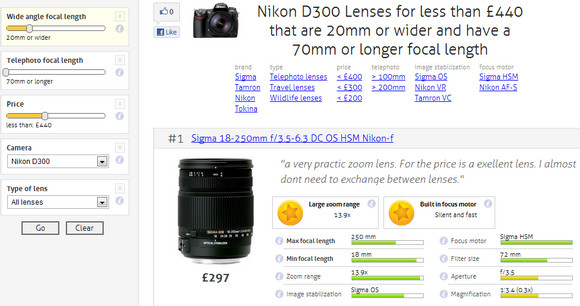 US-based
Although European users can select their country on the home page and get prices listed in their own currency, clicking on 'buy this lens' disappointingly took us exclusively to the American-based B&H Photos site where prices reverted to dollars and shoppers could expect hefty shipping charges on any UK purchases.
It's rather a shame that there's no UK retail partners listed on the site because it rather limits its usefulness for us Brits – and surely adds up to a missed revenue stream for the site owners.
That said, it's still an excellent site to find out more about what lens are suitable for your camera, even if you have to go off to another site to buy them.
[LensHero]