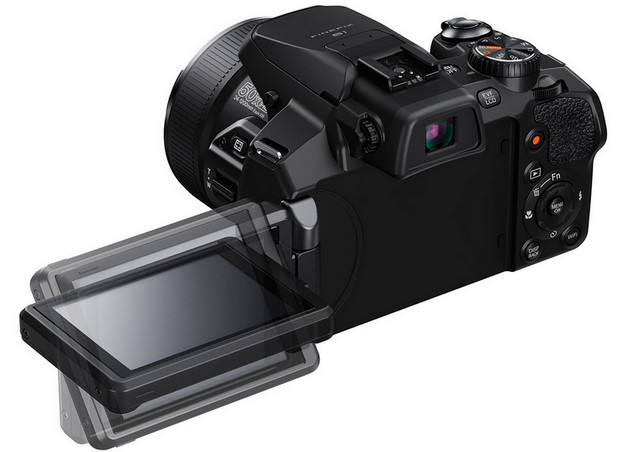 With the big CES trade show in Las Vegas starting up tomorrow, several new product announcements are slipping out before the press onslaught including the news of four new cameras from Fujifilm.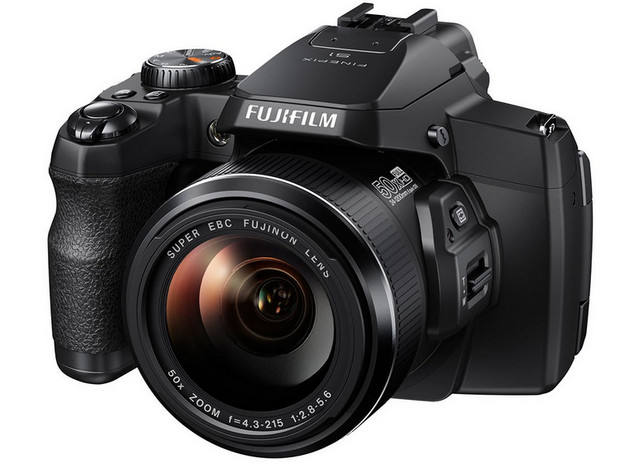 Most interesting of the pack is the new Fujifilm FinePix S1.
Claimed to be the 'world's first' weather-resistant superzoom, the travel-friendly snapper packs a 16 megapixel CMOS sensor and an almighty 24-1200mm (50x) F2.8-5.6 stabilised zoom lens.
Around the back can be found a twisty-turny articulating 3.0-inch 920k LCD, and there's wi-fi onboard for swiftly transferring images onto the social network of your choice. 
As a weather-resistant camera the Fujifilm S1 should be able to take the rough and tumble of regular outdoor pursuits, but don't go chasing dolphins with it as you'll soon be left with a large black plastic bracelet.
The S1 will be available from March 2014 for $499.95 / £399.99.
Here's the press release with all the suitably enthusiastic tech shizzle and PR waffle about the S1 and three other cameras also announced today: 
Fujifilm Announces Sophisticated Line of Advanced FinePix Digital Cameras

New FinePix models give consumers the best digital camera choice for their picture-taking needs

Valhalla, N.Y., January 6, 2014 – FUJIFILM North America Corporation today announced its new line of powerful, feature-packed FinePix digital cameras, and will showcase them at the Consumer Electronics Show in Las Vegas from January 7-10. Each new FinePix camera is specially designed to give consumers an enjoyable user experience that fits their lifestyle. The new FinePix cameras include: the FinePix S1, a "weather resistant" super zoom camera; the FinePix XP70 rugged, go-anywhere waterproof point and shoot; the super-zoom FinePix S9400W bridge camera, with advanced image stabilization and WiFi functions; and the pocket-friendly long-zoom FinePix S8600 with a versatile 36x zoom 25-900mm lens.

FinePix S1

The FinePix S1 is the world's first "weather resistant" super zoom bridge camera and provides protection against rain and dust. The S1 features a 16MP CMOS sensor, and a bright 50x super zoom 24mmF2.8-1200mmF5.6*1 lens with ultra-fast zoom speed and 2x Intelligent Digital Zoom up to 100x. The high resolution and contrast Vari-Angle 3" LCD (920K dot) makes it easy to frame shots from any angle, and the 0.2" EVF (920K dot) is great for difficult shooting conditions. One-touch WiFi connectivity lets you easily share images to your smartphone or tablet – pictures that these devices cannot capture – and remote shooting via smartphone or tablet using the Fujifilm Camera Remote app for unique capture opportunities.

FinePix XP70

The latest addition to the best-selling FUJIFILM XP-series, the new FinePix XP70 rugged digital camera is waterproof to 33ft., shockproof from 5ft., freezeproof to 14°F and dustproof. It also features a 16MP CMOS high speed sensor with a 5x 28-140mm*2 optical zoom, WiFi connectivity for one touch transfers to smartphones and tablets, and captures full HD movies at 1080 even underwater.

FinePix S9400W (with WiFi) and FinePix S9200 (without WiFi)

The new FinePix S9400W (with WiFi) and FinePix S9200 (without WiFi) both feature a 16MP CMOS sensor with a maximum ISO sensitivity of 12,800, and deliver rapid focusing speeds and beautiful high resolution images. Both cameras also give users a bright F2.9-6.5 lens that offers an amazing 50x optical zoom 24-1200mm*3 optical range that can be boosted to an incredible 100x magnification with Fujifilm'sIntelligent Digital Zoom technology and down to 1cm in Super Macro mode for extraordinary close up images.

The S9400W/S9200 both have a start-up time of just one second, autofocus in as little as 0.3 seconds and are ready to take another shot in just 0.5 seconds. Those wanting to capture a burst of full resolution images in quick succession can do so using the continuous shooting speed of 10 frames-per-second (maximum 10 frames).

Available exclusively on the S9400W, WiFi connectivity allows users to quickly share photos and movies with smartphones or tablets, without the need for an ID or password. Users simply download the free Fujifilm Camera Application to their device and then use wireless LAN to send images from the S9400W to their device.

FinePix S8600

The FinePix S8600 is the perfect combination of powerful long-zoom at 36x, fast autofocus and HD video with portability that makes it easy to carry anywhere. Featuring a 16MP sensor, the S8600 uses a newly developed three-step collapsible lens, which automatically retracts when not in use to leave a slim and stylish body that is extremely compact. The S8600 uses a highly versatile 25-900mm*4 lens to shoot sharp images of everything from wide-angle landscapes to detailed close up pictures with its Super Macromode. The S8600 also includes Fujifilm's lens-shift Optical Image Stabilization system to reduce blurry pictures.

FinePix S1 key features

Dust and weather-resistant bridge camera
16.4MP 1/2.3" CMOS sensor
50x image stabilized optical zoom lens (24-1200mm)
Super Macro mode 1cm
5-axial Image stabilization
AF speed of 0.14sec (*5)
Shooting interval of approximately 0.65 seconds
Maximum continuous shooting speed of approximately 10.0fps (*6)
Start-up time of approximately 0.68 seconds(*7)
920K dot EVF
Vari-angle LCD screen
Time Lapse Interval Shooting function (up to every 10 minutes for 6 hours maximum)
Full HD movie capture
10 Artistic Advanced Filters
WiFi connectivity

FinePix XP70 key features

Waterproof to 33ft., Shockproof from 5ft., Freezeproof to 14°F and Dustproof
16.4MP 1/2.3" CMOS sensor
5x optical zoom with 28mm wide-angle setting
Wireless connectivity for instant image and movie sharing
Action Camera mode
Optical Image Stabilisation
Full HD movie capture
10 Advanced Filters
High Dynamic Range (HDR) capture
Motion Panorama 360°
Available in Blue, Orange, and Yellow

FinePix S9400W/S9200 key features

50x optical zoom (24-1200mm)
1/2.3" 16.2MP CMOS sensor
ISO sensitivity up to 12,800
Continuous shooting at up to 10fps
5-axial Image Stabilization in movie shooting
Full HD movie capture • 200k dot electronic viewfinder
10 Advanced Filter effects
Motion Panorama 360°
High Dynamic Range capture
Wireless connectivity with smartphones and tablets (S9400W only)

FinePix S8600 key features

Compact design
FUJINON lens with 36x optical zoom (25-900mm equivalent)
1/2.3" 16MP CCD sensor
Optical Image Stabilisation (Sensor Shift)
HD movies at 720p/30fps
3" LCD monitor (460k dots)
Face Detection (up to 10 faces)
Mode Dial (P/S/M and Burst Shooting mode)
10 Advanced filters for creative effects
Mini HDMI output
Uses 3 AA batteries with an approximately 250-shot battery life

The new FinePix cameras will be available in March 2014 with the following MSRPs: S1 for $499.95; XP70 for $229.95; S9400W \ S9200 for $349.95 and $329.95, respectively; and S8600 for $229.95.

For all Fujifilm CES 2014 press releases and downloadable hi-res images, go to: www.FujifilmUSA.com/CES2014.

*1,2,3,4 35mm format equivalent
*5,6 According to CIPA (Camera & map; Imaging Products Association) standards
*7 Quick Start made is set to ON. (24min./ 10min.)