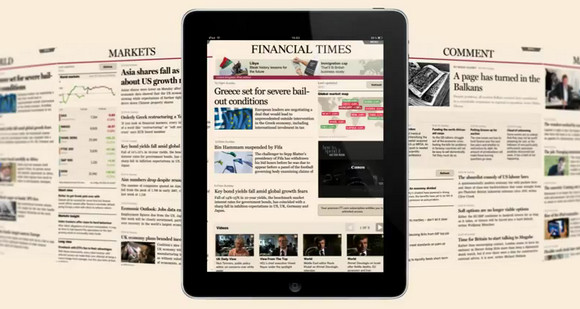 Finding themselves not mindful to hand over thirty per cent of their revenues to Apple, The Financial Times has launched a sophisticated HTML5 Web app that lets users access and subscribe to their content on tablets and smartphones.
Optimised for the iPhone and the iPad (but with Android and BlackBerry PlayBook versions in the pipeline), the browser app offers tablet-friendly formatting, and serves up useful extras like the ability to access content when offline.
Building their own website lets FT say "non, merci!" to Apple who will shortly start  charging publishers a hefty 30 per cent of revenues, while insisting that subscribers must only sign up through their iTunes App Store.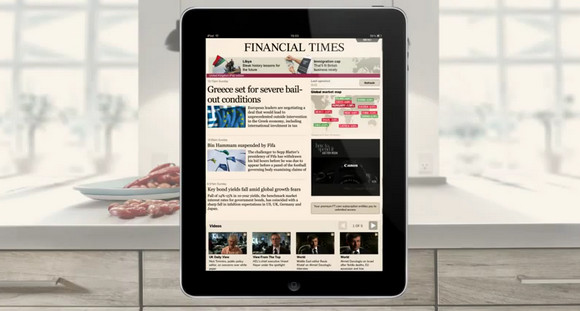 Happy to be free of these restrictions, Financial Times CEO John Ridding commented :
The FT Web App offers our customers flexibility and freedom of choice with access to our global journalism anytime, anywhere, with a single login or subscription. In a world of increasingly digital complexity we want to keep our service simple, easy to use and efficient to offer our customers the best possible experience of FT journalism.
The FT has posted up a page explaining their decision to create a HTML5 web app, pointing out that this DIY approach means they won't be forced to sit on their hands while Apple mulls over any app updates, adding:
…developing multiple 'native' apps for various products is logistically and financially unmanageable. By having one core codebase, we can roll the FT app onto multiple platforms at once."

We believe that in many cases, native apps are simply a bridging solution while web technologies catch up and are able to provide the rich user experience demanded on new platforms. As these improve we expect to see more HTML5 apps and fewer native apps, but there is always likely to be a market for native apps for specific brands or when deeper integration with the hardware or super fast performance are required (games are the most obvious example).
The FT will be offering access to up to ten articles per month for people who register.
Is this the start of something big?
It's certainly an interesting development and one that may be picked up by other publishers. Although there's really only one tablet in town at the moment, the growth of rivals is inevitable, and FT's argument that developing separate apps for each one would be an unnecessary duplication is a solid one.
However, the main issue will be whether users can be bothered to step outside the easy-to-use iTunes store to individually place subscriptions. If it was us, we'd have no problem doing just that, but history shows that inertia is a mighty powerful tool when it comes to technology…
[Via]