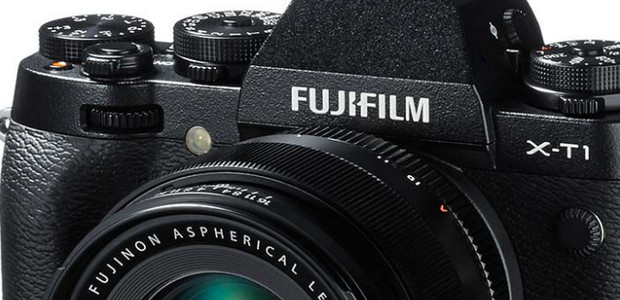 Looking to shoulder barge into the lucrative SLR-styled market currently being enjoyed by the likes of the wonderful Olympus OM-D EM-12 is the rather splendid looking Fujifilm X-T1.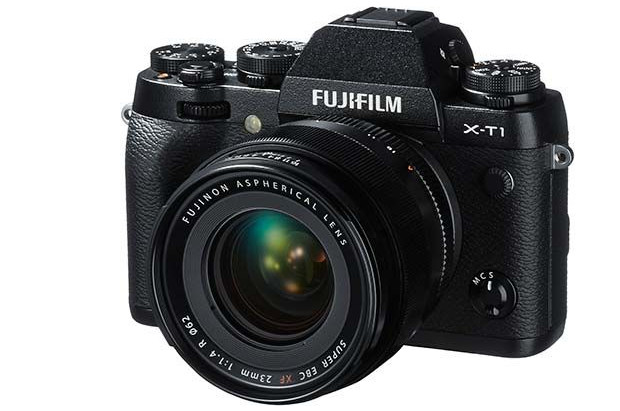 Featuring a mighty impressive a 2.36m dot resolution OLED electronic viewfinder with what Fujifilm are claiming is the world's highest magnification, the camera has a shutter lag-time of a mere 0.005 sec, and comes with phase detection AF boasting a 'world-beating' response of just 0.08 sec.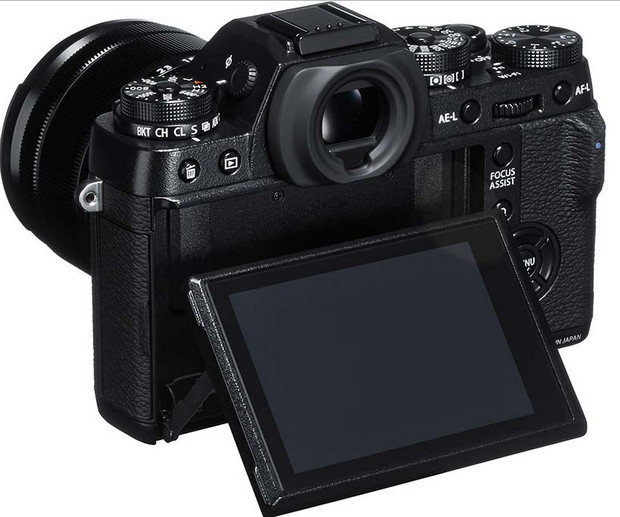 Instantly familiar to of school photographers, the top late is veritably festooned with mechanical dials – no less than five of the blighters to be exact – and with its dust and water resistance, this is a snapper designed for the great outdoors.
http://youtu.be/kSPyLuUs9yk
All this goodness comes at a price though, with the X-T1 costing £1099.99 body-only, or £1449.99 with the XF18-55mm lens. The optional Vertical Battery Grip costs £199.99, the all-Leather Half Case £99.99, and the Metal Hand Grip £129.99. Delivery is promised for February 2014.
To complement the cameras, Fujifilm is launching three weather-resistant zoom lenses, in the shape of the XF 18-135mmF3.5-5.6 R OIS WR, XF 16-55mmF2.8 R OIS WR and the XF 50-140mmF2.8 R OIS WR.
Want more info? Here's the extremely long press release for your delectation:
Fujifilm UK Press Release

The new Fujifilm X-T1 interchangeable lens camera with the world's fastest Real Time Viewfinder with a lag-time of 0.005 sec and the world's highest magnification ratio

Fujifilm is delighted to announce the X-T1, the latest addition to the award-winning X-Series range. A premium interchangeable lens camera, the X-T1 features evolved SLR-style handling, mechanical dials and weather-resistance (when paired with a weather resistant X mount lens), together with all the benefits of an X-Series camera, such as compact size, excellent mobility and high-speed performance. What's more, its newly developed electronic viewfinder is almost indistinguishable from an optical viewfinder thanks to its ultra-fast display speed.

The Real Time Viewfinder revolution

Combining a unique wide-angle view, along with the world's highest magnification (0.77x) for a digital camera (*1), the X-T1's electronic viewfinder provides a truly immersive shooting experience. But it's the viewfinder's display speed that really sets it apart; with a lag-time of just 0.005 sec (*2) – that's one tenth the speed of conventional digital cameras (*3) – you'll feel a total connection to the subjects you're shooting.

Perfect alignment of the viewfinder with the optical axis of the lens

With its 2.36m dot resolution OLED display producing a crisply detailed view of whatever you're shooting, the X-T1's EVF lets you immerse yourself in the action, just as you'd feel with a traditional optical viewfinder.

But while the vision it creates is the smoothest and purest yet on a digital camera, the X-T1's viewfinder also packs in breakthrough technologies to help your photography. The viewfinder's newly designed Graphic User Interface provides a fresh shooting experience with clear details and a comfortable at-a-glance view of your settings.

Its four display modes offer a shooting experience impossible with an optical viewfinder:

"FULL" mode takes full advantage of the high magnification ratio of the X-T1's viewfinder to give an unrivalled view of the scene
"NORMAL" provides an optimum view, including shooting settings
"DUAL" is specially designed for manual focusing with a clever split view. Where the regular view and manual focus area can be simultaneously checked (with Digital Split Image TM or Focus Peak Highlight) (*4)
For a "PORTRAIT" view in "NORMAL" and "FULL" modes, the interface automatically rotates when the camera is held vertically

World's fastest AF speed

The perfect view needs autofocus to match and with its EXR Processor II and X-Trans™ CMOS II sensor(*4), the X-T1 delivers. The new X-Trans™ sensor has phase detection AF built in so a world-beating response of just 0.08 seconds is achieved (*5) and the EXR Processor II allows a super-fast 0.5 second start-up time(*6), 0.05 second shutter time lag and a 0.5 second shooting interval (*7). It also allows up to 8 frames per second (*8) with tracking AF and is the first-ever model(*2) to be compatible with SDXC UHS-II format memory cards, so the data writing speed in continuous mode increases to about twice that of a conventional card(*9).

Tough, weather-resistant design

As good as it looks and handles, the X-T1 is also tough enough to take on almost any shooting assignment. Thanks to approximately 80 points of weather sealing, the camera body is dust-resistant and water-resistant, giving it plenty of protection from dirt and moisture. With it offering freeze resistance to -10°C, it enables full-fledged field photography without worrying about the weather or the season and the LCD features tempered glass for additional outdoor protection.

The optional Vertical Battery Grip (VG-XT1) has the same hardy structure, so when twinned with the XT-1 body, it's completely secured against the elements.

Fujifilm is launching three weather-resistant zoom lenses to complement the X-T1 camera, these will all be available during 2014, with the XF18-135mm launching in June. The three lenses are the XF18-135mmF3.5-5.6 R OIS WR, XF16-55mmF2.8 R OIS WR and the XF50-140mmF2.8 R OIS WR.

Traditional handling, modern response

With five mechanical dials on the top-plate, two command dials on the front and rear and six fully customisable function buttons, the X-T1 feels and functions like a proper photographic tool in the hand. The top-plate includes machined-aluminium double-deck dials for the shutter speed, exposure compensation, ISO sensitivity, metering and drive modes, and each is designed to turn with a reassuring click, while their textured surfaces gives a firm purchase when setting up a shot. With their exposure values clearly marked, settings be checked at a glance without using the rear LCD and the dials are perfectly arranged so that functions can be changed without removing your eye from the viewfinder. The six customisable function buttons and two command-dials arranged on the front and rear complete the picture, ensuring whatever setting is desired it can be reached in an instant.

Advanced X Trans II Sensor and EXR II Processor

Featuring the same X-Trans CMOS II sensor as the celebrated X-E2, the X-T1's X-Trans II sensor controls moiré and false colour generation by using an original colour filter array with a highly randomised pixel arrangement. This removes the need for an Optical Low Pass Filter (OLPF) that degrades resolution.

The EXR Processor II corrects even fractional blurring at the edges of the lens, as well as diffraction blur caused when narrowing the aperture. Image quality is further enhanced by the inclusion of a Lens Modulation Optimiser (LMO) for interchangeable lens cameras. This advanced technology has been made possible by the integrated development of lens, sensor and processor and is based on the optical performance and characteristics of each individual lens to maximise its resolving power.

Key features of the Fujifilm X-T1

Evolved electronic viewfinder

High-precision 2.36 million dot OLED viewfinder
Highest viewfinder magnification for digital cameras of 0.77x (*1)
Wide viewing angle (diagonal 38° and horizontal 31°)
Ultra-fast Real Time Viewfinder with a lag-time of 0.005sec(*2) (less than 1/10 of existing models) (*3)
Four different display modes: Full, Normal, Dual and Vertical.

Full mode: Displays shooting information at the top and bottom of the screen to avoid obstruction of the view.
Dual mode: Adds a small second screen for checking focus point with Focus Peak Highlight  or Digital Split Image (*4).
Normal mode: Lets you concentrate on framing the shot in Auto Focus mode while keeping you aware of how the shooting conditions are changing, making it the perfect setting for sports and action photography
Portrait mode: When in Full or Normal modes, it rotates the shooting information interface when the camera is turned vertically.

Ultimate high-speed responses, including the world's fastest AF

World's fastest AF of 0.08 seconds (*5) is achieved with Fujifilm's proprietary imaging area phase-detection. Startup time of 0.5 seconds (*6), shutter time lag of 0.05 seconds  and shooting interval of 0.5 seconds (*7) have been achieved with the image processing engine EXR Processor II – with more than twice as fast a processing speed as the previous processor.
Phase detection AF and motion predictive AF for continuous shooting up to 8 frames per second (*8).
World's first compatibility with Ultra High Speed UHS-II SDXC memory cards.

Weather resistant structure

Dust and water-resistant body with approximately 80 points of weather sealing. Freeze resistance to -10°C.
Vertical Battery Grip VG-XT1 and three new zoom lenses offer the same weather resistance to secure the entire system.

High resolution, low noise and unique color reproduction

16.3 megapixel APS-C size X-Trans™ CMOS II (*4) sensor with original colour array to control moiré and false colours without an optical low pass filter.
Resolution and low noise comparable to that of models with 'full-frame' sensors.
Proprietary image design technology reproduces true-to-life colours.
Redesigned circuit board design enables high ISO 51200 setting (*10).

Lens Modulation Optimiser technology maximises each lens' performance.

Flagship build quality and intuitive operation

Die-cast magnesium body provides a sturdy and durable, while compact and lightweight design.
Double-deck, precision-milled aluminium dials for shutter speed, ISO setting, exposure compensation, metering and drive mode, with notched settings.
Body and grip designed for correct balance when attaching telephoto and large-diameter lenses.

Twin command dials and six Function buttons for instant control and customisation.
Tempered glass 1.04million dot high-precision tilting LCD monitor.

Accessories for refined shooting

The Vertical Battery Grip (VG-XT1) completely integrates with the body in both vertical and normal position, while offering weather resistance. The grip includes shutter release button, twin command dials, AE-L and AF-L buttons, Focus-assist button and Key Lock Lever in the same orientation as the body.
An EF-X8 flash (Guide Number 11) (*11) is included with the camera and has a compact body designed to match the X-T1 plus Fujifilm's Super intelligent flash performance.
The Metal Hand Grip (MHG-XT) supports extended shooting. Your battery and card can be removed with the grip in place when using a tripod. It also works as a quick-release plate on the tripod.

Enhanced wireless functions

Free "FUJIFILM Camera Remote" application and "Wireless Communication" function allows users to remotely shoot images from smartphones and tablets.
Wireless functions via the "FUJIFILM Camera Remote" include Touch AF, shutter release for stills and movies, shutter speed, aperture, exposure compensation, ISO sensitivity, Film Simulation modes, White Balance, macro, timer and flash.
Instant transfer and location tagging of images via your smartphones and tablets (*12).
Wi-Fi® transfer (*13) also enables backup of the data in the camera onto the computer (*14) wirelessly.

Interval timer shooting
Interval timer shooting for Time Lapse photography is available with intervals of 1 second to 24 hours and up to 999 frames.

*1:  Highest VF magnification ratio among digital cameras. Fujifilm research as of January 2014. Approx. 0.77x magnification with a 50mm lens (35mm format equivalent) set to infinity and -1.0DP.
*2:    Fujifilm research as of January 2014.
*3:           Compared to FUJIFILM X-E2
*4:    "X-Trans" and "Digital Sprit Image" are trademarks or registered trademarks of FUJIFILM Corporation.
*5:    Fastest AF speed among digital cameras equipped with an APS-C or larger sensor. Measurement conducted by Fujifilm research based on CIPA guidelines using the X-T1 equipped with XF14mmF2.8 R lens in High Performance mode as of January 2014.
*6:    Equipped with XF27mmF2.8 in High Performance mode
*7:    MF mode
*8:    AF-C shooting mode
*9:    RAW shooting mode
*10: Expended output sensitivity
*11: At ISO 200.  At ISO100, guide number of 8 based on CIPA guidelines.
*12: Maximum multiple image transfer is 30 photos or 2GB.
*13: Wi-Fi® is a registered trademark of the Wi-Fi Alliance
*14:  This function requires installation of the free application software FUJIFILM PC AutoSave in your personal computer.

FUJIFILM X-T1 Accessories List

Dedicated all-leather half case BLC-XT1  New
Vertical Battery Grip VG-XT1 New
Hand Grip MHG-XT New
Compatible with all FUJINON X Mount lenses
M Mount Adapter for additional lens compatibility
Four dedicated flash models to choose from depending on requirements (EF-X8 New, EF-X20, EF-20, EF-42)
Protector filters (PRF-39, PRF-52, PRF-58, PRF-62 and PRF-72 (For XF10-24mmF4 R OIS) New)
Remote release RR-90
Stereo Microphone MIC-ST1
DC coupler CP-W126 New
AC adapter AC-9V New
16GB & 32GB UHS-II SDXC cards New

X-T1 Specification Chart

Model Name – FUJIFILM X-T1
Number of effective pixels – 16.3 million pixels
Image sensor
23.6mm×15.6mm(APS-C)X-Trans II CMOS with  primary colour filter
Total number of pixels: 16.7 million pixels
Sensor Cleaning system – Ultra Sonic Vibration
Storage media – SD memory card / SDHC memory card / SDXC(UHS-II) memory card *1
File format  (still image)
JPEG (Exif Ver 2.3 *2),
RAW (RAF format), RAW+JPEG
(Design rule for Camera File system compliant, DPOF-compatible)

(movie)
Movie File Format : MOV
Movie Video Compression : H.264
Audio : Linear PCM  Stereo

Number of recorded pixels
L:<3:2>4896x3264 / <16:9>4896x2760 / <1:1>3264 × 3264
M:<3:2>3456x2304 / <16:9>3456x1944 / <1:1>2304 × 2304
S:<3:2>2496x1664 / <16:9>2496x1408 /  <1:1>1664 ×1664
<Motion Panorama>
L   Vertical:2160x9600 /  Horizontal:9600x1440
M    Vertical:2160x6400 /  Horizontal:6400x1440

Lens mount
FUJIFILM X mount

Sensitivity
AUTO (Control available up to ISO6400)
Equivalent to ISO 200  – 6400   (Standard Output Sensitivity)
Extended output sensitivity : Equivalent to ISO 100, 12800, 25600 and 51200

Exposure control
TTL 256-zone metering, Multi / Spot / Average

Exposure mode
Programmed AE/ Shutter Speed priority AE/ Aperture priority AE / Manual exposure

Exposure compensation
-3.0EV – +3.0EV, 1/3EV step
(movie recording : -2.0EV – +2.0EV)

Image Stabiliser
Supported with OIS type lenses

Face Detection
Yes

Shutter type
Focal Plane Shutter

Shutter speed
(P mode) 1/4 sec. to 1/4000 sec.,
(All other modes) 30 sec. to 1/4000 sec.
Bulb (max.60min.)
Time 1/2  to 30 sec
Synchronized shutter speed for flash :1/180 sec or slower

Continuous shooting
Approx. 8.0 fps  (JPEG : max. approx. 47 frames)
Approx. 3.0 fps  (JPEG :up to the capacity of the card)
* Recordable frame number may vary depending on the type of memory card used.
* The frame rate varies with shooting condition and the number of images recorded.

Auto bracketing
AE Bracketing (±1/3EV, ±2/3EV, ±1EV)
Film Simulation Bracketing (Any 3 types of film simulation selectable)
Dynamic Range Bracketing (100% ・ 200% ・ 400%)
ISO sensitivity Bracketing (±1/3EV, ±2/3EV, ±1EV)
White balance Bracketing (±1, ±2, ±3)

Focus           (mode)
Single AF / Continuous AF/MF Distance Indicator
(type)
Intelligent Hybrid AF (TTL contrast AF/TTL phase detection AF) , AF assist illuminator available

(AF frame selection)
Area (EVF/LCD : 49 areas with 7x7)/ Multi
* Changeable size of AF frame among 5 types

White balance
Automatic scene recognition
Custom / Colour temperature selection (K)
Preset: Fine / Shade / Fluorescent light (Daylight) / Fluorescent light (Warm White) /
Fluorescent light (Cool White) / Incandescent light / Underwater

Self-timer
10sec. / 2sec. Delay

Interval timer shooting

YES
Setting: Interval, Number of shots, Starting time

Flash
External flash EF-X8 (included ) (Super Intelligent Flash)
Guide number :  approx. 8(ISO100・m) / approx 11 (ISO200・m)

Flash modes
Activated when external flash is connected
Red-eye removal OFF: Auto / Forced Flash / Slow Synchro / Suppressed Flash / Rear-curtain Synchro / Commander
Red-eye removal ON: Red-eye Reduction Auto / Red-eye Reduction & Forced Flash / Suppressed Flash / Red-eye Reduction & Slow Synchro / Red-eye Reduction & Rear-curtain Synchro / Commander
*Red-eye removal is active when Face Detection is set to ON.

Hot shoe
Yes (Dedicated TTL Flash compatible)

Viewfinder
0.5-in., approx.2,360K-dot OLED colour viewfinder
Coverage of viewing area vs. capturing area :  approx. 100%
Eye point  : approx. 23 mm (from the rear end of the camera's eyepiece)
Diopter adjustment : -4m-1 to +2m-1
Magnification :0.77x with 50 mm lens (35 mm format equivalent) at infinity and diopter set to  – 1.0 m–1)
Diagonal angle of view : approx. 38° (Horizontal angle of view :approx.  31°)
Built-in eye sensor

LCD monitor
3.0-in, aspect ratio 3:2, approx. 1,040K-dot,  Tilt type colour  LCD monitor
(Approx. 100% coverage)

Movie recording
Full HD  1920×1080 60p/30p  Continuous recording : up to approx. 14 min.
HD  1280x 720 60p/30p  Continuous recording : up to approx. 27min.
* Use a card with SD Speed Class with "Class10" or higher.

Mode dial
Film Simulation mode
10 type (PROVIA/STANDARD, Velvia/VIVID, ASTIA/SOFT, PRO Neg Hi, PRO Neg. Std, MONOCHROME, MONOCHROME+Ye FILTER, MONOCHROME+R FILTER, MONOCHROME+G FILTER, SEPIA)

Dynamic range setting
AUTO(100-400%), 100%, 200%, 400%

Advanced filter
Toy camera / Miniature / Pop color / High-key / Low-key / Dynamic tone / Soft focus / Partial color (Red / Orange / Yellow / Green / Blue / Purple)

Other photography  functions
Auto Red-eye Removal, Setting (Colour, Sharpness, D-range, Gradation), Select custom setting,  Motion panorama, Colour space,  Framing guideline, Frame No. memory, Histogram display, Preview depth of focus, Lens Modulation Optimizer, Pre-AF, Focus check, Focus Peak Highlight, , Digital Split Image*3, Electronic level, Multiple exposure, Interval timer shooting,   Release priority/Focus priority selection, Function button setting, (RAW, Movie, etc.), ISO AUTO control, Instant AF setting (AF-S/AF-C)

Playback  functions
RAW conversion, Image rotate, Red-eye reduction, Photobook assist, Erase selected frames, image search, Multi-frame playback (with micro thumbnail), Slide show, Mark for upload, Protect, Crop, Resize, Panorama, Favourites

Wireless transmitter
(standard)

IEEE 802.11b/g/n (standard wireless protocol)
(access mode)
Infrastructure

Wireless function
Geotagging / Wireless communication (Image transfer) / View & Obtain Images / Remote camera shooting / PC Autosave

Other functions
PictBridge, Exif Print, Language selection, Time difference, High Performance mode, Silent mode
Terminal   (Video output)
(Digital interface)
(HD output)

USB2.0(High-Speed) / micro USB terminal
* connectable with Remote Release RR-90 (sold separately)
HDMI mini connector (Type C)

(Others)
Microphone/shutter release input: Φ2.5mm, stereo mini connector
Power supply
NP-W126 Li-ion battery (included)

Dimensions
129.0 (W) mm x 89.8(H) mm x 46.7(D) mm / 5.0 in. (W) x 3.5 in. (H) x 1.8 in. (D)
(Minimum depth: 33.4 mm/ 1.3 in.)

Weight
Approx. 440g / 15.4 oz. (including battery and memory card)
Approx. 390 g / 13.7 oz. (excluding accessories, battery and memory card)

Operating Temperature
-10℃ –  +40℃

Operating Humidity
10 – 80%  (no condensation)

Battery life  for still images *4
Approx 350 frames (When XF35mmF1.4R is set, LCD monitor/viewfinder on,
and supplied flash EF-X8 not attached)

Battery life for movies *4
Consecutive movie recording : Approx. 103 min. (Face detection is set to OFF)
*Individual movies cannot exceed approx. 14 min on Full HD mode, and approx. 27 min on HD mode in length.

Starting up period
Approx. 0.5 sec, when High Performance mode set to ON
Approx. 1.0 sec, when High Performance mode set to OFF
* FUJIFILM research

Accessories included
Li-ion Battery NP-W126
Battery Charger BC-W126
Shoe-mounted flash unit EF-X8
Shoulder strap
Body cap
Metal strap clip
Protective cover
Clip attaching tool
Hot shoe cover
Tall-orientation battery grip connector cover
Sync terminal cover
CD-ROM (Viewer software, RAW File Converter etc. *5)
Owner's manual

*1 Please see the Fujifilm website to check memory card compatibility.
*2 Exif 2.3 is a digital camera file format that contains a variety of shooting information for optimal printing.
*3 Digital Split ImageTM is a trade mark or a registered trade mark of FUJIFILM Corporation.
*4 Approximate number of frames/period that can be taken with a fully-charged battery based on CIPA standard.
*5 OS compatibility
Viewer software      :   Windows 8/7/Vista/XP
RAW File Converter   :   Windows 8/7/Vista/XP,   Mac OS X 10.6-10.8

UK AVAILABILITY AND PRICING
The X-T1 and dedicated accessories will be available from mid-end February 2014.

The UK SRPs will be:
X-T1 camera – Body only                          –  £1099.99
X-T1 Kit with XF18-55mm lens                               –  £1449.99
X-T1 Vertical Battery Grip                         –  £  199.99
X-T1 all-Leather Half Case                      –  £    99.99
X-T1 Metal Hand Grip                               –  £  129.99

Availability dates of the Weather-resistant lenses will be as follows:
XF18-135mmF3.5-5.6 R OIS WR     – June 2014
XF16-55mmF2.8 R OIS WR              – Winter 2014
XF50-140mmF2.8 R OIS WR            – Winter 2014