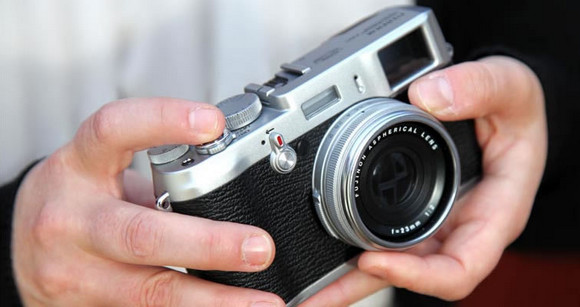 Rarely has a camera got us excited as Fujifilm's astonishing upcoming X100 rangefinder-style digital compact, and to tease and taunt us further, the company have served up a few more tantalising details about their soon-come, high end shooter.
Retro-styled in a beautiful old school silver and black leatherette finish,  the FinePix X100 packs a slew of 'proper' mechanical dials and levers and comes with a customised, APS-C size 12.3 megapixel CMOS sensor, a fast 23mm F2 lens and dSLR-like speed of operation.
Sound tempting? We're almost salivating over our desktops here!
Hybrid viewfinder
What we really like is their cunning Hybrid Viewfinder, which can overlay digital shooting data on to an optical viewfinder:
By using an integrated prism for the 1,440,000 dot LCD panel image on the viewing screen in the reverse-Galilean optical viewfinder, the Hybrid Viewfinder can show both the shooting frame and a variety of shooting data.

Of course, it can also be used as a high-quality electronic viewfinder to compose or playback shots.

With the ability to instantly switch between optical and electronic viewfinder images with a simple "one touch" control; the new Hybrid Viewfinder offers users expanded freedom in the composition and enjoyment of photography, in a range of challenging shooting conditions.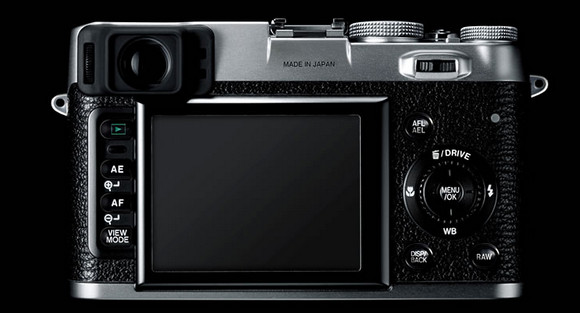 When? And how much?!
Sadly, there's still no word on pricing, although in a new press release, Fujifilm UK have promised to keep keep users posted with further updates as the camera's launch date approaches.
Any questions?
There is, however, a 'Your Questions Answered' section on the X100 website, where Fujifilm has been responding to photographers' questions, and there's some interesting stuff coming out.
We figure that some of you are going to be as mustard keen as we are to find out more, so here's a selection of their recent answers:
Focussing:
The X100 offers three focusing options, selected by a switch on the left hand side of the body (see image). There are two autofocusing modes: AF-S and AF-C. AF-S is a single shot autofocus mode that's best for static subjects, whereas AF-C is a continuous autofocusing mode that's best for capturing moving objects. Actual focusing speeds are to be confirmed.

With manual focus selected, focusing is achieved using the focus ring around the lens barrel. A distance indication bar enables you to pre-focus if required, or you can simply use the electronic viewfinder to focus accurately. There is, however, no rangefinder focusing capability.

Will the autofocus points be visible in the viewfinder?
Yes. The autofocus points are also user-selectable, making it easier for photographers to focus on off-centre subjects without having to resort to the focus lock facility.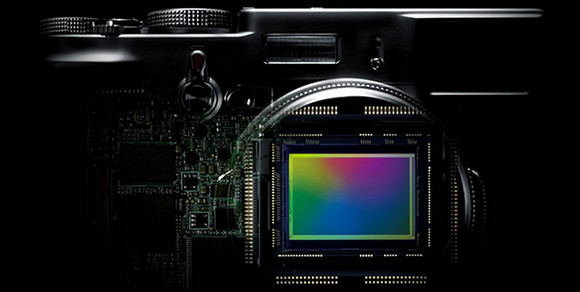 Sensor:
Why is the sensor not full frame?
This decision comes down to the designers staying true to the initial X100 concept. Using a full frame sensor would substantially increase the size of the camera, whereas the APS-C sized sensor delivers the best combination of size and image quality.

What ISO range does the X100 offer?
In standard form, the planned ISO range is from 200 to 6400, but this can be expanded to include 100 and 12800. The high sensitivity and fast maximum aperture will ensure that photographers can shoot in low lighting situations without having to revert to using a flashgun or tripod – a real advantage if you want to capture candid or photo-journalistic images in a range of lighting conditions.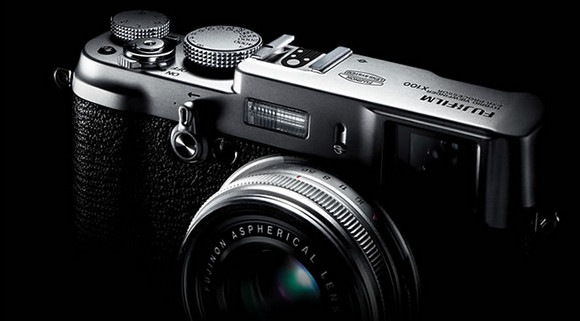 Video:
What is the specification of the video function?
HD video output is 1280 x 720 pixels at 24 frames per second with stereo sound recording. Aperture Priority AE can be used whilst shooting movies.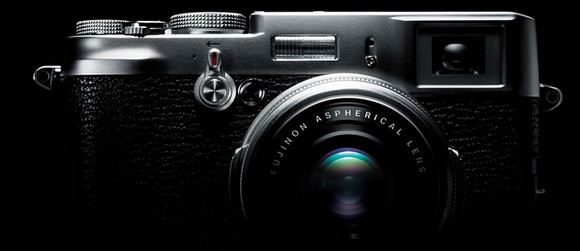 Shutter lag
How long is the shutter lag?
The exact lag time between the shutter release being pressed and the picture actually being taken is still to be finalised, but it is expected to be around 0.01 seconds.

This is extremely quick, making the X100 comparable with DSLRs and ensures that those photographers looking to capture instantaneous images with the camera won't be disappointed. The X100 will bring out the Cartier-Bresson in you!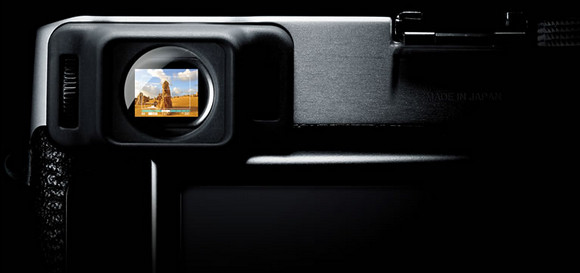 What do you think?
We can't wait to get our hands on this puppy, so we'll be posting up updates when we get them – but for now you can at least browse the X100 website and drool over the thing.
Is this the sort of camera you're after?
Seeing as it's almost certainly going to cost more than many dSLRs, do you think it will be worth the price?
Tell us your thoughts on the camera in the comments box below!