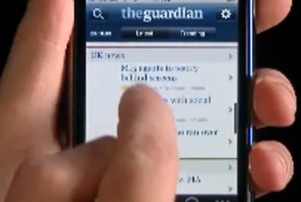 The UK's most popular lefty(ish) newspaper, The Guardian, has created an iPhone app and made the unusual decision of charging users a one-off fee of £2.39 fee to download it.
Most major newspapers have been offering multi-platform mobile apps for accessing their content for some time, but the Guardian is one of the few to charge for theirs – an indication of how newspapers are struggling to find  a profitable niche in the digital age.
Their app will serve up the usual fare of news, comment, features, audio and photos but unlike many of their freebie competitors apps, there's no video at present.
The Guardian has been struggling recently, jettisoning popular print supplements in the style of a sinking ship throwing excess baggage overboard, but we're not convinced this app is going to let them claw back much revenue – especially as they've said that their website and mobile platform will remain free.
The Guardian's mobile product manager Jonathon Moore hit back at criticism about the app pricing in his blog:
At an early stage we decided to set the bar high, which hopefully means the app has been planned, designed, tested and developed to offer a truly engaging experience. The investment involved in this requires us to ask a small fee in return.
We can't see ourselves being persuaded to fork out for this, especially as there's so many other equally good alternatives available for nowt, but how about you? Would you pay for this app?