Trying hard to be heard above the whoops of excited expectation for the iPad is the Hanvon Touchpad BC10C.
With specs to spank the botty of Apple's finest and coming with a full suite of external controls and sockets , the multitouch Windows 7 device packs a 1.3GHz Celeron M ULV 743 CPU and GMA4500 graphics.
Connectivity options and physical controls abound: there's a rocker switch, mini HDMI out, five programmable keys, mic/heaphone sockets, VGA out (with dongle), 2 x USB 2.0 ports and a SD card slot.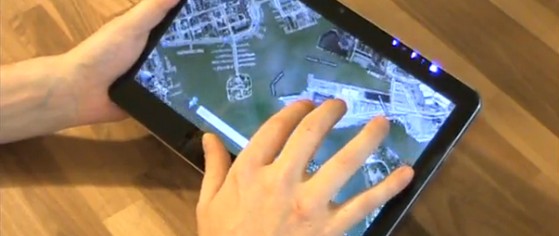 There's also stereo speakers and twin microphones backed by a neat optical mouse with flick actions – described as "one of the best" ever used by the reviewer from jkkmobile, who starts his piece seductively lolling around a sofa.
The glossy capacitative multi-touch 10″ screen packs a 1024 x 600 pixel display, and looks great in action with 1080p video and Microsoft Surface Globe demos hurtling along.
As you can see, Windows 7 runs smoother than a penguin on ice-skates on the device, which adds up to a very powerful and rather desirable netbook replacement – and the HDMI out socket means you can hook this puppy up to your hi-def TV screen with no fuss.
A slight catch
There is a catch though – the price tag looks to be hovering around the upmarket $880 mark and the battery will only keep you going for 3.5 hours of YouTube joy.
That said, there's an awful lot to like about this tablet, and the smooth operation and full range of sockets will make this a far more versatile performer than Apple's offering.
The BC10C launches in China March 25th and there's no word yet when it'll be rocking into Blighty.
Specs:
10 inch 1024 x 600 capacitive multitouch screen
Intel ULV743 at 1.3Ghz with 2GB RAM
Intel GMA 4500
Wifi and bluetooth
250GB – 320GB HDD
Webcam
2 x USB, Mini HDMI out, VGA out dongle
Mic and speaker port
5 + 3 shortcut buttons
Internal dual mics and speakers
SD card slot
253mm x 168mm x 18.4mm 980g
Windows 7 Home Premium
[Via]