Fashionistas keen to bag themselves an iPhone 4 in a stylish white finish will have to content themselves with boring old black for the forseeable future, as it looks like someone at Apple has cocked up the paint mix.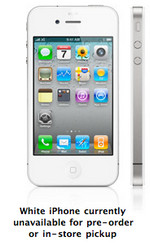 A stylishly short statement on Apple's site breaks the bad news:
White models of Apple's new iPhone 4 have continued to be more challenging to manufacture than we originally expected, and as a result they will not be available until later this year.

The availability of the more popular iPhone 4 black models is not affected.
Why white?
We've never seen the appeal of white cases ourselves – the mucky pups we are, they soon get to look very tatty indeed, and they show up scratches too.
Antennagate conspiracy theory…
We also wonder if the white model – when it finally arrives – will have had the antenna issue quietly sorted too.
In fact, it would be kind of strange if Apple didn't fix the issue before releasing the white version, so perhaps there's more to this than just the problems getting the paint to look pretty?