Details have been few and far between, but this new 30 second promo of HP's forthcoming Slate tablet, has got us very excited.
Wilfully showing off its advantages over Apple's iPad – say hello to video conference calling, built-in USB socket, Flash support and integrated SD card slot – this rendered teaser video of the Windows 7-based tablet presents a very tempting proposition.
The multi-touch custom interface running on top of Windows looks suitably slick, but we'll have to wait for more videos to get a fuller picture.
Sadly, there's still no solid news about availability or pricing, although June this year has apparently been muttered in dark alleyways.
Edit: specs leaked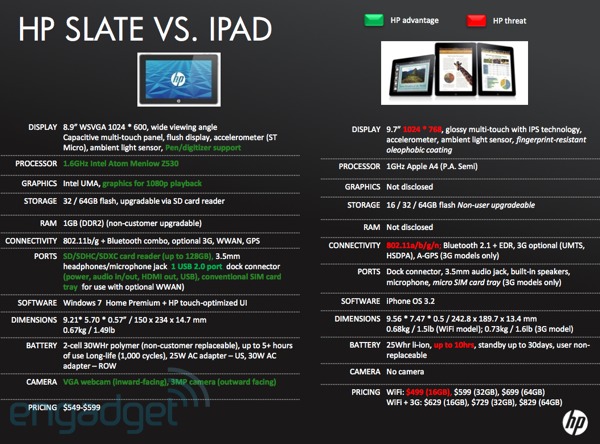 Engadget is reporting that they've got their hands on "an internal HP Slate presentation," which lists some of its specs.
According to that document, pricing starts from $549 for the base configuration unit which comes with an 8.9-inch 1024 x 600 capacitive multitouch display, a 1.6GHz Atom Z530 processor with UMA graphics and an accelerator for 1080p video playback, 32GB of flash storage and 1GB of non-upgradeable RAM.
The slightly more expensive $599 version packs 64GB of storage, with both models offering a five-hour battery life (with user removable battery), two cameras for video calling, SHDC card slot, a USB port, a SIM card slot for the optional 3G modem, and a dock connector for power, audio, and HDMI out.
Of course, the software is going to be critical here – the iPad has set the bar very high in terms of tablet usability – but apart from the tantalising snippets seen in the promo video, that remains a mystery.