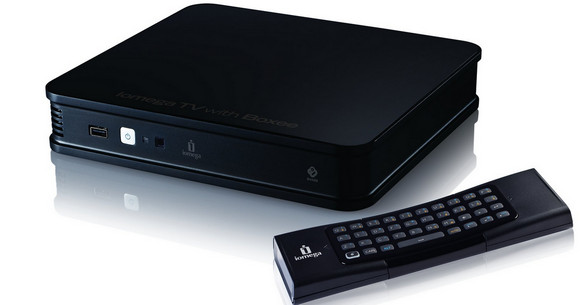 We associate them most with the old Zip drive from computing days of yore, but Iomega are hoping to make a splash in the emerging Internet TV/media centre market with the launch of their Iomega TV with Boxee product.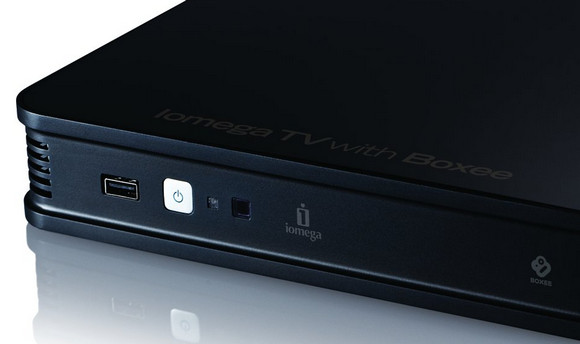 The device mixes up a media centre, Internet TV and network storage, with up to 2TB of hard drive space available.
Here's the low down on the main features:
Everything From The Web on Your TV
Stream HD Content to Your TV from VUDU, Pandora, MLB.TV and Hundreds of Others
Connect With Friends on Facebook and Twitter From Your TV
Your Digital Collection From Your Home Network on Your TV
Wireless Connectivity and Up to 2TBs of Onboard Storage for All Your Videos, Pictures and Music
Two versions of the new Iomega TV with Boxee are available. One that includes 1TB or 2TB of onboard storage, and another model without an integrated hard drive. Either way, the new Iomega TV with Boxee makes your laptop or desktop a thing of the past for enjoying the web as well as your own videos, photos and music.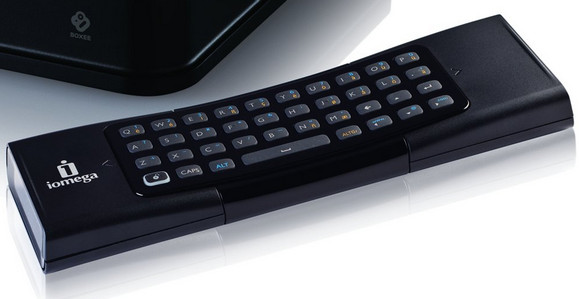 The package comes with a remote control packing a full QWERTY keyboard, and there's a HDMI cable lobbed in the box for hooking up your tele.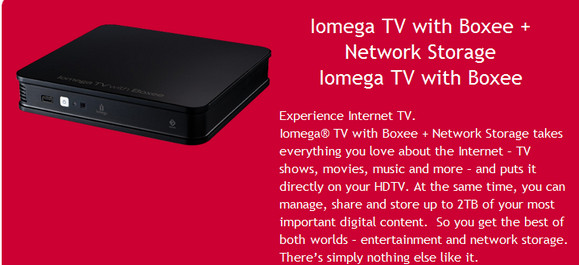 Pricing confusion
Iomega's press release says that "prices start at £220.00 (for the version without a hard drive), but a quick look around Amazon finds prices starting at £288 and zipping up smartly to £500 for the 2TB version. Ouch!
On Iomega's UK site, the prices are different again, with only a 'notify me' button for ordering.
| | | | |
| --- | --- | --- | --- |
| 2TB | Iomega TV Boxee+Network Storage 2TB | 35163 | £ 332.50 |
| 1TB | Iomega TV Boxee+Network Storage 1TB | 35160 | £ 299.20 |
| External | Iomega TV with Boxee | 35166 | £ 189.80 |
Specs:
Tech Specs
Playback Resolution – up to 1080p
I/O Connectivity: Ethernet 10/100/1000
AV connections:
HDMI 1.3
Composite video and audio R/L
Optical S/PDIF output
USB 2.0 (1x front; 1x back)
DLNA (DMS) certified
DTS certified
WiFi:
802.11 b/g/n
WEP (64bit, 128 bit), WPA (TKIP), WPA2, AES
HDD Formats:
Internal: NTFS (default), FAT32, HFS+
External: FAT32, HFS+, NTFS, Ext2, Ext3
Media formats
Video
AVI  (DivX3/4/5/6,  MPEG4XVID, MPEG4 AVC  (H.264), VC-1)
ASF  (MPEG4, VC-1, WMV9)
.dat/.mpeg/.mpg  (MPEG1/2)
.iso  (MPEG1/2)
.vob (MPEG1/2)
.ifo  (supports DVD menus)
.mp4  (DivX 3/4/5/6,  MPEG4 SP/ASP(XVID), MPEG4 AVC (H.264), AVS)
.mov  (DivX 3/4/5/6,  MPEG4 SP/ASP(XVID), MPEG4 AVC (H.264), AVS)
.xvid (DivX 3/4/5/6 MPEG4 SP/ASP(XVID), MPEG4 AVC (H.264), AVS)
.m4v  (DivX 3/4/5/6,  MPEG4 SP/ASP(XVID), MPEG4 AVC (H.264), AVS)
WMV  ( MPEG4, VC-1, WMV9)
.FLV  ( MPEG4 AVC (H.264))
.MKV  (MPEG1/2/4, MPEG4 AVC (H.264), DivX)
.ts/m2ts/mts/tp/trp  (MPEG1/2/4, MPEG4 AVC (H.264), VC-1, AVS)
Subtitles:  SRT, SSA, SUB, SMI
Music
MP3, WAV, WMA, OGG, AAC, AC3, DTS, FLAC
DTS, FLAC, APE, Dolby Digital Plus,
Playlist: M3U
Photo
JPEG, BMP, GIF, TIFF, PNG
System Requirements
PC
Microsoft® Windows® XP, Windows Vista™,
Windows 7
Mac:
Mac OS X 10.5-10.6
Linux
Redhat9, Mandrake 10, Debian 3.0, Gentoo, FedoraCore 3
Package Contents
Iomega TV
QWERTY Remote control + 3x AAA batteries
HDMI cables
Power supply EU/UK
Quick Install Guide
Solutions CD with software
Unit dimensions (L x W x H) and weight
24.5cm x 22.7m x 4.6cm
1.8 kg
All dimensions L x W x H and weight are approximations
[IomegaTV]