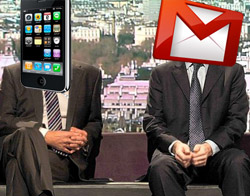 We're not getting any emails pushed through to our iPhone at the moment (we're in the UK on the o2 network) and a quick look on Twitter shows that other people seem to be suffering the same problem.
We've been getting delays in mails arriving all day – at the moment our GMail account has at least 15 emails dating back three hours that are yet to turn up on the iPhone.
Uncoaxable
Annoyingly, no matter how many times we try and coax the iPhone to collect them, they're still not appearing, even though we can see the ruddy things sitting in the inbox of our desktop PC.
The problem started this morning – when we turn on our phones with our triple shot coffees we expect a ton of mail, but there wasn't a single mail waiting for us.
Some of the morning's mails eventually filtered through during the day, but we're still having to check our Google mail in a browser to make sure we're up to date – and we need our mobile email fix, godammit!
Anyone else getting this?
Update 19:55 Monday
Google have issued a statement acknowledging the problem:
As many of you have noticed, Google Sync is having some difficulties due to an extended problem with one of our datacenters. This has been going on over the weekend, but it's got significantly worse today, so I'm just letting everyone know what's happening.

None of your information has been lost, and you will still be able to get your data through Sync, but you will find that Push isn't working very well. This is because we're batching up fetch requests to be able to cope with the traffic we're seeing while this problem is ongoing. As soon as we've got the problem fixed, push should seamlessly start working properly again.

We're working flat out to get this fixed, but unfortunately we don't have an ETA at the moment. We're doing everything we can to improve the situation in the meantime, and I'll post here again when I have more news.

Finally, I want to apologise to everyone – we're feeling your pain too, and we will get this sorted out as soon as we can.