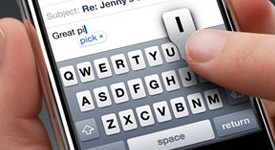 With Apple's big announcement coming up on the 27th January, leaks/rumours/wild guesses are reaching fever pitch across the web.
Tech site Boy Genius thinks it's got the skinny on a few choice snippets about the next-gen iPhone 4.0 features  – and it includes some things we've heard before and some things we're getting a bit excited about.
According to their guy on the inside, here's what 's coming up in the next version of the iPhone's operating system:
Global multitouch gestures, leveraged from similar iTablet OS
Background apps/Multitasking
UI enhanced for easier, more efficient navigation
iPhone 3G/3GS only (and presumable 4th gen iPhone later in June)
Will put iPhone way ahead of smartphone market, more like "full-fledged computer"
Apple people "really excited"
New but nebulous syncing for contacts and calendars
Be sure to take all this with a large vat of salt mind, because most of these rumours posted up by traffic hungry sites turn out to be as insightful as your Auntie Marge's ruminations on pop music after seven sherries.