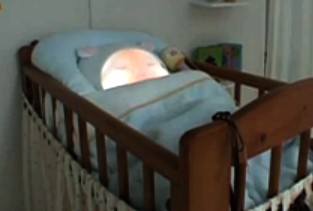 Certain to scare the bejesus out of adults and children alike is the bizarre baby robot, Yotaro.
Hailing from the home of all things robotically weird, Japan, the glowing robot Yotaro has been developed by the University of Tsukuba in Japan.
This creation of your worst nightmares comes with a touch-sensitive face, artificial tear ducts that cry warm water tears and built in speakers to serve up an accompanying soundtrack of baby sounds like crying and laughing.
There's also motors onboard to move the robots feet and hands like a humanoid child.
Here's how its makers describe their creation:
YOTARO is a lovely and vigorous baby with soft cheeks. He cannot still talk any words, but he is so curious and adores playing with everybody.

YOTARO is a baby type interaction device which make possible experiment a sensation of play with a real baby. When you play with YOTARO, he has many kinds of emotion and reactions such as smiling, crying, sleepy, angry, sneeze.

Although, YOTARO has not only facial reactions, he has also physical reactions those interact simultaneously with emotions.

He does random movements with his arms and legs, has body temperature, as well as reactions that have never seen before; he is capable to sweat and/or to snivel.

YOTARO able to be done people surprised with the experience of play with a baby fully of emotions and reactions virtually. Lets play with YOTARO!!
If you think all that sounds spooky, check out the video below.
[Via]