We've rather liked some of Archos's multimedia products and were looking forward to checking out their new Archos 9 tablet – after all, these guys have been making tablets for some time now.
Sporting a 8.9-inch 1024 x 600 pixels screen and offering Flash support,  a built-in camera,  USB port and Microsoft's Windows 7 OS, the 1.8-pound tablet looks solid enough, and measures just 0.7 inches thick.
It all sounds great to our ears and the price isn't too bad at £450, so what could possibly go wrong?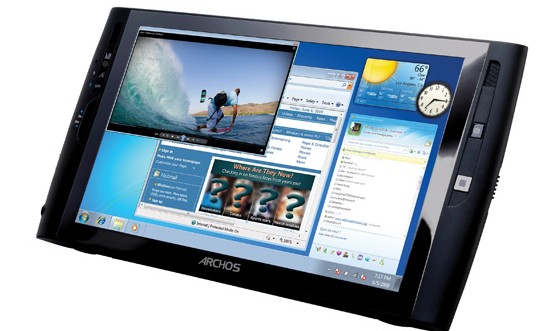 You give OSs a bad name
Sadly, it seems that Laptop Magazine found so much wrong with it that they went as far as suggesting that Microsoft should ask Archos not to sell the device as it gives such a bad name to their OS!
Declaring the product a "dud," their reviewer found the Archos9's resistive touchscreen frustrating to use, and was dismayed by the lack of support for multi-touch gestures (like pinch to zoom) and poured scorn on how "woefully inaccurate" the screen was at registering finger taps.
Surfing the web on the device was declared "an exercise in frustration," while typing was equally disheartening as the onscreen keyboard couldn't keep up with the input.
The bundled software also failed to impress, with a noticeable lag seen when opening and closing applications, and the battery life was poor too, managing  just 4 hours of video  runtime.
A Grobbelaar Wobbler
Popular UK tech mag Reg Hardware also tested the tablet last month, and while their review was perhaps not as scathing as Laptop Magazine's, it's all cold comfort for the team at Archos.
Although they found the 9's external controls to be "reasonably well thought out and easy to use," the camera was a poor performer in low light and the review team looked with some alarm at the rear stand, which looked likely to indulge in a 'Grobbelaar Wobble'.
The found the virtual keyboard to be usable, but warned that:
As for serious multi-tasking, forget it. Using Windows Explorer to copy some files across to the 9 from a USB stick caused Firefox to launch in horrifyingly slow motion, not that applications launch much faster when the OS isn't otherwise engaged. Once you have launched your applications, things do improve a little and the 9 can, at least, run a selection of applications such as Skype, Firefox, iTunes, Thunderbird or OpenOffice simultaneously.
Do I not like that

Damningly, their benchmark tests found the unit to be "pretty abysmal even when compared to those of other Windows 7 and Atom equipped netbooks," with the lack of raw processing power making all the but the lowest definition YouTue videos "barely watchable."
Their conclusion summed up their frustrations with the tablet:
Regardless of role the Archos 9 could do with a much longer battery life. If the company improved the specification or dropped the price, then the 9 would make more sense. As it is, we suspect that anyone with four hundred odd quid burning a hole in their pocket and wanting one of these new tablet devices will hold off until March and then head to their nearest Apple store. Or they could just buy one of the dozens of common and garden netbooks currently available for around the £300 mark
Oh dear. Unless Archos knock out some firmware updates fast, this looks like one tablet challenger that Apple's iPad is going to brush aside with ease. And probably kick some sand in its face as it skips past, just for being so rubbish.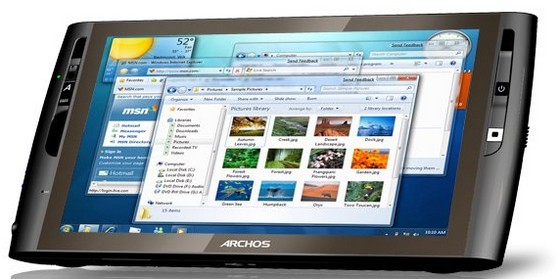 Specs
CPU: 1.2-Ghz Intel Atom Z515
RAM Included: 1GB
RAM Upgradeable: 1GB
Storage Drive Size    60GB
Storage Drive Type
Display Size    8.9
Display Resolution    1024×600
Graphics Chip    Intel Poulsbo US15W
Graphics Memory
Wi-Fi    802.11b/g
Has Bluetooth    Yes
OS    Windows 7 Starter (32-bit)
Ports    Ethernet; Headphone; Mic
USB Ports    1
Warranty / Support    One-year basic limited with one-year mail-in service/24/7 toll-free phone
Size    10.1 x 5.3 x 0.7 inches
Weight    1.8 pounds