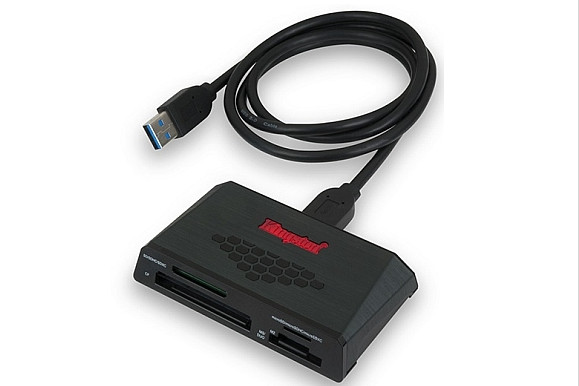 As camera megapixel counts keep on climbing and more folks start shooting in the RAW format, file sizes are getting bigger and bigger.
To speed up the process of transferring your photographic masterpieces  to your desktop/laptop, Kingston Europe has announced the launch of a USB 3.0 SuperSpeed compliant memory card reader/writer.
The Kingston USB 3.0 Media Reader can deal with a vast portfolio of formats including the newer high-capacity SDXC cards plus CompactFlash Type I & II (up to UDMA 6), microSD(HC/XC) and MemoryStick PRO, Duo, PRO Duo and M2.
"The Kingston USB 3.0 Media Reader's ability to handle multiple card formats combined with its small form factor makes it perfect for use at home, on the road or in the office," table-thumped Krystian Jaroszynski EMEA Product marketing manager for Flash at Kingston Technology.
"It is the essential device for reading higher-speed cards currently offered in the market and a convenient way to move photos, music, data and more between multiple platforms," he insisted.
Sporting a three foot cable, the reader is  backwards compatible with USB 2.0 and can be yours, all yours, for the entirely reasonable sum of £17.77+VAT.
Kingston Press Release
USB 3.0 Interface Provides Up to 5.0Gb/s Data Transfer Speed

Perfect Device for Quick Downloads from High-Capacity Flash Memory Cards

1st- August , 2011—Kingston Digital Europe Ltd, an affiliate of Kingston Technology Company Inc., the independent world leader in memory products, today announced the launch of the Kingston® USB 3.0 Media Reader. The reader takes advantage of performance benefits offered by USB 3.0 technology, allowing for faster data transfer times.

The Kingston USB 3.0 Media Reader supports multiple card formats including the newer high-capacity SDXC. With its quick and easy plug-and-play design, it delivers up to 5.0Gb/s data transfer speed for high-resolution images, large data files and more making it ideal for serious enthusiasts who need a fast and reliable data transfer device. It is also backwards compatible with USB 2.0.

"The Kingston USB 3.0 Media Reader's ability to handle multiple card formats combined with its small form factor makes it perfect for use at home, on the road or in the office," said Krystian Jaroszynski EMEA Product marketing manager for Flash at Kingston Technology. "It is the essential device for reading higher-speed cards currently offered in the market and a convenient way to move photos, music, data and more between multiple platforms."

The Kingston USB 3.0 Media Reader comes with a three-foot USB 3.0 cable. It is backed by a two-year warranty, 24/7 tech support and legendary Kingston reliability. For more information visit http://www.kingston.com/europe

Kingston USB 3.0 Media Reader Features and Specifications:

Portable: convenient small size
Versatile: works with the following Flash card formats:
CompactFlash
– CF Type I (UDMA 0-6)
– CF Type II (UDMA 0-6)

Secure Digital
– SD
– SDHC
– SDHC UHS-I
– SDXC

– SDXC UHS-I

microSD
– microSD
– microSDHC
– microSDXC

Memory Stick®/M2**
– Memory Stick®
– Memory Stick® PRO
– Memory Stick® Duo™
– Memory Stick® PRO Duo™
– Memory Stick® M2

Requirements: system with USB 3.0 port
Backwards Compatible: with USB 2.0
Dimensions: 3.66" x 2.07" x 0.63" (93.17mm x 52.68mm x 16.00mm)
Speed Rating*: USB 3.0, up to 5.0Gb/s data transfer speed
Operating Temperature: 32º to 140ºF / 0º to 60ºC
Storage Temperature: -4º to 185ºF / -20º to 85ºC
Operating System Compatibility: Windows® 7, Windows Vista® (SP1, SP2), Windows XP (SP3)
Guaranteed: two-year warranty