When we found ourselves needing some extra HD space for back-up, we quickly bored ourselves silly looking at the dull choices on offer, so we decided to pay a few quid over the baseline offerings and bag ourselves the stylish LaCie 2TB Hard Disk.
Offering 2,000GB of HD storage and available online from around £120, the LaCie seemed a slightly more interesting alternative to most of the bland black boxes on offer, and the company do have a reputation for being a cut above the rest when it comes to knocking out high quality, reliable devices.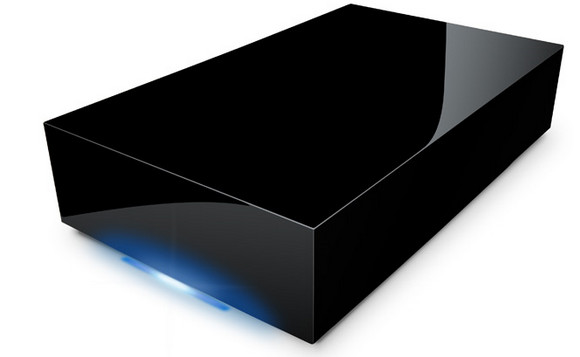 What's in the box?
Ripping open the box (sorry, we don't do those ridiculous  "unboxing videos here) revealed a power supply and mains lead, a small paper manual offering translations in the usual vast collection of languages and a criminally short USB lead. Stingy, LaCie, very stingy indeed.
Measuring up at 4.6″ x 7.6″ x 1.8", the hard drive is a shiny "none more black" plastic creation, with a small blue light underneath its fascia at the front and a USB socket, on/off switch and power socket around the back.
The box proudly announces that the hard disk was "designed by Neil Poulton,"  but to be honest, we're not seeing a lot of design here. It's just a shiny black box. With a light. A nice box, mind, but hardly something you'll be showing off to your mates.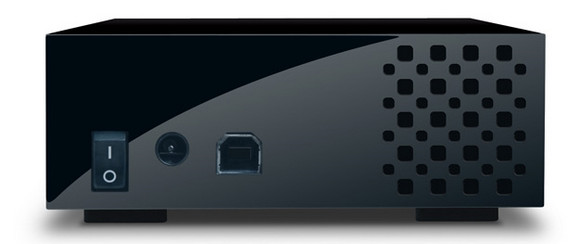 Plugging it in
Hooking up the drive was just a case of plugging in the power and USB leads, with Windows finding the LaCie immediately. Clicking on the LaCie icon invited us to format the drive for Windows "Vista, XP or 2000o" or set it up for Mac/Linux partitions.
Some utilities are offered on the disk, but it seems that the exciting-sounding 'USB boost' feature ("a new advanced driver for LaCie hard disks increases your LaCie product's USB performance by up to 33%!") was not for the likes of us with our fancy pants Windows 64 bit machines.
The same applied to their Windows Client Backup and Recovery program (both 32 bit only), which was a bit of a swizz seeing as there's nothing on the box to warn you. Oh well….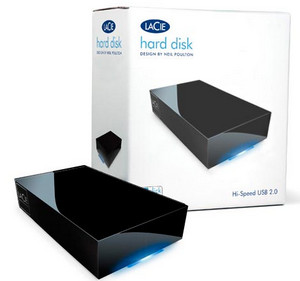 Loadsa space
So what does 2TB of storage give you?  As a rough guide, you'll have enough room for over half  a million songs and nearly 3,000 DivX movies, so  you're unlikely to run out of space any time soon.
Using the LaCie
Once installed, the LaCie's rubber feet helped keep vibration down to a minimum when were copying over files, and the wee blue light flickers to on inform you of hard disk activity.
It's pretty much silent in use too – we shoved over 300GB of files and thanks to its fan-less design, we weren't getting the table vibrating, jet engine sounds that some of our earlier hard drives inflicted on us.
Summary
It's pretty hard to get that excited about an external drive – they either work or they don't and usually end up hidden out of sight behind a desk – but the LaCie is a slightly more stylish offering than most, is quiet and cool in operation, and comes at a reasonable price, so we can definitely recommend it.
Buy the LACIE Hard Disk 2 TB on Amazon