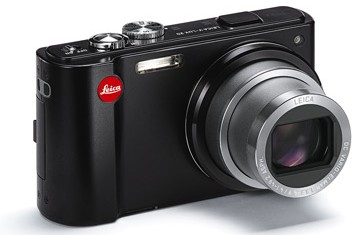 Leica, camera makers for the pros, sharp street-shooters and the inordinately well heeled have announced their  first compact superzoom, the V-Lux 20.
The camera – basically the Panasonic ZS7/ TZ10 with a sprinkle of Leica fairydust –  features built-in GPS tagging, integrated image stabilisation and 720p HD video support.
GPS onboard!
The V-Lux packs a 12.1MP sensor, 460k pixel 3″ LCD with that generous LEICA DC-VARIO-ELMAR 4.1-49.2mm f/3.3-4.9  23x optical zoom lens serving up a range of 25-300mm (35mm equiv).
The GPS tagging feature lets  photographers record both their geographical co-ordinates (embedded in the Exif data of each photo) automatically and local time, with the camera also able to display the names of interesting sightseeing locations from a total of 500,000 'points of interest' across 73 countries.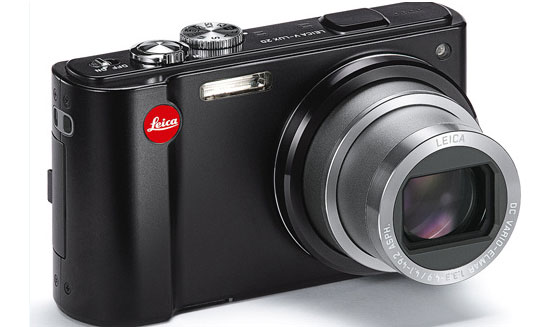 The camera also serves up movie recording in HD quality, with face recognition, automatic scene modes and smart exposure available in movie mode, along with the camera's zoom.
Naturally, there's a ton of auto/scene modes for the point'n'shoot crowd, with manual shutter speed and aperture settings for creative types.
The LEICA V-LUX 20 will be available in the UK from May 2010 with a suggested retail price of £495. If you want to pop it in its stylish brown leather case below, you'll have to say adieu to another £70.
Or if you want so save yourself a ton of cash, then buy the Panasonic Lumix TZ7 Digital Camera from Amazon for around half the price and make a stick on Leica badge for a near-identical experience.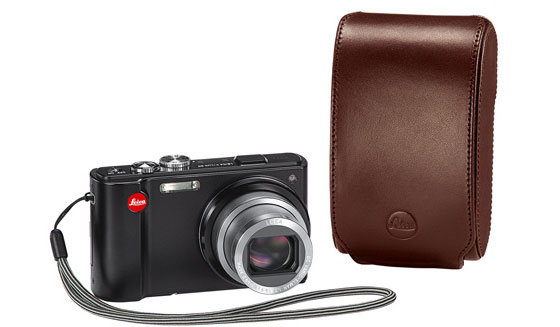 LEICA V-LUX 20 specifications

Sensor
• 1/2.33″ Type CCD
• 14.5 million pixels total
• 12.1 million effective pixels

Image sizes
• 4:3 Aspect Ratio: 4000 x 3000, 3264 x 2448, 2560 x 1920, 2048 x 1536, 1600 x 1200, 640 x 480
• 3:2 Aspect Ratio: 4176 x 2784, 3392 x 2264, 2656 x 1768, 2048 x 1360, 640 x 424
• 16:9 Aspect Ratio: 4320 x 2432, 3552 x 2000, 2784 x 1568 , 1920 x 1080, 640 x 360

Movie clips
• 1280×720 pixels @ 60fps
(QuickTime Motion JPEG)
• 848 x 480 pixels @ 30 fps
(Motion JPEG)
• 640 x 480 pixels @ 30 fps
(Motion JPEG)
•320 x 240 pixels @ 30 fps
(Motion JPEG)

File formats
• Still Image: JPEG(DCF/Exif2.21)
• Motion picture: QuickTime Motion JPEG

Lens
• 12x optical zoom
• 25 – 300mm (35mm equiv.)
• f=4.1-49.2mm
• F3.3 – 4.9
• LEICA DC VARIO-ELMAR
• 10 elements in 8 groups

Image stabilisation Lens
Digital zoom Yes, up to 4x

Focus
• Normal
• Macro
• Zoom Macro
• Pre-focusing (On/Off)
• Continuous AF On/Off
• AF Tracking

Metering
• Face / AF tracking
• 11-point
• 1-point high speed
• 1-point
• Spot

Focus distance
• Normal: Wide 50cm – infinity, Tele 2m – infinity
• Macro / Intelligent AUTO/ Movie: Wide 3 cm / Tele 1 m – infinity

ISO sensitivity
• Auto
• 80
• 100
• 200
• 400
• 800
• 1600

Exposure compensation ± 2EV, 1/3EV steps

Shutter speed
• 60-1/2000 sec
• Starry Sky Mode : 15, 30, 60sec

Aperture
• F3.3 – 4.9/ Multistage Iris Diaphragm (F3.3 – 6.3 (W) / F4.9 – 6.3 (T)

Modes
• Program mode (P)
• Aperture priority (A)
• Shutter priority (S)
• Manual setting (M)
• Snapshot
• Custom
• Scene
• Movie
• Clipboard

White balance
• Auto
• Daylight
• Cloudy
• Shade
• Halogen
• White Set

Self timer 2, 10 sec

Continuous shooting
• Full-Resolution Image
2.3 frames/sec Max. 5 images (Standard mode), Max 3 images (Fine Mode)
• High-speed Burst Mode:
Approx. 6.0 frames/sec (image priority)
Approx. 10 frames/sec (speed priority)
(recorded in 3M for 4:3, 2.5M for 3:2, 2M for 16:9)

Image parameters
Standard, Black & White, Sepia, Cool, Warm, Happy (only in iA Mode)

Flash
• Auto, Auto with pre-flash (red-eye reduction), Auto with slower shutter speeds and pre-flash, On, Off
• 0.6 – 5.3m (Wide/ISO Auto), 1.0 – 3.6m (Tele/ISO Auto)

Viewfinder No
LCD monitor • 3.0″ TFT LCD Display
• 460,800 dots
• Field of View : approx. 100%

• AUTO Power LCD mode, Power LCD mode

Connectivity
• USB2.0 High speed
• AV Output (NTSC/PAL)
• miniHDMI
• DC Input
Print compliance     • PictBridge
• DPOF

Storage
• SD/SDHC/SDXC Memory Card
• 15MB internal memory

Power
• Li-ion battery
• Charger included
• AC adaptor (optional)

Weight (no batt)     196 g
Weight (with batt)     218g
Dimensions     103 x 62 x 33 mm