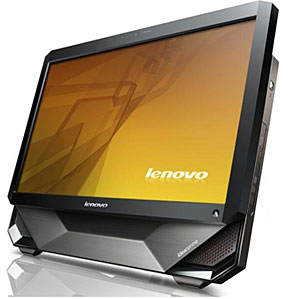 Looking meaner than Clint Eastwood after someone's run over his pet moggy, Lenovo's new gaming-oriented IdeaCentre B500 serves up heaps of power in a rugged all-in-one package.
Sporting more angles than  a protractor factory after an explosion, the matt black and moody IdeaCentre B500 packs a 23-inch, 1,920×1080 display, 802.11n Wi-Fi and Bluetooth, JBL-brand integrated speakers and a motion-control remote.
Various configurations are offered, with the most powerful including a beefy Intel Core 2 Quad CPU and a high end GTS 250M graphics chip (a rebranded Geforce 9800GTX, ackshully), plus a Blu-ray drive, TV tuner, up to 4GB of RAM, and up to 1TB of storage.
Although the B500 won't handle Windows 7's latest DirectX 11 graphics features, it should laugh in the face of most current and older titles and serve up decent image quality and frame rates.
We're loving the industrial looks of this mutha, and it seems to have been perfectly designed for its target market (ie. blokes who rarely see daylight), with prices starting at a temptingly low $649.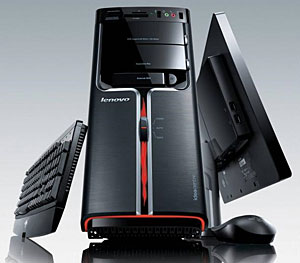 IdeaCentre K300
Virtually snarling at the world with its cyborg glowing red neon lines and black finish, the attractively styled desktop PC IdeaCentre K300 certainly looks the part for gamers, with a host of options taking the price from $499 right up to $1,999.
Powered by Core 2 quad-core processors, users can pick and mix from AMD last generation's Radeon HD 4000-series graphics cards  boost the RAM up to 8GB, slam in a Blu-ray drive or use  two hard drives in RAID 0.
There's also a "power control switch" onboard that lets users adjust the power level for maximum frag-tastic performance to more energy-efficient modes.
Brit gamers keen to get their fish and chip splattered hands on either of these two numbers could well be in for a wait as we couldn't find any mention of UK release dates.