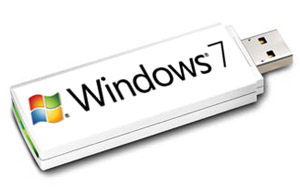 Microsoft have released a rather neat bootable USB Installer for Windows 7.
Aimed at netbook owners likely to be sans le CD drive, Microsoft's tool lets users download the necessary install files for Windows 7 and turn a suitably sized  (i.e. 'big') USB drive into a bootable installer.
Seeing as it's a Microsoft operating system we're talking about here, downloading all the files isn't going to be a cup of tea job – it's more likely to a three course meal, followed by tea and cake and brandies, a trip to the pub and three yards of ale kind of venture.
We'd probably recommend downloading to a  USB hard drive rather than a USB stick unless you're really craving that OS-on-a-stick look,  but however you download it, you'll eventually be able to get Windows 7 on your machine without consulting a CD/DVD drive, so it's all good for netbook users.
The Windows 7 USB/DVD Download Tool (WUDT) – as it may also be called – is available now at Microsoft's online store for download and purchase.