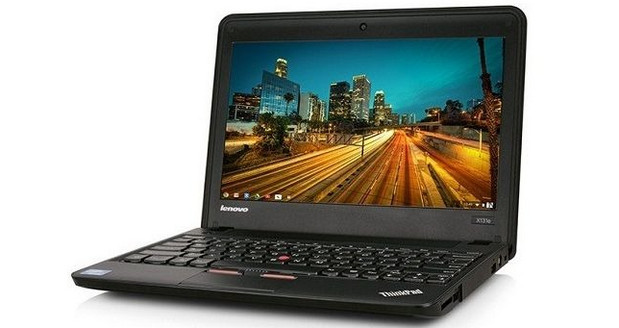 Lenovo has thrown down two new Chromebooks, one of which can snazzily flip between tablet and laptop modes.
Aimed at the education market, the ThinkPad Yoga 11e Chromebook is set to hit US classrooms in the spring and comes with the ability to switch between the four different "modes," in a similar fashion as their Yoga Windows laptops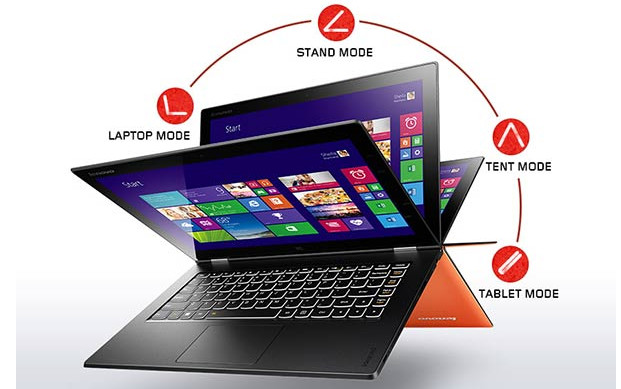 [Note: this isn't the Chromebook – we're still waiting for the official photos – but this shows off the kind of functionality of the Yoga series]
Supplementing the  standard laptop and tablet modes, the Chromebook's screen can be folded back or the machine can be stood on its edges, thanks to its flexible hinge.
The top cover of the units sport LED's to indicate wireless connectivity, power levels or sleep mode, so teachers can easily see that the machines are up and running.
There is also a standard ThinkPad 11e Chromebook released, that comes without the smartypants swivelling hinge.
Speaking at the launch Jerry Paradise, executive director of product marketing of the ThinkPad Product Group was suitably joyous, saying that he was, "very excited that Lenovo is able to offer a device that's not only rugged enough for the classroom but also flexible enough to adapt to the many ways technology can be incorporated into the overall learning experience."
Full specs are yet to be revealed , but both devices will come with an 11.6in touchscreen screen, and be protected by rubber bumpers, reinforced ports and tough hinges, and offer an weight hour battery life. The convertible Chromebook also comes with an HD LED display. 
UK pricing and availability is yet to be announced, but the two Chromebooks will start from $349.

Here's the full press release:
Lenovo Unveils New Rugged ThinkPad Devices Built Strong for Schools

ThinkPad 11e Series available in Traditional or Yoga forms running Windows 8 or Chrome

ORLANDO, FLand RESEARCH TRIANGLE PARK, NC –January 29, 2014: Lenovo (HKSE: 992) (ADR: LNVGY) today announced at the Florida Education Technology Conference (FETC), the ThinkPad 11e series of laptops, designed specifically for education and ruggedized for classroom performance. Thin and light, these purpose-built devices offer education administrators the durability necessary to succeed in the hands of K-12 students and the flexibility to meet the increasingly changing needs of their technology demands. The ThinkPad 11e series is available in two form factors: traditional laptop or Lenovo's innovative Yoga multimode form with four unique positions: laptop, tablet, tent and stand. The ThinkPad Yoga 11e devices offer students a system that can adapt to their needs based on the application or the content they are working with.

The ThinkPad 11e series provides students, educators and administrators with an intuitive, easy-to-manage rugged device. Sometimes kids drop their laptops. Sometimes kids throw their backpacks with their laptops in them. Features like rubber bumpers, reinforced ports, and stronger hinges are included to protect the system from the hustle and bustle of the classroom. The 11.6-inch HD LED antiglare screen on the traditional laptop provides a clear display in any environment. The ThinkPad Yoga 11e devices have an IPS wide viewing angle touchscreen displays. Each device is powered by an Intel® processor – fast boot times mean that classes can begin quickly without delay, and all day-long battery life allow students to breeze through classes without switching to alternative power. Top cover LEDs indicate wireless connectivity, laptop power or sleep mode to help teachers ensure consistent student activity.

"We have a proven track record of designing laptops and tablets built to last in education environments. With the new ThinkPad 11e devices, we're raising the bar with new form factors," said Jerry Paradise, executive director of product marketing, ThinkPad Product Group, Lenovo. "I'm very excited that Lenovo is able to offer a device that's not only rugged enough for the classroom but also flexible enough to adapt to the many ways technology can be incorporated into the overall learning experience."

The ThinkPad Yoga 11e and the ThinkPad 11e offer an excellent Windows experience in education.
With optional applications like LanSchool and webNetwork, these devices become excellent solutions for IT administrators by adding simple, reliable classroom management and access to files and applications from any device. Intel® Education Software helps students develop 21stcentury skills through rich, interactive applications and is also optionally available for these devices. On the ThinkPad Yoga 11e, Yoga Modes in Lenovo Settings recognizes when the user switches modes and allows apps to adapt for the best experience.

The ThinkPad Yoga 11e Chromebook and the ThinkPad 11e Chromebook make it possible for any school district with an internet connection to deploy a 1:1 computing program. These laptops are fast, simple, secure, always up-to-date and offer more than eight hours of battery life – ideal for the classroom. They are also easy to manage – ideal for administrators.

Customization options are also available to meet the unique needs of schools so students and educators can easily manage their devices, including asset tagging, BIOS modifications, laser engraving and custom imaging. Color options include Graphite Black or Silver.

"In CDW-G's work helping K-12 customers adapt technology to support new requirements like Common Core and digital curriculum, we see many schools struggle with choosing the right device for students to carry," said Julie Smith, vice president for K-12 education, CDW-G. "Lenovo's new ThinkPad 11e devices will help make that decision easier as they enable students to use them in various ways and can eliminate the need to carry multiple devices."

Pricing and Availability
The ThinkPad 11e series of devices will be available this spring from Lenovo business partners and on www.lenovo.com. Pricing for the ThinkPad Yoga 11e and ThinkPad 11e models starts at $449. Pricing for the ThinkPad Yoga 11e Chromebook and ThinkPad 11e Chromebook models starts at $349.