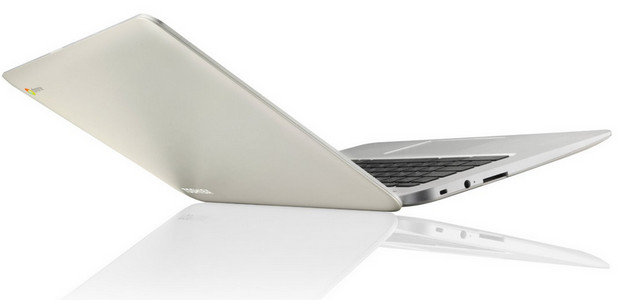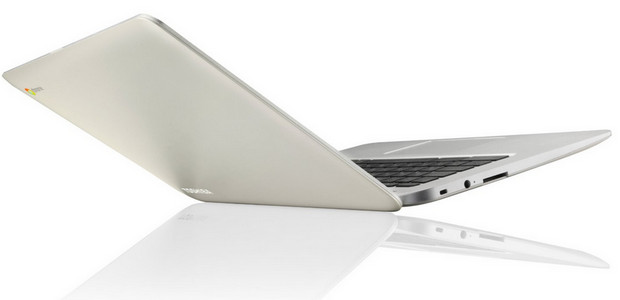 Toshiba's new 13.3″ Chromebook is now appearing in the inventories of various online stores, priced competitively at around £249/$280 .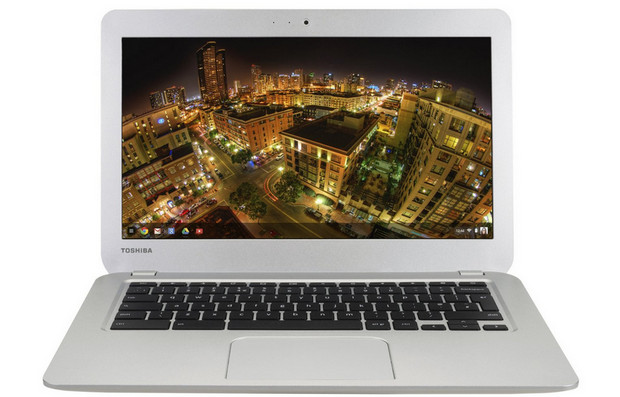 Originally announced back in January, the Tosh Chromebook has much the same spec as many of the new Chromebooks coming through, but comes with a larger 13.3-inch display, supporting a rather modest 1366 x 768 pixels.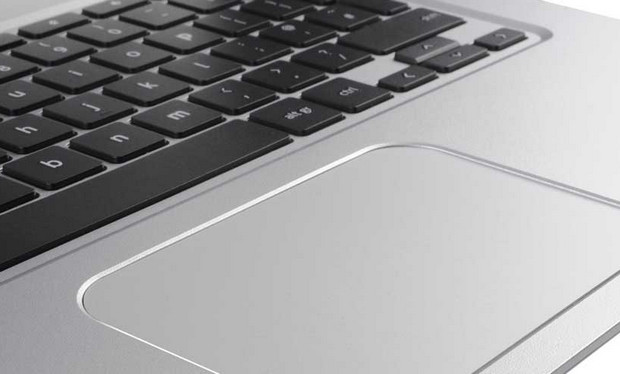 Inside, there's an Intel Celeron 2955U Haswell processor, 16GB of SSD storage, 2GB of RAM, Intel HD graphics, HDMI, WiFi 802.11n, Bluetooth 4.0, a pair of USB 3.0 ports with a battery life promised to extend up to a useful 9 hours.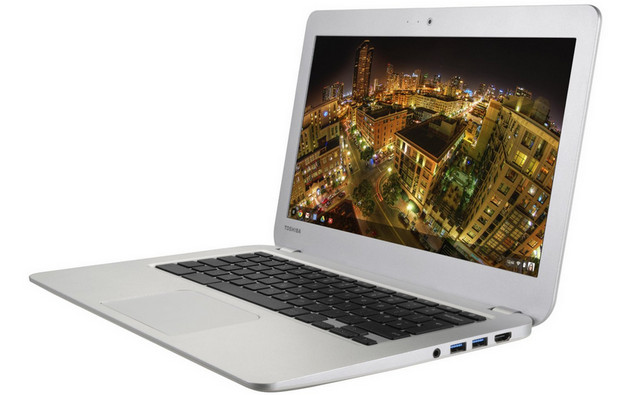 Also onboard is a microSD memory card slot backed by 100GB of free Google Drive storage for two years.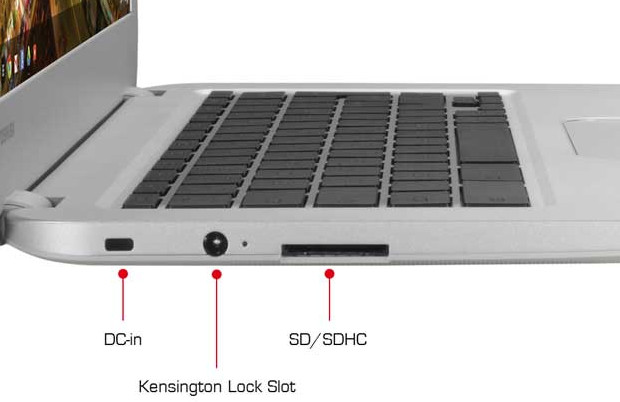 Available in Sunray Silver, the Toshiba Chromebook sports a textured top lid and weighs in at 3.3 pounds.
Full spec rundown:
Toshiba Chromebook — Your Essential Cloud Companion

The 13.3″ (33.8cm) Toshiba Chromebook was designed for play, productivity and portability; it's a fast and user-friendly device using the Chrome OS and has full connectivity, a sleek lightweight design and up to 9 hours battery life. With Wi-Fi connectivity and 100GB of free Cloud storage*, you can access your content, files and folders and even store files locally to access when you're not connected to a Wi-Fi network. Once connected, you can seamlessly synchronise your files and data, which makes it ideal for everyone from business professionals to students.

With the flexibility to move seamlessly from editing documents to browsing or playing apps either online or offline, the Chromebook is ideal for modern ways of working, people who already use the cloud and those looking for a light, fashionable and affordable device. Software and security upgrades are free and automatic too, so there's no need to worry about updating your Chromebook.

* 100GB of free storage for 2 years, starting on the date the Google Drive offer is redeemed.

The 13.3″ Toshiba Chromebook features a sleek and lightweight design with up to 9 hours battery life.

Information Everywhere

Toshiba Chromebook allows you to store data in the cloud, which opens up where and when content can be used. With Wi-Fi connectivity and 100GB of free cloud storage via the built-in Google Drive, data is always backed up and can quickly be saved online — for easier access from anywhere, at any time.

Information can be synced in the cloud too, for sharing to other devices. This allows content to become more moveable and manageable, so if a Google Doc is edited on Toshiba Chromebook, it can also be viewed on a PC, tablet or smartphone — whether you're at home or on the move.

Play and Productivity in One

Equipped with essential web and connectivity options, Toshiba Chromebook was made for work and play. The versatile 33.8 cm (13.3″) HD display offers plenty of screen space for web browsing, apps or work documents. It also comes with up to 9 hours battery life and a performance that begins with a fast start-up. Add to that the power of the Intel Celeron processor, and users can get straight to being productive or staying entertained, all day long.

The Toshiba Chromebook features a full-size tile keyboard and multi-finger clickpad.

Sleek Design that Really Travels

The first Toshiba Chromebook is ideally balanced for portability and comfort over long periods. Yet it's also effortlessly cool — featuring a slim, clean and modern clamshell design that was made to move. This durable, affordably priced laptop is also incredibly light at just 1.5 kg, making it the ideal size and weight to take anywhere. Documents can be created with ease using the full-size keyboard and large screen, while excellent audio and a HD webcam makes socialising more fun when the work is done.

Fast Access to Your Favourite Content

The device boots up and comes back to life in seconds, so users can access the familiar Chrome browser quickly. With fast page loads, quick syncing, and hundreds of thousands of Google apps available in the Chrome Web Store, a whole world of content is just waiting to be discovered.

Updates and Maintains, All by Itself

There's no need to worry about updating the Chrome OS or security software on this device. Once connected, Toshiba Chromebook takes care of itself through automatic upgrades. Not only does this provide the latest information and protection, it also means that minimal effort is required to get complete peace of mind, and keep users' Chromebook working at its best.

Connectivity Essentials

All the core connectivity you need to share content is available on the Toshiba Chromebook. As well as 2 USB ports for quick transfers, you can easily view your media on a larger HD screen via the HDMI port. An SD card slot is also on hand, for a seamless way to take information from one device and move it onto your Chromebook directly, using a memory card. However you choose to move your information, you're good to go with the Toshiba Chromebook.

SuperSpeed USB 3.0 for Fast Connections

By connecting to a compatible USB 3.0 device, such as an external drive, SuperSpeed USB 3.0 can offer up to 10 times faster transfer rates than the Hi-Speed USB 2.0 standard. This means that files and folders that took hours to transfer just take minutes, and you can move whole albums to and from your laptop in just a few seconds, saving you time and making your media much more portable. Just imagine — you can move a feature-length movie to a portable drive in just a few minutes, ready to take to a friend's house and watch on the big screen.

Wireless Sharing is Easy with Bluetooth 4.0

This Chromebook includes Bluetooth 4.0 which allows you to connect and share files wirelessly over short distances. This makes it ideal for connecting to compatible mobile devices such as smartphones, MP3 players, and more. You can also use Bluetooth to connect to wireless peripherals, such as headsets, speakers, mice and keyboard, making it easier to use your Chromebook on the move or at home without the clutter of connecting wires.

HDMI for HD Entertainment

The Toshiba Chromebook has an integrated HDMI port for added convenience and enhanced usability. You can connect your laptop to an external device and stream high definition content. When using HDMI, audio and visual content are streamed through a single cable, removing the need for multiple connections. Now you only need one cable, making connecting your laptop easier and tidier.