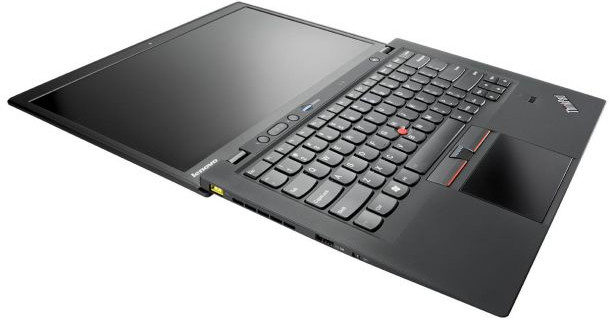 Lenovo has announced that its swoonsome  new ThinkPad X1 Carbon ultraportable should be hitting markets later this month.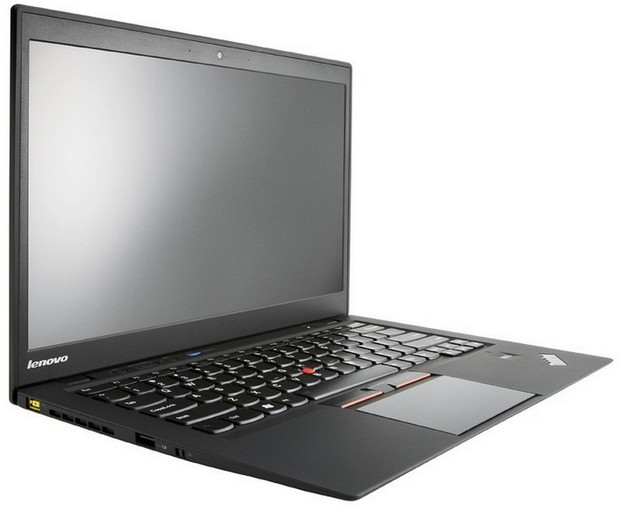 Weighing less than 3 pounds, it's claimed to be the lightest 14″ Ultrabook in the world, with the frame employing lightweight carbon fibre technology for strength and durability.
The 14-inch screen crams in a generous 1600×900 resolution, while inside thunders an Intel 3rd Generation Ivy Bridge processor packing an integrated Intel HD Graphics 4000 new graphics chip.
Base models start out with a 1.7GHz Intel Core i5 processor and a 128GB SSD, while other versions offer an i5 at 1.8 GHz and i7 at 2.0GHz.
There's a spill-resistant keyboard with LED back-lighting onboard, embedded 3G connectivity and Rapidcharge technology which means the laptop's battery can scoop up an 80% charge in just 35 minutes.
Lenovo say that the machine should keep on trucking for eight hours on a single charge, with startup time slimmed down to under 20 seconds.
The laptop weighs 3.0 pounds and measures  a slender 18mm or 0.71 inches thick and is rather a looker to our eyes (we're rather fond of Lenovo's utilitarian industrial looks).
UK pricing details are yet to be revealed, but we figure we're going to be looking at the wrong side of £1,000 (In the US prices start at $1,399 up to $1,849).
Update: US release has been set for Aug 21st. Hopefully it'll be the same for the UK.
Scroll on down for the press release: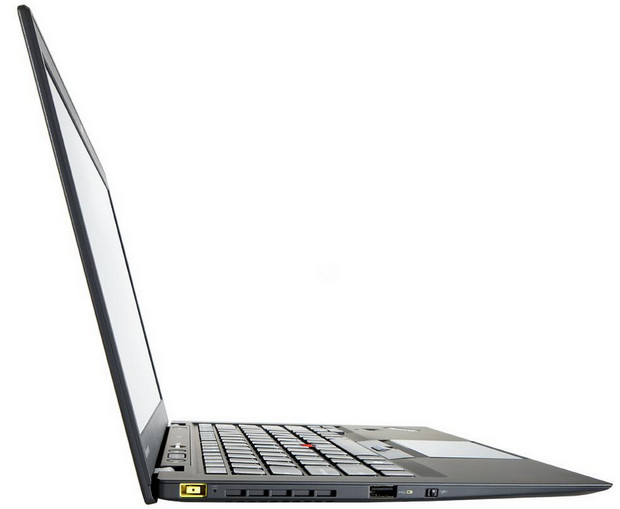 Lenovo unveiled a lighter, quicker ThinkPad notebook computer on Monday to appeal to customers who like the convenience of tablets and smartphones.

The ThinkPad X1 Carbon will go on sale later this month, the Chinese computer maker said.

Lenovo Group acquired the ThinkPad brand with IBM Corp.'s personal computer unit in 2005. Lenovo passed Dell Inc. last year to become the second-largest PC manufacturer after Hewlett-Packard Co.

The latest ThinkPad has third-generation wireless connectivity and other features inspired by tablets and smartphones, said Dilip Bhatia, vice president of the ThinkPad business unit. He said that was in response to demands by customers who want a tablet's convenience but need a notebook's wider range of functions.
"They want faster. They want thinner," Bhatia said.

Lenovo shaved the 14-inch (35.5 centimeter) laptop computer's weight to three pounds (1.3 kilograms) from the 3.7 pounds (1.7 kilograms) of last year's model, Bhatia. He said it would have up to eight hours of battery life and the startup time was reduced by as much as half to under 20 seconds.

The ThinkPad unit launched the first tablet version of its computer last year.

Despite tablets' growing popularity, Bhatia said there will still be strong demand for notebooks to perform more complex functions in business, education and government. Forecasts call for global notebook sales to reach 230 million this year, versus 110 million for tablets.

"The clamshell format is going to be around for a long time," Bhatia said. "We see a multi-device environment."
Lenovo took the unusual step of unveiling the new computer in China because of the fast growth of its market and the local popularity of ThinkPads, said Bhatia.

The computer's chief developer, Arimasa Naitoh, vice president of ThinkPad research and development, said he has met a Chinese collector who owns 100 ThinkPads.