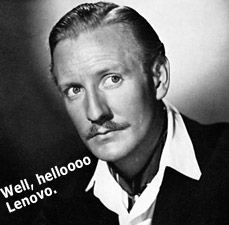 We have to admit we're rather keen on Thinkpad laptops – heck, if they're good enough for the Space Station, they're good enough for us – so we're rather looking forward to Lenovo's new thin and light ultraportable Thinkpad x100e machines.
A little larger than your average netbook, the specs seem to be – as Leslie Phillips would say – 'bang on' with the diminutive laptop sporting a 11.1″ 1366 x 768 screen and AMD Athlon Neo MV-40 processor.
Purring along on either Windows 7 Starter, Home Basic, Home Premium or Pro (32 bit or 64 bit flavours), there's capacity for up to 4GB of RAM, with storage being catered for by 2.5″ 5400rpm HDD drives coming in 160GB, 250GB or 320GB capacities.
Almost all the connectivity you could hope for is onboard with 802.11b/g/n Wi-Fi, optional Bluetooth, 3G, 3 USB ports, VGA output, and 4-in-1 card reader, with a joint trackpoint and multi-touch touchpad for whizzing your cursor around the screen with gusto.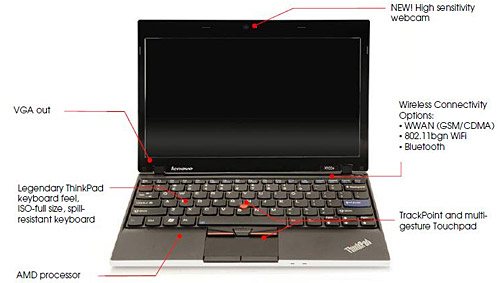 There's a weedy wee 0.3MP camera for webchats, with the 3 cell battery promising a paltry 2.2 hours of service and the beefier 6 cell job bringing it up to a more satisfactory 5.1 hours.
The whole package measures up at 11.1″ x 82." x 11.2″ (w/6 cell battery) and weighs 3.3 pounds, with the all-important pricing starting at  $449.
More details (in German) at Chip Online who unearthed the info in the first place.