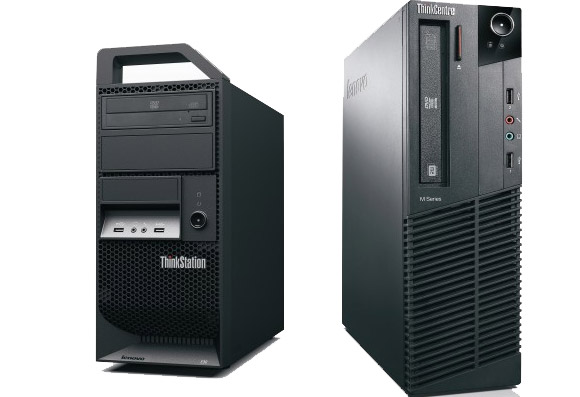 There's no denying that the scoot-stick motorin', Frapucinno-supping fashionistas aren't going to warm to these bad boys, but when it comes to no-nonsense, getting-on-with-the-job prowess, things don't get much better than a shovelful of Lenovo goodness.
Beefy but reliable
With looks best described as 'time-honoured' and 'rugged,' these two new desktops are hoping to persuade with their power and reliability rather than try and compete with the latest wafer-thin slithery slab of trendy silverness.
Ready to launch next month and available in a ton of different configurations, the ThinkStation E30 and ThinkCentre M81 desktops both come with the option to run Intel's spanking new Sandy Bridge CPU and promise rapid boot up/shut down times, courtesy of Lenovo's Enhanced Experience (EE) 2.0 for Windows 7.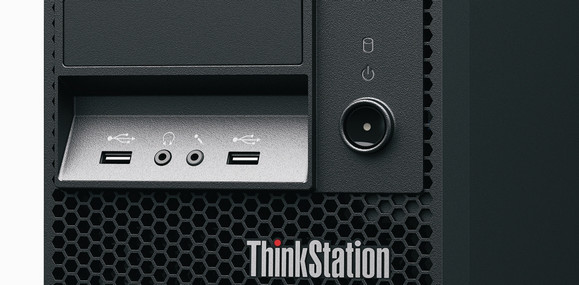 ThinkStation E30 workstation
The pricier E30 can be kitted out with an 80GB or 160GB SSD, NVIDIA's Quadro / NVS graphics, up to 16GB of memory, USB 3.0 and a SATA III interface, with the mean-looking case sporting a handy carrying handle at the top.
Pricing for the ThinkStation E30 workstation starts at $629 and we have to say that we're rather warming to its Cold War looks.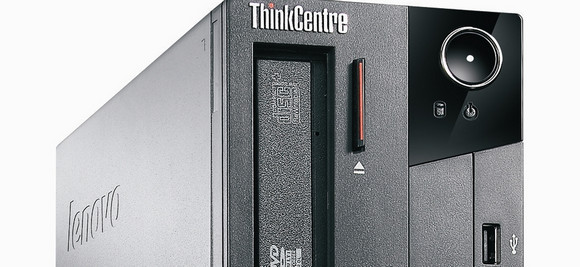 ThinkCentre M81 desktop
The M81 starts at a slightly cheaper $599 and comes with a less pleasing utilitarian design that looks like it's been beamed back from the pre-USB era.
The machine comes with either integrated (Intel HD) or discrete (AMD Radeon) graphics, up to a 160GB solid state drive, SATA III and, thankfully, USB 3.0.
Both machines come with Windows 7.
[ThinkStation E30 workstation] [ThinkCentre M81 desktop]
Here's the press release:
Lenovo Revs Up New Workstation & Desktop Engines for Powerful Performance

Unleashes ThinkStation E30 Workstation & ThinkCentre M81 Desktop for Business Professionals

RESEARCH TRIANGLE PARK, NC – March 29, 2011: Lenovo announced today the ThinkStation E30 workstation and ThinkCentre M81 desktop – two new solutions that bring users speedy performance with 2nd generation Intel® Core™ processors, rapid boot up/shut down and extra productivity features. Designed for creative, engineering and financial professionals who rely on specialized software applications to power their work, users get workstation-class performance and reliability starting at an affordable $599. Meanwhile, the ThinkCentre M81 desktop equips large businesses with the advanced computing features employees need to be most productive.

"Workstation users need the kind of performance that lets them do more each minute. The ThinkStation E30 workstation builds on our strong workstation platform, combining new rapid processing for data-crunching with more vivid and intense graphics capabilities," said Tao Gu, executive director and general manager, Workstation Business Unit, Lenovo. "We created the ThinkStation E30 workstation to offer extremely powerful processing on a software-certified solution at desktop prices."

Hard Core Workstation-Class Performance

The ThinkStation E30 workstation builds on its predecessor, the E20 which was named Editor's Choice by PC Magazine for entry-level workstations in 2010. It offers choices of 2nd generation Intel® Core™ processor technology with up to four cores for super fast computing when including an Intel® Xeon™ processor. Both the ThinkStation E30 workstation and ThinkCentre M81 desktop can take advantage of Intel® Turbo Boost™ technology to overclock on performance-laden tasks. Only Lenovo machines can stay in Turbo Boost+ mode longer for greater performance due to specific proprietary thermal engineering enhancements.

In addition to traditional hard drive storage, the ThinkStation E30 workstation offers choices of 80 or 160 GB SSD for snappy performance opening, rendering and saving/closing files. For creating and consuming 2D and 3D content, the powerful workstation offers choices of NVIDIA Quadro or NVS graphics. The workstation features SATA III for twice as fast and USB 3.0 for 10 times faster data transfer speeds compared to SATA II and USB 2.0. And with up to 16 GB of 1333 mHz Error Correcting Code memory, memory-related failures are virtually eliminated.

Dynamic Business Computing

The ThinkCentre M81 desktop, available in tower and small form factor, comes equipped with choices of 2nd generation Intel™ Core® processors, storage up to 160 GB SSD and choices of Intel HD graphics or ATI discrete Radeon graphics. It also comes with SATA III and USB 3.0. For more screen real estate and extra productivity, users can drive four independent displays by adding a discrete graphics card.

Both the ThinkStation E30 workstation and ThinkCentre M81 desktop are optimized for fast start up and shut down time under Lenovo's Enhanced Experience (EE) 2.0 for Windows 7 program. EE 2.0 features 20 second on average faster boot up than a typical Windows 7 computer1 thanks to Lenovo's RapidBoot technology which uses a range of proprietary optimization techniques. The ThinkStation E30 workstation logs a 57 percent faster boot time and 38 percent faster shut down time over previous models, while the ThinkCentre M81 desktop starts up 30 percent faster.

Driving Extra Productivity

Both machines are loaded with extra features for a productive computing experience. The ThinkStation E30 workstation carries certifications from leading independent software vendors in engineering, digital content creation and financial markets, including AutoCad, SolidEdge, Adobe and SolidWorks, along with support for Red Hat Linux. The ThinkStation E30 workstation also offers an optional Blu-ray player as well as features nine USB ports for connecting to external hard drives and other peripherals. Both machines also come with a DVD burner/player and address office place security by including port disablement and Lenovo's Hardware Password Manager to manage encrypted hard drives.

Lowering Energy Costs

The workstation and desktop deliver high levels of energy efficiency with reduced environmental footprints. The ThinkCentre M81 desktop saves 56 percent more energy than previous models, features Energy Star 5.0 models and includes the new Power Manager utility for managing energy settings on desktop fleets. It also uses 42 percent recycled materials in its construction. In addition to high marks for energy efficiency with its 80 Plus Gold certified power supply and Energy Star 5.0 rating, the ThinkStation E30 extends Lenovo's commitment to the environment through using 65 percent recyclable materials in plastic parts and meets several environmental certifications including EPEAT Gold, TCO and GREENGUARD.

Pricing and Availability2

The ThinkStation E30 workstation will be available starting in May and late April for the ThinkCentre M81 desktop through business partners and www.lenovo.com. Pricing for models starts at approximately $629 and $599, respectively.